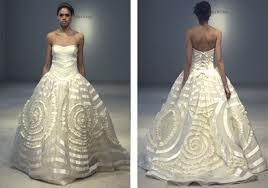 Vera Wang has done more for bridesmaids than any other fashion designer in history. Her modern, sophisticated bridal collections removed much of the stigma associated with being a bridesmaid -- no one has to worry about wearing a puce-colored pouf skirt when Vera Wang is in your corner. Wang's sophisticated and streamlined bridal collections are what made her a household name, but there is much more to this talented designer.
Vera Wang got her start as the Senior Fashion Editor at Vogue. In her sixteen years there, she rubbed elbows with some of the most famous fashion designers in history and learned to anticipate trends and understand design principles. Ironically, it was a failure in her early life that led to her most famous early creation -- throughout her childhood, Vera Wang was a talented and dedicated ice-skating champion, with dreams of going to the Olympics. When that dream failed to materialize, Wang turned to her second love: fashion. (Wang's mother had been an extremely fashion-savvy woman, and Vera grew up with a love of clothing.) The design that turned her into a celebrity overnight? The diaphanous skating uniform worn by Nancy Kerrigan at the 1994 Olympics. The outfit garnered tons of media attention, and the rest was history!
Programs to Consider:
Selected Campus Locations:
loading...
Vera Wang's bridal designs were also influenced by an event in her life -- her own wedding. In the 1980s, mainstream wedding gowns were matronly and sexless. Like many other designs of the time, bridal fashions were over-designed and gaudy. For her own wedding, Vera Wang searched high and low to find a simple, classic wedding gown, and couldn't. She ended up being married in a puffy-sleeved monstrosity that she disliked. This only served to inspire her creativity, however, and she set out to design wedding fashions that were sexy, sophisticated, and that reflected a woman's personal style. The Vera Wang label quickly established a precedent and earned praise from consumers and the media alike for its use of modern lines and sumptuous fabrics. According to one reviewer, "There was no fashion in bridal [design] until Vera Wang."
Today, Vera Wang is much more than just a bridal couture designer. She has used her personal design aesthetic to create ready-to-wear collections, fragrance collections, and products for the home. She continues to innovate in her use of materials, proportion, and detailing.