What do Fashion Runway Models do? Where do Fashion Runway Models work? FS takes a look: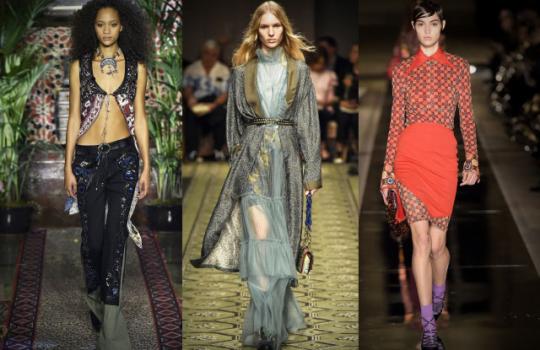 About Fashion Runway Model :
Runway models showcase clothes from fashion designers, fashion media, and consumers. They are also called "live models" and are often self-employed. Typically tall, men are usually over the height of 5'8" and women 5'6". Runway models work in different locations, constantly traveling. While there there's some need for runway models everywhere, they tend to cluster around high fashion centers, like London, Milan, New York City, and Paris, and second-tier international fashion center cities include: Rome, Florence, Venice, Brescia, Barcelona, Los Angeles, Tokyo, and Moscow.
Alternate Titles For the Role
Fashion Model
Runway Model
Print Model
Fashion Runway Model Job Description:
Do you like posing in front of the camera? Do you possess an attractive physique along with good facial features? Do you love the idea of wearing designer clothes? If you DO, then you are cutout to be a professional fashion model. Modeling careers are very rewarding jobs due to the numerous perks that come with them. Careers of commercial and fashion runway model professionals do not last forever. In fact, there is an age limit set for aspiring fashion runway model professionals as well as commercial fashion models. Girls who are aspiring to become a fashion runway model must start in a very early age around 15 - 22, while boys can start their modeling career between the ages of 18 - 25.
Not all people can become a model, in fact, the fashion industry have set high standards for those who want to get in the business. A fashion runway model must possess the specific physical attributes that a designer or fashion director looks for. In addition to that, you should be blessed with the height in order to be considered. Although in the recent years, shorter models have slowly penetrated the fashion business but most clients still prefer taller models. Fashion runway model professionals are expected to have a nice physique, unique facial features and the ability to walk the runway. The minimum height for fashion runway model aspirants is 5'8" for women and 5'11" for men.
As a professional fashion runway model, you are expected to wear the garments with grace and style. Remember that you will be walking down the runway to model the clothing creations of fashion designers. Hence, you have to look extremely fabulous in order to catch the attention of the viewing public.
Becoming a Fashion Runway Model :
While many of the requirement for becoming a runway model center around the physical, models also need to have be able to take director, perform, and position themselves to get the right modeling opportunities.
Runway models typically:
Meet needed physical requirements
Meet age requirements
Are able to walk/move gracefully
Stay fit & healthy
Get the right exposure in the right market - often through an agency
Fashion Runway Model Education Training & Advancement:
There is no specific degree or credential required to become a professional fashion runway model or a commercial fashion model. This is mainly why many wants to pursue a career as a fashion model since no educational investment is needed. As long as you have exceptional physical features, the minimum height required, confidence, and positive attitude, then you have the chance to land a good modeling offer.
However, for those who want to boost their fashion modeling career, it would be ideal to satisfy an Associate or Bachelor's degree program in Fashion merchandising, Fashion Design, Arts, and Drama. Attending formal education and training is not necessarily required but it will give you an advantage. Majority of the employers pay more attention to the physical features of the models as well as their modeling portfolio.
It is important that you compile all your best photos in your portfolio so that modeling agency, talent scouts and other clients can easily have reference of your past modeling experiences. Those who have attended runway training courses will have a competitive edge. Makes sure to prepare your composite card and resume so clients can easily remember you.
To work as a professional fashion runway model, you must be flexible, versatile, neat, adaptable, very stylish, dependable, hardworking, and good at taking directions. You also have to know how to convey the emotion and attitude of the brand that you are modeling for. You must be able to properly represent the garments and wardrobes that you are wearing. A good fashion model is capable of wearing all types of clothing styles and will always look good on them.
Other qualities that clients look for in a fashion runway model and commercial fashion model include the following: 
a good sense of style
ability to look good at all times
must know how to dress up properly
knowledge about make up applications
has good walking posture
excellent stamina
familiarity in different poses
great facial projection
Fashion Runway Model Jobs & Careers:
Print Model > Runway Model > Supermodel
If you are looking to get started on a career as a fashion model, check out our feature article, Fashion Model Expectations, for some advice on how to start your career in the modeling industry.
Fashion Runway Model Salaries:
Income range of fashion runway model professionals as well as commercial fashion model professionals vary greatly and are hard to determine. Basically their salary rates are dependent on the type of modeling engagement, their modeling experience, and popularity of the model.
In average, those who are just starting out can expect to receive around $500 - $5,000 per modeling engagement. Well-established fashion model professionals will of course earn higher rate of around $10,000/engagement or even more.
Here is an estimate of their annual salary earnings: 
Professional Photographic Fashion Model: $500,000 or more yearly
Typical Fashion Runway Model: $30,000 - $60,000/year
Indeed, working as a fashion runway model or a commercial fashion model is a very fulfilling career since you will have a taste of the glamorous world of fashion. Therefore, start building your portfolio and jumpstart a worthwhile career as a professional fashion model!
Job Trends for Fashion Runway Model :
Outlook for fashion runway model and commercial fashion model jobs are very promising. As a matter of fact, employment for various modeling careers is expected to increase by 10% to 20% until 2012. A healthy competition is anticipated among fashion model aspirants. Fashion runway model aspirants and commercial fashion model aspirants who are just starting out in the fashion business must develop a remarkable portfolio, which will include a collection of impressive photos taken from various settings and features diverse poses. It would be ideal to apply in well-known modeling agencies since they have a good network of top-level fashion clients. Therefore, take advantage of the opportunity to be a part of an elite group of fashion runway model professionals.