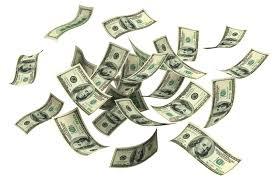 Ok, so everyone knows that the folks who bring in the biggest bucks in the fashion industry usually work behind the scenes. Think Bernard Arnault (Chairman of luxury conglomerate LVMH, net worth $41 billion), Stefan Persson (Chairman of Hennes & Mauritz (H&M), net worth $26 billion), and Tadashi Yanai (founder and president of Fast Retailing (Uniqlo, Theory and Helmut Lang), net worth $10 billion. Other fashion folks at the top of the food chain are considered the rock stars of fashion. So we're talking about high profile designers like Miuccia Prada, (Net Worth: $12.4 billion), Giorgio Armani, (Net Worth: $8.5 billion), and Ralph Lauren (Net Worth: $7 billion), to name a few.
While it is not exactly unreasonable to think that fashion's next mogul might be in the making right now in a studio at Parsons or SCAD, a good number of tomorrow's fashion professionals will settle into a worthy position with a comfortable salary. In fact, many of these talented individuals can expect to earn more than the national average ($47,230 per year), while others can expect to make much (much) more. Not too shabby, right?
Let's take a look at some of the highest paying (salaried) fashion jobs first:
-Chief Marketing Officer: $306,600
-Creative Director (of a brand/label): $191,000
-Marketing Manager: Up to $187,200 or more
-Director-level Editor: $179,900
-Design Director (of a brand/label): $178,000
-Bookings Director: $164,800
-Creative Design Director: $164,300
-VP of Publicity: $146,700
-Stylist: $141,700
-Marketing Director: $130,600
Salaries for some newer areas of fashion, such as fashion blogging, are all over the map. But  according to a recent CNN article, some fashion bloggers are earning six figures, while a select few rake in millions. In the article, CNN mentions that 13% of the bloggers at Style Coalition earn more than $100,000 a year and 54% blog as a full-time job. To get a better handle on this emerging area of fashion, we'll just have to wait patiently for the Bureau of Labor Statistics (BLS) to catch up. 
In the meantime, this brings us to two of the most heavily populated areas of fashion that the BLS actually has managed to track. The largest? Retail Sales.
According to the BLS, retail salespersons, some 4.6 million, was one of two groups that had the highest employment in May 2014. The other was cashiers. Of the retail sales group, those working in clothing stores and department stores had the highest levels of employment. Those working in clothing stores and shoe stores also had the highest concentration of employment in this occupation. Unfortunately, these professionals are among the few in the fashion world that make much less than the national average (as far as trackable salaries go).
The mean wage for these folks is $25,760 per year, with top earner's averaging $39,300 per year. The good news is the Bureau doesn't track commissions, which is where many retail salespersons can earn a good chunk of money. While commissions average between seven and 15%, it is not unheard of for retail salespeople at major fashion houses, boutiques, and luxury retailers to earn 25-50%.
Next up is fashion designers. The Bureau reports that there are 23,100 salaried fashion designers in the U.S. Employment is expected to grow three percent for the 2014-2024 decade. This means, the industry will add 700 new jobs in the coming years. Employment of fashion designers in the wholesale apparel industry is projected to increase 17 percent over the projection period. Salaries are impressive as well. The mean annual wage for fashion designers was $73,690 in May 2014. The lowest 10 percent earned less than $33,260, and the highest 10 percent earned more than $129,380.
In May 2014, the median annual wages for fashion designers in the top industries in which they worked were as follows:
-Apparel, Piece Goods, and Notions Merchant Wholesalers: $69,940
-Cut and Sew Apparel Manufacturing: $82,630
-Management of Companies and Enterprises: $90,020
-Specialized Design Services: $68,460
Fashion designers also work for clothing stores. These individuals earn an average salary of $71,490 per year. A large number of designers also work independently. These artists may earn more or less than the national average. Some run their own businesses, while others are independent contractors. They can earn six figures or more and, as mentioned earlier, some independent designers have made millions, while others have earned billions. 
Although some may see this next position as less glamorous than fashion design or even retail sales, many successful fashion designers got their start here. Of course, we're talking about fabric and apparel patternmakers. These skilled professionals earn a mean annual wage of $47,280 per year, with the potential to earn up to $82,650 or more. 
Finally, we have fashion merchandisers. While it is clear what fashion managers, designers, and patternmakers do, the fashion merchandising career is often misunderstood. These individuals are in touch with market trends, and they produce, promote, develop, and buy and sell fashion items such as clothing, accessories, jewelry, cosmetics, and shoes. They may work for a department store, a textile manufacturer, or other fashion businesses. According to Salary.com, fashion merchandisers can make anywhere from $40,384 to $124,728 a year. Like all fashion careers, experienced and successful fashion merchandisers can easily command higher salaries. 
Sources 
"Fashion Merchandising Major." The Department of Human Ecology. SUNY Oneonta, 2016. Web. 28 Mar. 2016.
"Fashion Merchandising: Where Fashion Meets Business." The Art Career Project. The Art Career Project, 29 Dec. 2011. Web. 28 Mar. 2016. 
"Occupational Employment and Wages - May 2015." (n.d.): n. pag. News Release. Bureau of Labor Statistics, U.S. Department of Labor, 30 Mar. 2016. Web. 30 Mar. 2016.
"The 10 Highest Paid Jobs in Fashion - The Fashion Student Digest." The Fashion Student Digest. N.p., 05 Aug. 2014. Web. 28 Mar. 2016.
"U.S. Bureau of Labor Statistics." U.S. Bureau of Labor Statistics. U.S. Bureau of Labor Statistics, 17 Dec. 2015. Web. 28 Mar. 2016.
Veselinovic, Milena. "Cash a La Mode: How Style Bloggers Are Turning Social Savvy into Six-figure Salaries." CNN. Cable News Network, 5 Oct. 2014. Web. 28 Mar. 2016.
Zeveloff, Julie. "The 15 Wealthiest People In Fashion." Business Insider. Business Insider, Inc., 10 Sept. 2012. Web. 28 Mar. 2016.