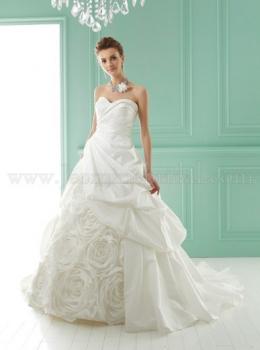 Little girls everywhere dreaming of a big white wedding one day would be jealous of fashion-industry veteran Rachel Krause—a girl who gets to dream about bridal gowns all day, every day. Before this gets too dreamy, Rachel doesn't get to waltz around the office in one of Jasmine Bridal's beautiful gowns, but her job does revolve around them.
As the Marketing Director at Jasmine Enterprises Rachel oversaw the launch of the bridal company's PR department and has been successfully managing their Marketing and Advertising divisions for the last few years.
Jasmine Bridal has been dressing brides in elegant bridalwear since 1985, and provides dresses, custom design services, specialized fittings, and more—operating across North America, Europe and the South Pacific.
We recently caught up with Rachel and picked her bridalwear'd brain about her experience in the fashion industry:
1. What inspired you to get into the fashion industry?
I took a sewing class as an elective in high school and ended up loving it. I took all the fashion classes available and discovered that there were actually college majors and careers in the fashion industry…I was so excited when I learned about the different careers in the fashion industry!
2. What type of education did it take to get you where you are today?
I have a Bachelor of Arts degree in Apparel Merchandising and Business Marketing from Dominican University in River Forest, Illinois.
3. How has your career path progressed over the years?
My career path is still progressing! I started in Customer Service with Jasmine and now have moved on to the Advertising and Promotions departments. I'm constantly taking on new projects and striving to discover new advertising and PR opportunities for the company.
4. What is your favorite part of working in the fashion business?
My favorite part is seeing our ads in magazines, and media coverage of our company. It's nice to know that all the work I put into placing an ad, or writing a press release, has paid off.
5. What advice would you give to aspiring fashionistas?
Don't be too proud to do the small jobs. It will definitely take some hard work to get to where you want to be.
6. What schools does your company generally recruit new hires from?
We don't recruit from one school in particular, but seeing an applicant from a fashion school, or with a fashion major is always a plus!
7. Do you think there is an overall increasing or decreasing need for people in the fashion industry?
Definitely an increasing need; as more and more competition enters the industry, established companies need new talent to help keep their ideas fresh.
8. What designer(s) or brand(s) influenced you the most as an artist?
Jasmine's designs influence me (Of course!). The beautiful design elements of the gowns make it easier for me to write product reviews and trend reports.
9.Which skills do you consider to be most critical for a career in fashion?
Definitely creativity and persistence.
10. What is the hardest part for you about working in the industry?
The hardest part is being the first to come up with a new promotional idea.  There is almost always someone out there that has done it first!
11. What perks do you receive working in the fashion industry?
I got a pretty amazing discount on my wedding gown!
12. What do you foresee for the future of fashion?
The way consumers shop in the bridal industry is changing. Online selling is a trend that is definitely gaining popularity. Designers and manufacturers are responding by choosing different business strategies to stay competitive. I am looking forward to seeing the different ways each company chooses to respond over the next few years.
Check out more interviews at The Fashion-Schools.org Interview Series.