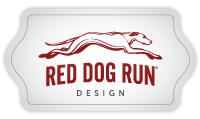 Designers take all forms. The world's top designers source their ideas from different aspects
of design--which is why we included Red Dog Run Design in our Interview Series. Since 2005
Red Dog Run has offered full-service product development and design studio services to
retailers across a variety of industries, including several Fortune 500 retail companies. They
have also worked on projects like the Frank Lloyd Wright Gallery and with Thomas O'Brien.

Al Pepin, creator and Creative Director of Red Dog Run Design leverages his design and trend
forecasting skills to help the company's clients stay on the cutting-edge of design and build
their brand's allure. By offering their clients illustration and other designer services Al and
Red Dog Run facilitates the product development stages of the design cycle. Al began his
career specifically in the fashion vertical (one of his first jobs was as a technical illustrator for
Marshal Field's private ready-to-wear label) but has since branched out to offer his services
to a wider-array of clients.

We got the chance to sit down with Al to ask him what our readers can learn from his company and his experiences in fashion and design:

For any of our readers not familiar with you could you explain your company's vision?
Red Dog Run Design's sole focus is to conceive and design compelling product for our clients in the categories of Furniture, Lighting, Home Decor, Textiles, Tabletop, Storage and Mobile Electronic Accessories. We also report the trends that will shape the future of these categories, as well as craft the blueprint for merchandising the consumers retail experience.

What inspired the idea and creation of your business to consult for up-and-comingand existing fashion designers?
Red Dog Run Design was born from my years starting with Marshall Field's Home private brands, such as Frank Lloyd Wright Gallery, Thomas O'Brien, Isabelle de Borchgrave and Tracy Porter. My career in product design continued with Target stores and again with Thomas O'Brien Vintage Modern.

What does a designer have to do to have you consult for them?
Have a clear vision, passion for exceptional product, attention to detail and respect for the process of design.

What skills can designers hope to gain from your services that they can't learn
elsewhere?
Everything above, but we look past simply designing for a season. We're about building and
reaffirming our clients brand(s) and creating a devoted consumer experience.

How does your company/website distinguish itself from other fashion consultant-
style businesses?
Red Dog Run Design is focused on home and hard goods, so our intention is to introduce our
visitors to all our services in a way that predicates our working style. These offerings cover the complete process of home design, from inspiration and trend, ideation and design and finally, merchandising.

As a professional with years in the industry how would you recommend up-and-
coming designers to promote themselves?
A strong portfolio is key. Make it sure you love it yourself. Include some of the things that drew you to design in the first place. Any potential employer will pick up on your passion, and when you find the right fit, it will work. Also think about what a potential employer might need. (i.e. digital rendering, trend research etc.) Make sure you also have an online portfolio, which is easy and basically a requirement today.

Use LinkedIn, Behance Network, Facebook, Plaxo. Get your voice/vision out there. You won't
attract everyone, but the point is to connect with the right opportunity for you. Research and connect with the companies/designers you admire.

How did you initially get your foot into the door of the fashion industry and would you recommend that path for beginners?
My first job was with Marshall Field's private label ready-to-wear as a technical illustrator. I would very much recommend this path, as being a member of the supporting team put me on the frontline for an education to the business of design.

What type of education did it take to get you where you are today? And how has your career path progressed over the years?
I began my education with the goal of fashion illustration. My path progressed to include many areas of fashion, and eventually crossed over from clothing to industrial design for home.

What is the most important skill and/or hard lesson you have learned while working in the industry?
Learn to draw. You have to be able to articulate the ideas in your head clearly to yourself, as well as people who may not understand or have the creative vision you do. This is key.
One lesson I learned early is that it's not about you - it's about the consumer. If your name is on the hang tag, by all means, create your own vision. But if it's not, use your time to learn how the whole process works. Never stop learning.

Do you think interning is a good way to start out in the business? If yes, what?
Absolutely. You have to get on the frontline to learn how it all works.

Which skills do you consider to be most critical for a career in fashion?
For me, it's drawing, an eye for trends, (which is simply connecting the dots as they emerge on the horizon) listening and presentation skills.

What advice would you give to aspiring fashion professionals looking to break into today's fashion industry?
Start with the question: How can I serve this industry? If you're really great at pattern- making, identify where your skills could be of use. If your great at trend-spotting, create your own blog and report.
I started by illustrating for my good friend who was a clothing design major at Minneapolis
College of Art & Design.
Check out more interviews at The Fashion-Schools.org Interview Series.