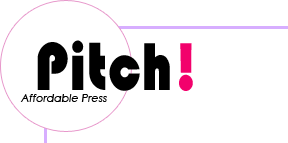 Shannon Cavanagh-Estrada must have fashion on the brain and in the blood because she left a successful career in feature films for it. Despite her fast-tracked, fast-paced careers at Sony Entertainment and Disney Shannon made the leap to an unpredictable career in fashion. Luckily, it worked out well.
After sharpening her shears in PR and Marketing positions at Bisou-Bisou, JNCO, and HYPE, Shannon opened her own shop Bottled Blond Press Relations. This boutique, full-service PR firm successfully gained their clients notoriety with national publicity campaigns, trend forecasting, fashion consulting and branding.
Next, in 2004, after seven successful years running Bottled Blond PR Shannon made an executive decision to team up with Pam Roberts to create Pitch! Press. Since then their PR firm has earned over 1,500 editorial credits and an impressive client list by focusing on fashion-based editorial coverage for up-and-coming designers.
Shannon recently sat down with us here at Fashion-Schools.org to offer some pearls of wisdom to our readers:
What inspired you to get into the fashion industry?
Fashion was a passion from an early age. Creativity, color, prints, textures, beauty, and a touch of industry insanity drew me to fashion.
What type of education did it take to get you where you are today?
I am a staunch supporter of getting an undergraduate degree. But when it comes to the tools you'll need, it's the university of hard knocks. The glamour element is very transparent once you get into fashion. The fashion industry is cut-throat, intense, and stressful. Best to arrive with very thick skin, drive, ambition, time management skills, and with your glass half full.
How has your career path progressed over the years?
Choosing which element of the industry is the best fit and the most fun comes from trying lots of different rolls. I started as a simple marketing liason and then evolved that position into a marketing and public relations director eventually giving me enough experience and kuddos to start my own business.
What is your favorite part of working in the fashion business?
The friendships that have been nurtured for a dozen years.

What advice would you give to aspiring fashionistas?
Have a plan. Fashion is not just about making clothes or accessories. It's about the customer, the brand, and the business side of it.
What schools does your company generally recruit new hires from?
FIDM (Fashion Institute of Design & Merchandising).

Do you think there is an overall increasing or decreasing need for people in the fashion industry?
Fashion has become trendy (no pun intended). There's been a surge in the number of designers in the area, but many view it has a fun hobby. The hard work element quickly becomes a reality and more drop out than stay. I think the business side (start-up costs, talent, sampling, production, fulfillment, customer service, charge backs, multiple collections, sourcing etc) needs to be a stronger focus in schools. Yes, it's creative, yes it's glamourous, but more than anything it's blood, sweat, tears, sweat, tears. It's hard work that takes a ton of money (and really think skin).
What designer(s) or brand(s) influenced you the most as an artist?
My clients.

Which skills do you consider to be most critical for a career in fashion?
Being that Chameleon.
What do you think the future of fashion holds?
Affordability.
Check out more interviews at The Fashion-Schools.org Interview Series.