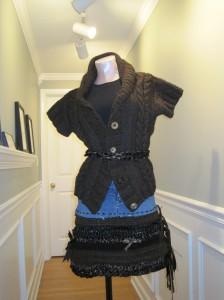 Pamela Truemper's designs get down to the 'knitty' gritty (a little knitting humor). Pamela's label, Pamela A Designs is not your grandma's knitwear though, this edgy line by the high priestess in the knit world features items like sexy knit dresses and knit bustiers.
Pamela draws her 'knitivity' from her decades of experience in the genre, having spent most of her life practising the wool-spun art. Pamela's designs were recently featured in Fashion Week Cleveland's show, where she was a major hit in the show, receiving enthusiastic applause from the fashion-forward audience.
This self-taught knitting maven is as ambitious as she is talented, and her current line is sultry knitwear isn't enough—Pamela will soon be widening her line by adding baby wear to her roster.
Pamela's feature in our Interview Series will be interesting for our self-taught, taking-the-hard-road readers as she discusses with Fashion-Schools.org how her fortuitous entry then success in the industry came despite any formal fashion education whatsoever:
Without having a background or professional training in fashion what inspired you to get into the industry?
Knitting was my jumping off point. I taught myself and never really used patterns. Positive comments and requests for my designs were my inspiration.
What is your current focus within the industry?
I have been doing dresses that have knit bodices with fabric skirts. I'm also enlarging upon my baby knitwear line.
What challenges do you face being self-taught?
It probably takes longer to get recognized. If you are in a fashion school atmosphere, there is more buzz about your work.
How has your career path progressed over the years?
I started by focusing solely on women's sweaters. Then, I moved into the home decor business and made custom throws. Now, I am back into garments.
What is your favorite part of working in the design/fashion business?
I LOVE the first time look of happy surprise when a customer or model see something I have made.
What advice would you give to aspiring fashionistas?
You really don't have to sacrifice all for your art. If you treat it like a business, you can have it both ways--your passion and your personal life.
Would you recommend taking the school-of-hard-knocks approach or a classical fashion-oriented education for aspiring designers?
My opinion is that the two aren't mutually exclusive. You can be a success or failure either way.
Do you think there is an overall increasing or decreasing need for people in the fashion industry?
Absolutely an increasing need. Everyone has something to contribute and they should be respected for that.
Which roles in the fashion industry do you think will offer the best career opportunities moving forward? eg. designer, PR, entrepreneur, etc?
This may sound crazy coming from a designer but there is a huge need for PR on the local level. Fashion school students and local talent need much more exposure. Actors, models, artists all have agents but designers have to promote themselves—hence a need for more PR roles.
What designer(s) or brand(s) influenced you most as a creative professional?
Women of all ages in their every day lives inspire me. I love the way some of them can take anything and make it extraordinary. Scarves are a perfect example. They're just a swatch of fabric but they can make or break an outfit.
Do you think today's jobs in the fashion industry require more of an artist's touch or business-like ruthlessness?
You definitely need to stick up for yourself. But, you can do it in a professional way. The fashion industry is fast. Everyone is working two or three seasons in the future so you have to keep your eyes wide open and make sure you get credit for your hard work.
Which skills do you consider to be most critical for a career in fashion?
You need to know what you are doing. Expert garment construction and tailoring are musts. You can learn those on your own but it is easier to learn from a pro. You also need to be able to recognize when a project is a lost cause and move on to something else. Time really is precious so wasting it takes away from more productive endeavors.
What do you think the future of fashion and design holds?
The future holds limitless possibilities. There are so many designers, entrepreneurs and artists. They should all be able to reach the audience that appreciates them the most.
Check out more interviews at The Fashion-Schools.org Interview Series.