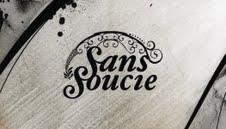 While studying the fashion trade in the commonwealth fashion-capitals of London and Toronto Katherine Soucie decided to leave and pursue a less-traditional  path of learning. After being frustratingly disappointed with the traditional use of available fabrics and textiles Katherine branched off on her own and created Sans Soucie, a unique line of ready-to-wear apparel created from textile industry waste.
Katherine's eco-chic line of women's wear, Sans Soucie, is made from elegant waste hosiery and sold at fine boutiques and galleries across the U.S, Canada and Japan. Her unique textile vision was honed during her time at Capilano University where she studied Textile Arts by focusing on developing fabrics that are as practical as they are functional. Expanding on her zero-waste philosophy she started zero.O.lab, a project designed to promote re-constructing in the fashion industry.
">http://www.youtube.com/watch?v=Lk9kmGZKKSU]
Despite her label translating as 'without a care', Katherine is a dedicated and caring individual, so it was no surprise that she gladly accepted our request to talk to our aspiring designer readers:
What inspired you to get into the fashion industry?
My interest in clothing and textiles started when I was a young child. I found that this was the best way to express myself artistically. From this, I went to a high school where I did training to prepare me.

What is your focus within the industry?
I work from a zero-waste philosophy and produce one of a kind garments and accessories from textile industry waste. My collections are predominantly produced from nylon waste hosiery (aka. women's pantyhose) that are hand dyed, silk screened before they are reconstructed into a new textile. Other materials such as silk and wool are incorporated as they become available from industry.
I employ artisanal, traditional textile and garment making processes and all of my work is fashioned according to the materials available at that particular time and moment. Thus allowing me to authentically produce one-of-a-kind product.
It is important for me to utilize traditional forms of making in collaboration with environmentally friendly processes within a zero-waste practice as there is no other way I would chose to produce work. Every material that comes into my studio is fully exhausted with very little or NO impact on the environment. 
As an artist and designer I have a responsibility to how and what I produce and considering I am involved in many aspects of the process, I am exposed to the layers of production that relate to my training which can be harmful. I ask myself, why would I do that to myself or to another.

What type of education did it take to get you where you are today?
I currently have a BAA in Fashion, Dip. Textile Art, BFA Visual Art, and am an MAA Candidate at Emily Carr University. 

How has your career path progressed over the years?
I began with a clear focus to work sustainably in the industry from both a textile and clothing perspective before the industry began to adopt this as a movement. After my design training in Fashion I felt I still had many unanswered questions and felt that I needed to build my knowledge and skill set related to Textiles. From this, I developed my signature hosiery textile process. As I built my company, I found myself collaborating with other artists and designers through my knowledge and abilities related to textiles. 
Since I focused upon becoming a Surface Designer in Textile school, Printing and Dyeing have become a focus or feature in how I am able to produce new textiles from industry waste.  As my knowledge and experience grew, I maintained a studio practice while exploring other forms of print making within the Visual Arts. My current work combines many layers of print from my exposure to other forms of print making processes that enabled me to refine my process further.

What is your favorite part of working in the fashion/design business?
I have ultimate creativity and the ability to create materials and garments  that are as individual as the person who wears them. 

What advice would you give to aspiring fashionistas?
Find a mentor and learn to build a skillset that best fits your philosophy.

What school(s) does your company generally recruit new hires from?
Emily Carr University of Art and Design, Capilano University, University of the Fraser Valley.

Do you think there is an overall increasing or decreasing need for people in the fashion industry?
I think there is a need for more independent and locally-produced fashion along with designers.  I think there needs to be more of a presence in the community so that our role can be valued to that of any other creative profession (i.e. architect).

Which role(s) in the fashion industry do you think will offer the best career opportunities moving forward? e.g. designer, PR, entrepreneur, etc.?
Entrepreneur

What designer(s) or brand(s) influenced you the most as a creative professional?
Commes Des Garcons, Yohji Yamamoto, Issey Miyake, and Julian Roberts.

Do you think today's jobs in the fashion industry require more of an artist's touch or business-like ruthlessness?
More of an artist's touch. In the age of mass production and fast fashion society is looking more for the unique, the one of a kind, something with a personal touch that they can relate to.  Not everyone wants to wear a uniform.

Which skills do you consider to be most critical for a career in fashion?
This really depends on your role in the industry.  As someone who has only been self employed in the industry, I really can only speak from this part of the arena.  I have worn many hats so to speak over the years from not just the designer and maker but I have been the accountant, the PR rep, sales rep...you name it! 
I think the most critical thing to adopt in order to launch your collection if you are looking to be an independent is to find a mentor and be an apprentice. Learn the skills and the way of the business from someone you respect.  Most of the industry can't pay during this time period but if there is a skill set that you want to learn, find someone to learn it from.  This will most likely have to be done outside of school but should be done in compliment to any training you have received at the institutional level.  The more you know the better the problem solver and designer you will be.
In conclusion, find a mentor and develop a skill set that you can later develop your voice with. Also have fun and be passionate.  That will inevitably lead to your success no matter what you do in the industry. 

What do you think the future of fashion and design holds?
I think the focus, at least in North America is to produce more locally, out of materials that are readily available.  I believe in working with materials that already exist in the environment instead of working with standardized commercial textiles.  Textiles is the third largest pollutant to our environment  and we are running out of resources and we already have more materials than we need to design and work with.
I think there needs to be a re-evaluation of how we produce, consume and ultimately view waste in our society.  Education is key in making this happen and I view my work as a form of educating the public. I am not suggesting that everyone must produce exactly as I do but rather employ forms of creativity that allow for use to work with what is already here--before we look to replace what isn't broken yet. 
Check out more interviews at The Fashion-Schools.org Interview Series.