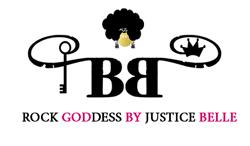 With a name like Justice Belle she should have been a Rock Star—but Justice chose the path of the Rock Goddess. This New York singer/songwriter turned glam goddess is now designing a fiercely luxurious jewelry line entitled, what else, but Rock Goddess. 
Rock Goddess consists of three separate collections: Maybelle, Empress and Francisca James. The line is made up of carefully-selected gemstones and crystals imported from around the globe, set into unique hand-made pieces. Justice's inspiration for her one-of-a-kind jewelry is expressed by her company's mantra, that "every woman is rare, a one of a kind gem."
The brilliant young entrepreneur responsible for Rock Goddess, Justice, recently sat down with us to discuss what fashion has meant to her and where it has taken her in her short, yet successful, career:
What inspired you to get into the fashion industry?
I love to create, I am inspired by all kinds of artistic expression from Music to Egyptian art to shows like Project Runway.

What is your focus within the industry?
To create beautiful jewelry that everyone loves.
What type of education did it take to get you where you are today?
The school of love, and life.
How has your career path progressed over the years?
Wonderfully, when you start out on one path you never know where it will take you.
What is your favorite part of working in the fashion/design business?
Seeing a design concept go from just a thought to manifestation as a finished product.
What advice would you give to aspiring fashionistas?
Learn everything you can, work hard and NEVER give up.

What school(s) does your company generally recruit new hires from?
The New School University, I am partial to my Alma Marta!
Do you think there is an overall increasing or decreasing need for people in the fashion industry?
There is always a need for fresh talent and new ideas.
Which roles in the fashion industry do you think will offer the best career opportunities moving forward? eg. designer, PR, entrepreneur, etc.? 
I think in fashion (as well as other industries) it is important to be multifaceted - a designer needs to be an entrepreneur, a publicist and photographer. Specializing in a particular area is important but being able to play many roles enhances one's overall performance and creates a larger spectrum for career opportunity.
What designer(s) or brand(s) influenced you the most as a creative professional?
My favorite designers include Max Azria for BCBG, John Hardy & the Lucky Brand.

Do you think today's jobs in the fashion industry require more of an artist's touch or business-like ruthlessness?
Both, but easy on the ruthlessness! :)
Which skills do you consider to be most critical for a career in fashion? 
Originality, dedication and tenacity.

What do you think the future of fashion and design holds?
Considering the constant technological advances in all industry's, I think the future of fashion and design is limitless. From clothing to cell phone cases, dishes, bedding and furniture, everyone appreciates a touch of personal style which begins with one simple word -FASHION.
Check out more interviews at The Fashion-Schools.org Interview Series.