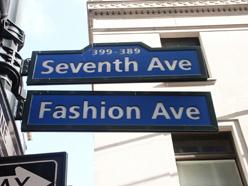 Some fashion professionals enjoy working at small, boutique shops. Valerie Cooper prefers the bi-coastal and international setting of Heart-Hunters Consulting. She should prefer it, she's the company President.
With operations in Miami, LA, New York and London Valerie has her hands full--but luckily her 30-years experience in the fast-paced industry serves her well. Valerie earned her stripes working various jobs in the fashion industry before starting her own firm, including design, sourcing, production, even garment costing. If her long and glamorous career doesn't have you turning green with envy yet, then know her lifestyle is equally as exciting—having traveled to every major fashion capital on the planet.
Heart-Hunters' (and Valerie's) success lies in finding their niche in the industry, working with startup ventures. The consulting firms works with them from beginning stages determining their feasibility to product development to creating a business plan. Having been successful in one niche Heart-Hunters has recently found another one, in environmentally sustainable & socially compliant garment manufacturing alternatives.
When we asked Valerie to participate in an interview she was more than happy to volunteer her three decades of experience as learning lessons for our readers:
What inspired you to get into the fashion industry?
I have always known this was what I wanted, I was making doll clothes at age 10.
What type of education did it take to get you where you are today?
FIDM LA (Fashion Institute of Design & Merchandising, Los Angeles)
How has your career path progressed over the years?
My pro CV is up on my website hearthuntersconsulting.com it is on my contact page.
(side note: we looked at her resume, and it is quite a work of art, with on-going schooling, various positions, changing goals and over-lapping efforts. Her resume is certainly worth a look at--to see what it takes to succeed in fashion. It can be found here)
What is your favorite part of working in the fashion business?
At this point in time, I love the sourcing and prototyping part for start ups. It is wonderful seeing dreams come to life.
What advice would you give to aspiring fashionistas?
Do not be in a hurry to get through your prototype stage. Spend time deciding who your demographic target market is. Spend time deciding what your fit, or sizing is going to be. Make sure you get a fit model that represents your demographic target market. Spend the time and money to have a fit scan done of that fit model. Make a fit block first for fit! Make your first samples in the textiles you are going to manufacture in. If you change your fabric you will need to remake your patterns.
What schools does your company generally recruit new hires from?
It is not the school, it is the person.
Do you think there is an overall increasing or decreasing need for people in the fashion industry?
There is always a need for good people.
What do you foresee for the future of fashion?
More and more online shopping and virtual fitting rooms.
What designer(s) or brand(s) influenced you the most as an artist?
Yves Saint Laurent & Chanel.
Which skills do you consider to be most critical for a career in fashion?
Be able to make a pattern and sew... Even if you are a designer. Talk to everyone...even the cutters.
What do you think the future of fashion holds?
Anyone's guess...
Check out more interviews at The Fashion-Schools.org Interview Series.