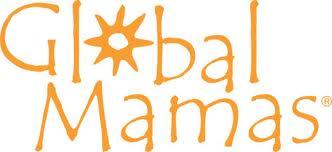 It is rare these days that a person can do the one thing they love, Alice Grau managed to make a career out of her two passions: fashion and social justice. Alice's current position at Global Mamas allows her to help sources fair trade fashion from woman in Ghana, Africa and sell them on their website and via another like-minded venture, Trade For Change. Alice settled into this position after taking time off from her corporate fashion career to spend 4 months volunteering, designing products for Global Mamas—a role that ended up turning into her full-time career.
Global Mamas was founded by Renae Adam and Kristin Johnson and leverages fashion to give women in Africa the trade, not aid. Giving them exactly what they need to become economically independent and lift themselves and their families from poverty. Global Mamas is a non-profit fair trade organization, with all proceeds going directly to the women and the other non-profit programs assisting them with their business development plans.
Global Mamas offers hand-made beading work, batiking, African black soap, shea butter processing and products, hand-sewn products, and other handcrafts. The success of the project is incredible as it started back in 2003 with just six producers, but has since grown to a huge network of over 600 women (and a few men) coordinating the production of 180+ product lines that are sold across North America, Europe, Asia, Australia and within Ghana itself.
If you are an aspiring designer and the work that Alice and Global Mamas' are doing inspires you, Alice offers a unique opportunity to get involved in social-justice fashion via their internship program. Global Mamas' and Women In Progress offer an intership that give aspiring designers the chance to get hands on working experience in social-justice projects overseas.
Always eager to spread the message of Global Mamas and like-minded programs Alice jumped at the opportunity to share her story and successes with our aspiring fashionista readers:
1. What inspired you to get into the fair trade or ethical fashion industry?
I have been passionate about social justice issues and fashion as long as I can remember. At some point, while studying apparel design in university, I realized that the two did not have to be mutually exclusive and I became determined to do design in a more ethical way. As I learned more about apparel production history and methods I was challenged by how much the industry has taken advantage of its resources and I want to change that. Seeing the industry change and being a trend setter in the ethical production movement, empowering producers rather than exploiting them, is what inspires me. Global Mamas, as an organization was inspired by the women of Ghana. The apparel trades of batiking and sewing are two trades that many women in Ghana learn as a means to support themselves and their families. The founders (Renae Adam and Kristin Johnson) met many of the artisans that Global Mamas still works with when they were Peace Corps Volunteers in the 90's. They were compelled by the determination and passion of these artisans to help connect them with a larger market.
2. What type of education did it take to get you where you are today?
I studied apparel design at Central Michigan University, which provided a well-rounded education including the history and psychology of dress, textile chemistry and design, retail math and international business in addition to the standard illustration, sewing and pattern drafting classes. I supplemented my education with an apprenticeship under a custom clothier/costume designer in the summers and an internship with another costume designer my last year of university. My minor studies were focused on multi-media design so that I could round out my education in related fields such as photography, videography and web design. I consider every job I have held since university to be continued education.
3. How has your career path progressed over the years?
My career path has progressed to encompass a much broader spectrum of responsibilities than I had ever imagined coming out of school. I started out in a small, privately owned business as my apprenticeship evolved into a paid assistantship. After university my experience with a variety of computer programs gained me a position with a design team at a Fortune 500 company. I started out as a Graphic Artist for multiple teams and eventually became an Assistant Designer for women's plus size apparel. Through all of this my desire to design ethical fashion never decreased and I continued to seek out opportunities in that market though they were limited and mostly on a volunteer basis and/or overseas. Working on a corporate design team taught me valuable lessons but I felt that I had to make a move to start pursuing my passions so I took a leap of faith and quit my secure job right before the market crash to volunteer with Global Mamas in Ghana. I volunteered for four months helping to design a new product line and was subsequently hired to manage the design, production and volunteer programs at their largest apparel site in Ghana. I moved from that position into a role stateside that involves overseeing design from all of our sites as well as customer education, sales, marketing and volunteer recruitment.
4. What is your favorite part of working in the ethical fashion business?
Absolutely the fact that I am helping to empower women through the production of the items that I design and sell. I also truly enjoy educating people about ethical fashion as a career and shopping choice. Seeing this industry change by the influence of those on the inside as well as by pressure from the customer is very rewarding.
5. What advice would you give to aspiring fashionistas?
You cannot be stagnant. The industry is ever-changing and you have to be proactive to stay at the helm. If you are not getting the education you want, seek it out on your own. Stay persistent after the job you desire, even if you have to take a less desirable job to get your foot in the door. Don't burn bridges, it is a small industry and you never know who you might need a reference from. Take risks. Don't be afraid of working for free. Have a knowledge of the applicable computer programs is incredibly helpful.
6. What schools does your company generally recruit new hires from?
We are a small, non-profit organization so we only have a full-time staff of 3 people here in the US, larger numbers in Ghana. Our recruiting pool is not specific schools, but rather our volunteers and interns who come from schools all over the world.
7. Do you think there is an overall increasing or decreasing need for people in the fashion industry?
I believe there is an increasing need for people in the fashion industry, however the types of jobs have really changed, which I find exciting. An aspiring designer coming right out of school might not realize the diversity of fields available to them. There are more opportunities in areas such as technical design, research, sourcing and production management.
8. What designer(s) or brand(s) influenced you the most as an artist?
I try to cast my inspiration net as broad as possible, seeking out influence from historic, modern and indigenous designers as well as from other fields of art.
9. Which skills do you consider to be most critical for a career in fashion?
Networking, creativity and ingenuity, adaptability, confidence, decisiveness, analytical thinking; as well as the ability to understand your customer/market, accept criticism with grace and to see the world from different perspectives.
10. What is the hardest part for you about working in the industry?
I find thinking ahead of the curve to decide for the customer what is up and coming is a difficult but exciting challenge. Really, the hardest aspect for me is knowing that there is still so much of the industry that has a negative impact by exploiting workers and the environment as well as promoting over-consumption negative self-images. It will be a tough road to travel, but Global Mamas and I are thrilled to be a part of initializing that change.
11. What perks do you receive working in the fashion industry?
The joy of inspiring change in such a massive, world-wide industry that connects people in such a fascinating way. It is also fun to be a part of the process that determines what new clothes people will be wearing a year from now.
12. What do you foresee for the future of ethical fashion?
As consumers become more educated we are seeing a trend of growing interest in the ethical fashion industry. I believe that the ethical fashion industry is here to stay and I think it will follow the path of the slow food movement, coming full circle back to artisanal high-quality, hand-made items that are special because of the story behind them and their positive impact. Designer-producer relationships will continue to be built in a more direct manner so that customers can be connected with the individuals who craft the items that are such an integral part of everyday living. I believe that it will bring more apparel production back to the states eventually as well.
Check out more interviews at The Fashion-Schools.org Interview Series.