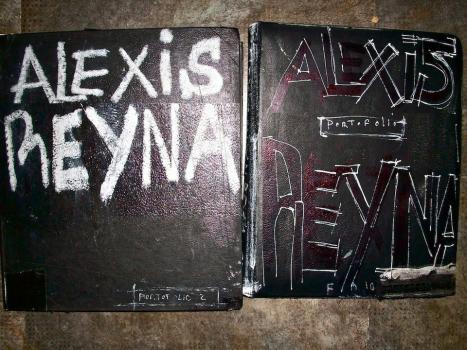 Successful designers in the Europe scene are generally edgy, off-the-wall creative types that push the envelope, in every way. Alexis Reyna is one of those. His designs are on the vanguard of pushing-the-envelope, a factor in his continued success.
He is no overnight success though, with over 15 years in the business. Throughout his fairly lengthy career Alexis has graced the pages of Vogue and Marie Claire, and the runways in his native Barcelona Fashion Week, Beijing Fashion Week and runways in Hong Kong. British popstar M.I.A took immediately to Alexis' unique designs, and has sported several of them during her world tour.

">http://www.youtube.com/watch?v=Wf8izCIL7Zs]
In addition to successfully running the business side of his own label, Alexis has also worked with major designers Filippa, J. Linderberg, and Desigual.
We got a chance to interview Alexis about his time, and successes, in the industry and, unsurprisingly, his responses were as brazen as his apparel:
Could you explain the vision and inspiration behind your brand's unique
I obviously try to explore my past as well as the present to obtain my individuality.
All my obsessions, "fantasmes", and even sexual fantasies are included. It is as much about psychoanalyzing yourself as it is market analysis. On a theoretical level, I like to study on my own the fashion archives from pre-history till the 21st century. Somehow, I am not as knowledgeable on the last decade though.
I guess, like others in the industry, I have an obsession for the 'real thing', the original, the authentic … I love understanding things on an intellectual level--meaning the affect on the brain and the effects on our mood. I love exploring ideas, feelings, prejudices, and I love creating a message through fashion, language, imagination, pleasures and pains. I am a very physical person, especially as a designer so applying physical and emotion feelings to my fashion is critical. This, I hope, shows on my label  DNA.
I like to feel things—whether it be fabrics or people so that every woman or girl wearing my collection reflects me, my loves, desires, sexuality, intellect and so on. Each of my pieces then empowers the wearer—because every woman is powerful in her own way.
Did you take any formal training before beginning your label? And how 
has your career path progressed over the years?
On all technical levels I am self-trained. I taught my self, on my own, with books, by using different machines and by doing internships. I watch and I learn. Thankfully I am a highly visual learner.
My career path, over the years, has steadily improved. Things have always worked out for me, I suppose as a combination of (self-taught) skill and luck.
As a creative professional how have you handled the business-side of
 running a fashion studio/brand/company?
Well, that side of the business is not easy to learn. But it is a learning process all the way. But I do try to minimize the business side as much as possible by employing helpful staff, while being very demanding. I always defend my right to creative freedom though, because your creativity cannot be stifled by the business side. The key is to build a strong structure or base—think of your business as a tailor-made suit.   I think you can learn a lot by looking at how other successful fashion companies are run. Internships help with this learning process a lot.
But nowadays there isn't too much to copy, now it is more valuable to see what not to do and to remember those lessons. Hard recipes are not suitable for this business, you have to create your own self,  because now fashion, more than ever, is evolving into the unknown
The sky is the limit though, with so many exciting opportunities to explore.
How did you initially get your foot into the door of the fashion 
industry?
I  use to surf and sing in a band and needed cash so I spoke with a sponsor and got a job designing the prints for a Surf label called Cristian Fletcher Europe.
Then I built a strong portfolio and got a internship at a tailor-styled fashion company.
If you had to describe the business side of the fashion industry briefly 
to our aspiring designer readers, how would you paint an accurate picture 
for them and what advice would you give them?
The business side of fashion is a big part of the industry—it certainly isn't about being creative alone, for most jobs. But it needs always a new Steve Jobs type that can bring innovation!

The industry as a whole is very competitive and changes quickly. It demands extreme geographic mobility and flexibility. And a long-term vision so that you succeed and don't get burnt-out.
At the end of the day though it is a profession. So no matter how harsh and cruel (stereotypes I know, but it is very true) it can be seem there are lots of wonderful people and opportunities out there. Despite the cut-throat-ness of the industry and the fact that if you are successful someone will always try to copy your style—it doesn't matter. FUCK THEM. What matters is your passion, what you believe in, what you create.
My advice is to not think about the business as a money=making venture. Because it is so much more than that. There is a different kind of profit, like the benefit of making a cultural contribution. Then when you can turn it into a financial profit, it is a vonus. Nowadays, kids are growing up in too aggressively, and they all want fast money. Instead learn your art and perfect your craft, then the money will come.
Thinking out of the Box is also essential.
Which designers and/or artists influenced you the most as a creative
professional?
Well I  have studied and read a lot about different folks like Dali, David Bowie , Nitzsche and Chanel. But also lesser-known creatures like Robert Burns (1759 -1796 )  with his great work titled "The fornicators Court" and movies like Emmanuelle.
What is the most important skill and/or hard lesson you have learned
while working in the industry?
Don't fuck with your boss (I mean this literally) if you work in a company. But as a creative designer: FOLLOW YOUR HEART WHEN IT COMES TO DECISION MAKING.
What was most surprising about working in the fashion industry?
That people would love what I create.
If you were going to hire a new employee/intern what qualities would you
look for in a person and portfolio?
I would look for human charactistics like not being a liar, not selfish, has team spirit, and can work on a team. I, and the industry, need people who are not egocentric.
Which role(s) in the fashion industry do you think will offer the best
career opportunities moving forward? eg. designer, PR, entrepreneur, etc.?
In more recent times it was Fashion Marketing, but now I think it is more focused on the retail  aspects—especially in emerging markets, expansion and the coordination those things take.
Which skills do you consider to be most critical for a career in fashion?
To be flexible, speak different languages, be a team player while still being able to take leadership and responsibility. A healthy mental attitude is key.
What advice would you give to new graduates (with a chip on their
 shoulder) expecting success right out of the gate?
That movies really give us unrealistic expectations. They show us that people are successful 85-100% of the time—and right out of the gate--, but this is simply not true. This is a long-distance marathon, not a sprint.
What would you recommend for aspiring fashion professionals looking to 
break into today's fashion industry?
Well as with everything you must enjoy what you do, be brave! Be daring! And ensure that all aspects of your lifestyle are coherent.
Fuck a lot, dream a lot, and explore your boundaries!
Check out more interviews at The Fashion-Schools.org Interview Series.