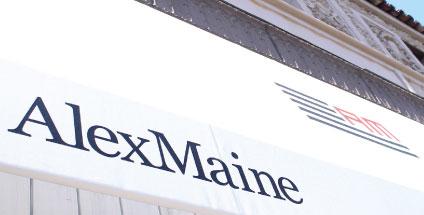 As the trend of outsourcing in fashion manufacturing (and everything else for that matter) rages, only a few proud brands retain the right to say "Made in America". The Alex Maine brand is proud to be one of the few brands left that is made in America. Alex Maine is a brand designed by the American people, for the American people and manufactured right here in the good ole USofA. 
Alex Maine was, oddly enough, not created by someone of the same name, but instead by founder Bron Heussenstamm—a man with a deep history in the business, and passionate about reversing the trend of fashion outsourcing. Bron has a rich lineage in the industry, including practically being raised in a clothing store. Bron's parents, Angelica Sage and Paul Heussenstamm started the famous Southern California stores, Newport and Huntington Surf & Sport.
Bron learned plenty growing up in the business, and is attacking the market with fierce fashions and even fiercer business plans—plans that include choosing prime real estate for their flagship store and solid marketing plans. Their flagship shop (they have several others) sits on 1,300sq ft of the Sunset Strip in Hollywood and features an on-site tailer, a state-of-the-art HD home theatre system, bar and deep-set couches. If you haven't figured it out yet the brand caters to the upscale male fashion market.
Bron was kind enough to share with Fashion-Schools.org's readers some wisdom he gained throughout his life-long experience in the industry:
What inspired you to get into the fashion industry?
For me, the inspiration is a life long passion. I grew up in my parents clothing store chain, primarily Newport Surf & Sport, and always knew I really wanted to be in this business. When the economy dropped, I became increasingly frustrated in the industries desire to source overseas. 97% of clothing purchased in the United States is now manufactured on foreign soil. I know that a made in America company can exist and that we can bring those jobs home. As for our product, we wanted a comfortable pair of non-denim pants that we just couldn't find on the market. We put them together, and Alex Maine was born. Made in America pants and apparel!
What type of education did it take to get you where you are today?
Besides the upbringing in the industry, I received my degree in Entrepreneurship from USC. Its an awesome program and an amazing school. Several of my partners were classmates. It really provided me with the business foundation I needed to make this a possibility.
How has your career path progressed over the years to get you where yo uare today?
As an entrepreneur major, I have always had that entrepreneurial itch. I have been with several start-ups and love that aspect of the business. They have each really helped in their own way shape the path of Alex Maine.

What is your favorite part of working in the fashion business?
My favorite part about working in the fashion industry is seeing people get excited about the product. Having someone come into our store, put a pair of pants on and say, "Wow, these are the most comfortable pants I have ever warn," is an amazing feeling. And to know those sales help bring jobs back to this country, it's a dream come true.

What advice would you give to aspiring fashionistas?
My advice to aspiring fashionistas is the same advice I would give to any entrepreneur: Don't let anyone tell you it can't be done, always differentiate yourself, and have a plan for how to let people know about your differentiation.

What schools does your company generally recruit new hires from?
As an alum, I try to stay as involved as I can with USC. But when it comes to hiring, it's really the right person for the job. Here in Los Angeles, USC, UCLA, and FIDM are great places to start.
Do you think there is an overall increasing or decreasing need for people in the fashion industry?
Its flat. The market is so saturated there isn't a need for one new person to enter the industry. At the same time, as long as people everywhere have a desire to be individuals, they will always be looking for the next big thing. Therefore, there is always a need for new designers in the market.
What designer(s) or brand(s) influenced you the most as an artist?
There are so many great companies, picking just one is impossible. With Alex Maine, our whole goal is to be different. We really try to make clothes that we can't find on the market. As an American made company, we get a ton of inspiration from companies that have been doing it in the US for years. Companies like Bollman Hats that have been manufacturing in the USA for over 135 years. Also, we get a lot of motivation from the people who are devoting their time to increase awareness to products that are made in the USA. Organizations like American Made Matters, An American Footprint, and Made in USA Certified.
Which skills do you consider to be most critical for a career in fashion?
I believe the skill that is most crucial is vision. A lot of times you have to take a 2 inch piece of fabric and then decide what garment to use it with and at what dimensions and if you are going to want to wear it!
What is the hardest part for you about working in the industry?
The hardest part about fashion, as with any industry that has zero barriers to entry and established goliaths, is the competition. How do you start a company and compete with billion dollar empires and garage companies that start anew everyday? As fun and creatively invigorating as the artistic side of fashion is, if it doesn't sell you won't be around long if this is your primary source of income.
What perks do you receive working in the fashion industry?
The perks are wearing the clothes! We make what we want to wear.
What do you foresee for the future of fashion?
We foresee the future of fashion as extremely comfortable, American made pants of course!!!
Check out more interviews at The Fashion-Schools.org Interview Series.