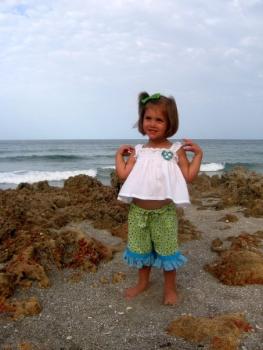 Brenda Bell's 25 years in the industry had humble beginnings, beginning with making her children's fashion line, Bell Fashions, in her foyer. But this quickly grew to a successful line manufactured in a 7,500 sq. ft. Facility.
Her secret isn't difficult to figure out though—she creates incredibly cute, make-you-go-'awe' names for her adorable kids clothes. With names like "Bell", "Daydream", "Bow Peep" and "Sweet Cheeks" it is no wonder the line is a hit with moms across the country.
Brenda's brilliance comes in the form of her marketing strategy. She operates both a successful wholesaling business, Bell Fashions, but also an equally successful online retail boutique, Children's Castle.
Any of our readers looking to glean from Brenda's brilliance should pay close attention to this interview that we were able to score from the 25-year industry veteran:
What inspired you to get into the fashion industry?
Since I can remember I have always wanted to sew.  When I was 6 years old, my mom was outside and left me inside the house.  When she came in, I was standing at her sewing machine, which I had been told to leave alone with my finger under the foot and a needle completely thru my finger.  She decided it was time to teach me to sew.  I made my first dress for myself when I was 8 years old.  When I had my first daughter in 1973, the race was on to sew for her.  I have always wanted to design.  Doing the production was never my joy but I sure did enjoy making the first sample.
What is your focus within the industry?
My focus is 100% on children's fashions. I absolutely love exquisite children's clothing. I am a huge fan of traditional clothing but am not a fan of the new clothing that makes babies and toddlers look like grown ups. I manufactured clothing for 26 years only because no one would hire me to design, so I had to make them myself. Now I am doing all my products in Central America and China.
What type of education did it take to get you where you are today?
No Education. Not even a mentor, except my mother and grandmother. My ability was a natural ability. My grandmother would make her own patterns after looking at a child's dress in a store window and sew for her children. My mother made all of our clothes. I purchased books from the internet and learned to grade patterns. I had people who worked for me that helped me learn the production line type operation.
How has your career path progressed over the years?
I tried to get a job with a company in California doing free lance design. They told me they were interested so I sent them samples. The owner of the company, Martha Miniatures, however would never speak to me by phone after receiving my samples—eventually, I finally got his secretary to tell me that he did receive them.  About 1 year later, I saw my designs with the name Martha's Minatures in a Children's Clothing Boutique in my town. But, his loss because I started my own business and decided to produce my designs myself.  I started with 2 sewing machines in my entrance foyer.  Six months later, I purchased an old mobile home, gutted it and started producing from that trailer. The following year, I purchased a second one. They looked horrible in my yard--but I was on a mission.  We were sewing in one trailer and pressing and shipping in the other.  In 1990, we hired a new sales rep that got us into a chain of department store. We built a 7,500 square foot building and are still located there today.
What is your favorite part of working in the fashion/design business?
The designing and seeing the first proof.
What advice would you give to aspiring fashionistas?
If you have a dream, go for it. If you want it, speak it to yourself and others. The words you speak about yourself frame your world.
What school(s) does your company generally recruit new hires from?
My best designer only has a high school education. She has ideas running thru her head faster than I can write them down. I think designing is a God-given natural ability.
Do you think there is an overall increasing or decreasing need for people in the fashion industry?
I am not sure but there seem to be more line and collections available. I have been going to trade shows for years and it seems like there are a lot more lines available now than ever.
Which roles in the fashion industry do you think will offer the best career opportunities moving forward? eg. designer, PR, entrepreneur, etc.?
Entrepreneurs that can design. It seems that most entrepreneurs in the children's clothing business began as designers. No one seems to want to hire designers.  I think the reason for that is simply that as they are starting their business they cannot afford to pay a designer.
What designer(s) or brand(s) influenced you the most as a creative professional?
A line called Mary Louise Originals and also Martha's Miniatures, which are ruffled girls dresses, which is what I started manufacturing. Our first line was called "Bell". In 1990, only one company, Joseph Love, was making dresses for chubby girls.  The Loves were getting to retirement age and they suddenly closed and no one was making Chubby Dresses.  We started a line called "Daydream" and sold to achain store group in North and South Carolina.  That is when we really took-off.  What we created were traditional-styled dress that were inspired by a line called "Monday's Child".  After we came out with this Chubby line, within 2 years there were numerous companies following our lead. 
Do you think today's jobs in the fashion industry require more of an artist's touch or business-like ruthlessness?
Both. It is a tough business as there is a lot of competition. There is also a lot of dirty dealing that goes on with other companies stealing your ideas. You can come out with something brand new. We came out with a new line called "Girley Girl"  No one else had anything like it on the market. In 2 years all my competitors were doing very similar things in their lines.
Which skills do you consider to be most critical for a career in fashion?
I think you should learn everything you can. My education beyond high school was in business college, then I later worked as an executive secretary and did not know, but I would later use those skills.  I have used everything that I learned there for my business. I love grading patterns and can get lost in that—which is a helpful skill.  I think that the most critical thing is to have vision and imagination, and have the ability to take fabrics and put them together with your ideas.

What do you think the future of fashion and design holds?
It is very hard to say. I hope it will calm back down some. I am so tired of all the crazy loud prints. Often I go into a department store and can hardly find anything suited to my tastes. I go so far as to sometimes say that the designers are on drugs. I think the speciality of a garment should be in the tailoring of the garment and not the wildness of the fabric.
Check out more interviews at The Fashion-Schools.org Interview Series.