What do Visual Merchandising Professionals do? Where do Visual Merchandising Professionals work? FS takes a look: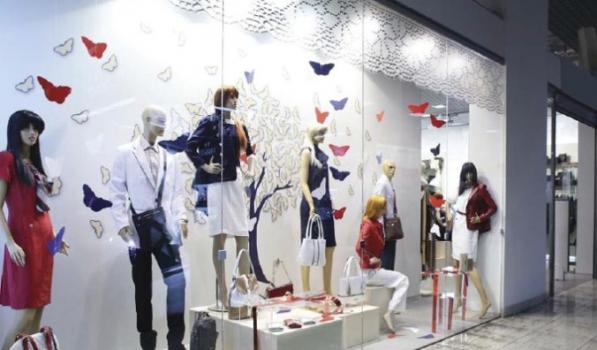 Alternate Titles For the Role
Merchandise Display Artist
Visual Display Designer
Visual Merchandising Job Description:
Are you good in conceptualizing and designing store displays? Have ever dreamed of working in retail stores or fashion chains? If your answer is YES, then you will have a bright future working as a visual merchandiser. Visual merchandisers are mainly tasked to develop, create, and implement in-store displays and other store visuals to ensure entice customer to checkout the store's products. Visual merchandiser professionals exploit the impulsive buying attitudes of many consumers in order to gain good store profits.
Visual merchandisers can work in varying settings from brick and mortar retail stores, regular boutiques, online fashion stores, up to high-end fashion boutiques. As a professional visual merchandiser you are expected to assume a myriad of store responsibilities that may include the following:
come up with creative and artistic concepts for in-store displays
take over of the visual look of the store
devise, implement and execute effective merchandising strategies
closely supervise other members of the visual merchandising team
create and maintain different visual displays
constantly conceptualize new and fresh store design ideas
formulate striking marketing and advertising strategies
communicate with clients to acquire store feedbacks
coordinate with designer, sales associates, and manufacturers
present effective promotional ideas to increase store profits and sale
move and position store merchandises
maintain an organized, visually appealing and welcoming store environment
build clientele through effective marketing and advertising of fashion products
organize fashion events, discount sales, and other gimmicks to attract more store customers
In general, a visual merchandiser will have to oversee tasks related to visual displays, inventory management, store merchandising, product promotion, fashion merchandising, fashion sales, and human resource training.
Visual Merchandising Education Training & Advancement:
Earning a high school diploma will serve as a stepping stone to qualify for a fashion merchandising course. The educational requirement for visual merchandising applicants will greatly depend on the preference of the employer. Some are even willing to provide on-the-job training for visual merchandising candidates who were not able to get a formal education. However, most employers still prefer visual merchandiser applicants who have satisfied a degree from reputable fashion design schools.
So if you want to pursue a career in visual merchandising, there are plenty of fashion design schools providing excellent course programs. Remember that a formal visual merchandising education will allow you more room for advancements.
Associate Degree Program: Satisfying the requirements of a 2-year Associate degree in Fashion merchandising or other related fields will allow you to pursue a career as professional visual merchandiser. Associate visual merchandiser course programs offer basic knowledge on how to setup efficient store layouts and create attractive in-store displays.
Bachelor's Degree Program: Taking up a Bachelor's Degree in Visual Merchandising, Graphic Design, Fashion Design, Fashion Sales, Fashion Management, Fashion Merchandising, Retail Management, Business, and Marketing can all lead to a lucrative career opportunity as a professional and skilled visual merchandiser director or manager. Students enrolled in a four-year Bachelor's degree course program will gain comprehensive knowledge on the use 3D design software, visual merchandising techniques, strategies, and concepts.
Apart from that, visual merchandiser aspirants will also learn about the following topics:
Store image, layout and concepts
Lighting fixtures, store displays, and signs
Merchandising methods, plans, and theories
Interior store design ideas
Concept visualization
Color theory
Merchant trend analysis
Visual merchandiser aspirants who are taking course programs focusing in Visual Merchandising, Fashion Management, Sales, Retail Marketing and other related fields will have the opportunity to acquire skills on:
researching current and applicable fashion trends
forecasting eventual and seasonal trends
analyzing constant market shifts
creating distinct and artistic visual displays
It is highly advised that visual merchandiser applicants gain relevant field experiences through internship programs offered by the school or other means. They can also find apprenticeship positions in small fashion boutiques or retail stores, which marks a good starting point.
Visual Merchandising Jobs & Careers:
Visual Merchandising Assistant > Visual Merchandiser > Visual Merchandising Coordinator > Visual Merchandising Director
Visual Merchandising Salaries:
Annual income earnings of various visual merchandising professionals will vary greatly depending on their educational background, years of experience, expertise, and special skills. To give you an idea on their annual salary estimates, here is a quick rundown of the annual earnings of visual merchandiser professionals according to their work experience.
Entry Level Visual Merchandiser Professionals: $21,000 to $32,000
Experienced Visual Merchandiser Professionals: $30,000 to $45,000
Top Level Visual Merchandiser Professionals: $50,000 to $60,000+
The average yearly earnings of most visual merchandising professionals fall in the $50,000 income range. Therefore, for those who would like to earn greater income potentials, it would be ideal if you pursue higher educational degrees and acquire more visual merchandising experiences.
Job Trends for Visual Merchandising:
Employment in the field of visual merchandising is expected to grow faster than the average. In fact, job outlook is quite excellent since more visual merchandising jobs will be generated because of the increasing interests of people in the fashion industry. Retailers know the importunate of store visual displays in attracting the interest of the buying public; hence, the expertise of visual merchandiser professionals will definitely be in high demand. Hiring expert visual merchandisers will ensure that store traffic will be increased. Therefore, the need for visual merchandiser professionals will absolutely increase in the coming years.
More experience visual merchandiser professionals will of course have greater opportunities to find high-paying visual merchandising careers.