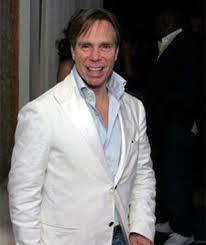 In his new reality television show, "The Cut," fashion designer Tommy Hilfiger describes the elements of his fame with an acronym:
F - Fashion
A - Art
M - Music
E - Entertainment
Hilfiger explains that the key to his sustained success in the fashion industry has been his uncanny ability to fuse the four aforementioned elements in a tidy package that has mass appeal. Hilfiger launched his first collection in 1984, and netted profits of $11 million by 1986. But, of course, if you have visited any major department store in the past fifteen years, this is not hard to imagine. Hilfiger's spirited but casually colorful update on the classic preppy look has catapulted him into a household name. He has made chambray shorts and cotton collared shirts chic again. His collections fill the racks and people buy.
Hilfiger is also famous for his ability to forge great relationships with huge musical acts - including Nelly, Puff Daddy, Destiny's Child, the Black Eyed Peas, and No Doubt - to name a few! He has been praised for his ability to appeal to consumers through the use of celebrity endorsement. This methodology certainly fits into his "F.A.M.E." approach of creating a lifestyle brand, which he explains to the sixteen eager contestants selected to be a part of "The Cut."
In hopes of being chosen as the next great American designer, contestants will be put through the ringer. Hilfiger explains that each of the tasks, ranging from testing business instinct, to social skills, to sales and marketing, to design and creativity, are a part of the skill set necessary to achieve success in the competitive industry of fashion.
So, if you are reading this you are probably not a contestant on the show. That is okay! We think that you can gain valuable advice from Hilfiger anyway. In choosing the various tasks for the contestants, Hilfiger provides a guide for all design hopefuls. Fashion design is not just about design - at least not if you want to rule the fashion world! As you develop your design skills, it is also important to work on your ability to socialize, sell yourself and understand the numbers behind it all. Whether you seek "F.A.M.E" or a lucrative career in fashion, Hilfiger is a worthy model for success.