What do Personal Stylists do? Where do Personal Stylists work? FS takes a look: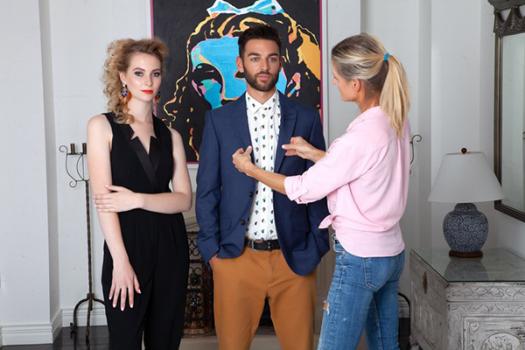 Alternate Titles For the Role
Wardrobe Consultant
Personal Shopper
Personal Stylist Job Description:
Have you envisioned working with glamorous Hollywood celebrities and fashion models? Do you love the company of stylish individuals? If you do, then you have to consider pursuing a career as a personal stylist. Working as a personal stylist will give you the opportunity to assist and style well-known fashion personalities. This may be a dream come true for some especially those who have been attracted with the glitz and glamour of the fashion industry.
Basically, a personal stylist is very much like an image consultant. Personal stylist professionals give fashion advice to ensure that clients will be able to showcase their desired fashion image. They provide insights on how wardrobes should be worn, what accessories will complement a particular outfit, what outfit color will suit the client, and many more. In general, personal stylist professionals must be able to combine the latest fashion trends with the client's personal taste. This is critical to ascertain that they will be able to convey the message that the client wants to achieve.
Personal stylist professionals are usually hired by individuals who need to come up with a unique image overhaul in order to establish a distinct signature style. If you are really eager to try this career, you have to be aware that it isn't just all about the glamour and rubbing shoulders with famous celebrities. You should know that the fashion world is a demanding industry, hence, only those who are quite resilient will likely to survive the fierce competition.
To be able to succeed in the fashion styling field, you have to be cutout for the job. Moreover, you should understand the basic function of a professional personal stylist. Some of the usual responsibilities that you will likely take on include: 
teach the client to make effective image decisions
make thorough evaluation about the client's physical attributes, preferred style, and personality to easily provide the most suitable fashion choices
give good fashion recommendations about the client's overall look which include the wardrobe, footwear and accessories
help clients pick applicable outfits and pair them with matching accessories
assist clients' to change or maintain their desired fashion image
choose wardrobes, accessories, apparels, and footwear that will accentuate the striking physical features of the client
Overall, working as a personal stylist is without a doubt a very rewarding career. You get to help someone, enjoy what you do, and then get paid in the process.
Personal Stylist Education Training & Advancement:
Although personal styling is more of one's natural ability to choose flattering styles for the clients, it is still highly recommended that personal stylist aspirants get a formal education and training from fashion design schools. While some employers do not give too much emphasis on educational backgrounds, others are keen about the applicant's work portfolio.
Most personal stylist professionals are freelancers. They do not work under any types of design firms but rather they are hired on a freelance basis. Some have short-term job offers but there are also others who are lucky enough to land long-term personal styling gigs. With this kind of work setup, it is really essential to build a strong network of clients. Personal stylist experts commonly get job through client referrals. Therefore, the more people satisfied with your services, the greater chances of finding new prospects.
Even if there is no particular educational requirement set to become a personal stylist, aspirants are still encouraged to attend fashion design schools in order to acquire the necessary skills and knowledge. Many personal stylist aspirants pursue diploma programs that will earn them either a 2-year Associate or 4-year Bachelor's degree in Fashion Design, Merchandising, Marketing, or Costume Design.
The best place to start a career as a personal stylist is by gaining relevant experiences through internship and apprenticeship programs. You can apply for entry-level fashion assistant positions in department stores or fashion boutiques in order to learn more about fashion brands and the latest trends. Moreover, take this opportunity to interact with clients, which is a good way to market your personal styling talents to build a solid clientele. Aside from that, you can also train under an established personal stylist to develop your styling skills and artistic concepts.
It is critical that personal stylist aspirants gain enough experiences in order to find good job offers. Finding jobs in fashion retail positions would be a good starting point. Since personal stylist professionals are typically self-employed, learning how to network is a must. In addition to that, they have to gain knowledge on customer relations and the emerging fashion trends.
Clients will most likely hire personal stylist aspirants who have the following qualities: 
superb interpersonal skills
able to relate to people with different background, age, status, and fashion perspective
has a natural flair with color and style
a broad knowledge on the ever-changing fashion trends
great persuasion skills
impressive past experiences in retailing, fashion styling, design, and beauty therapy
Personal Stylist Salaries:
Full-time personal stylist professionals earn approximately $40,000 annually. But those who work with big-time clients (for instance famous models and celebrities) can earn up to $100,000 or even more.
Like with other types of fashion careers, personal stylist aspirants should really work their way up by gaining more experiences and constantly honing their styling talents in order to earn higher income opportunities!