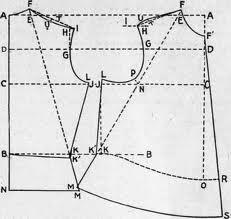 Think that pattern making sounds boring? Think again! In today's world of complex designs and high fashion, pattern making has become vital to a designer's success.
Pattern makers are responsible for translating a fashion designer's vision from paper to fabric. Often working with a mere drawing, the pattern maker transforms the image into the actual design. Oftentimes, designers sketch only the front of a design, leaving the rest of the design to the pattern maker. Many designers do not even know how to sew, and sometimes the sketches cannot actually be made. For instance, a particular type of fabric that the designer envisions may not be able to be cut or sewn to the designer's original image.
The pattern maker often works in conjunction with the designer to create the actual designs. From suits to dresses, the two must work together to ensure that the original vision is created in fabric. Often the original design is modified as the two work in conjunction to make the design a reality.
Most design schools offer courses in pattern making, but the number of people who specialize in the trade is dwindling. As designs become increasingly more complex, the role of a pattern maker becomes more important. And, with increased importance for pattern making, and a reduction in the number of specialists, an upward trend in wages and salary for the role should be expected.
If you are interested in fashion design and like to sew, pattern making might be the right choice for you. Success requires good knowledge of the human form, knowledge of numerous fabrics, and a strong ability to sew. It also requires a great deal of creativity and insight. Next to the actual designer, it is one of the most important and influential in a fashion house.
Programs to Consider:
Selected Campus Locations:
loading...