What do Fashion Stylists do? Where do Fashion Stylists work? FS takes a look: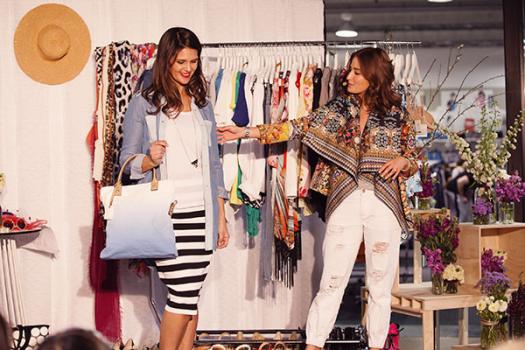 Alternate Titles For the Role
Fashion Stylists Job Description:
Do you have the passion to create unique wardrobe styles? Are you good in mixing and matching fashion outfits? If you have long been dreaming of working as a fashion stylist, then now is the time to shine! Fashion design schools will be more than happy to help you acquire the necessary skills and knowledge to become the best in the industry.
Generally, fashion stylists are responsible for making people look good. They also help to bring the photographer's or director's vision to life. Fashion stylists usually work in photo shoots, commercials, movie sets, print advertisements and music videos to style celebrities and models. Fashion stylists show the wearers' personality and style through the clothes, wardrobes or outfits that they are wearing. They help boost the person's self-confidence by helping them make a good impression. They basically assume all tasks related to styling and creating fashion visuals.
Fashion stylists are expected to assume a wide variety of tasks and responsibilities which include: 
producing creative design solutions
selecting fashion accessories that will complement a particular outfit
setting meetings with PR companies, retailers and manufacturers
hiring, borrowing, or purchasing props, garments and accessories
dressing models, celebrities, and other people who hired their services
building up a good network of clients
keeping an eye on the constantly changing fashion trends
conceptualizing and developing fashion visuals that can be used for photo shoots or movie sets
packing and returning borrowed outfits and accessories
giving insights on what type of outfits, accessories, and shoes must be purchased
assessing the wardrobe style of a certain individual (i.e. model or celebrity)
putting together creative and unique fashion outfits
combining outfits and accessories that will look good on the wearer
helping people dress more fashionably
Fashion stylists often work in a fast-paced and stressful environment. They are often exposed to long work hours due to the nature of their job. In addition to that, the work of fashion stylists are very demanding since they have to be present until the photo shoot or movie shoot wraps up.
Famous Fashion Stylists: Jeff Ihenando: Stylist for supermodels Kate Moss, Libery Ross, Naomi Campbell
Rachel Zoe: Celebrity clients include Nichole Richie, Mischa Barton, Keira Knightly
Rohn Padmore: Wardrobe stylist for Madonna, Lauren Hutton, Kylie Minogue, Kelly Price
Fashion Stylists Education Training & Advancement:
There is no standard educational requirement for aspiring fashion stylists. Some just attend short courses on fashion styling to acquire basic knowledge on how to put matching outfits together and to have a better understanding about the fashion trends. However, many employers are still looking for fashion stylist applicants who acquired formal education and training from credible fashion schools. Even though you possess the creativity and artistry to become a good fashion stylist, getting a formal education is still highly recommended.
Those who want to pursue a professional career in fashion styling is advised to enroll in a 2-year Associate degree program in fashion designing, fashion merchandising, visual or art merchandising, and other related fields. Fashion stylist aspirants who have enrolled in an Associate program will learn more about the ins and outs of the fashion industry.
Aspiring fashion stylists who want to land good job offers should consider enrolling in a 4-year Bachelor degree course program in Fashion merchandising, art or visual merchandising, fashion styling, fashion designing and other related fields. Satisfying a bachelor's degree fashion program will allow aspiring fashion stylists to gain more comprehensive skills and knowledge that will help them become efficient in their job.
It is highly recommended that fashion stylist aspirants earn relevant field experiences so they can build an impressive fashion portfolio. Fashion stylist aspirants can gain good work experiences by: 
finding an internship program in fashion design schools
working as a fashion assistant for an established fashion stylist
participating in fashion design training programs to improve styling skills
exploring entry-level fashion careers to gain enough work experiences to advance in higher fashion styling positions
Networking and experience are critical for fashion stylists to succeed in this field. Therefore, it is really vital that you establish a remarkable fashion styling portfolio to increase your chances of getting lucrative job offers.
Fashion Stylists Jobs & Careers:
Intern/Stylist's Apprentice > Assistant Fashion Stylist > Staff Fashion Stylist
Fashion Stylists Salaries:
The annual salary earnings of fashion stylists vary greatly depending on their years of experience, skills, and expertise. Those who have already established network of clients, and have already gained valuable fashion styling experiences receive lucrative pay rates. Entry-levels, on the other hand, receive lower pay rates than experienced fashion stylists but their salary is still enough to support a rewarding lifestyle.
Here is a breakdown of the daily earnings of fashion stylists according to their work experience: 
Entry Level Fashion Stylists: $150-$200/day
Experienced Fashion Stylists: $500-$5,000/day
Top-level Fashion Stylists: above $5,000/day; $100,000 or more annually
Working as a professional fashion stylist will certainly offer you a rewarding and fulfilling job that allows you to get paid by making people look and feel beautiful!
Job Trends for Fashion Stylists:
Aspiring fashions stylists should really work their way to the top since there are no shortcuts to success. Starting out fashion stylists should expect minor difficulties because they are just beginning to build their network. Successful fashion stylists reach where they are today due to their hard work, perseverance, determination, success-drive, and of course, unmatched styling skills. It is critical that a fashion stylist build a strong client base so they can instantly widen their network. Most fashion styling gigs are generated from referrals of valued clients. Therefore, fashion stylists must maintain an excellent professional reputation in order to gain the trust of clients.
Most fashion stylist professionals work independently and are hired on referral basis. But there are also some who work under a particular styling firm. Job outlook for fashion stylist experts are very promising due to the constant need for skilled fashion stylists in movies, commercials, photo shoots, and other related settings.