What do Fashion Sales Representatives do? Where do Fashion Sales Representatives work? FS takes a look: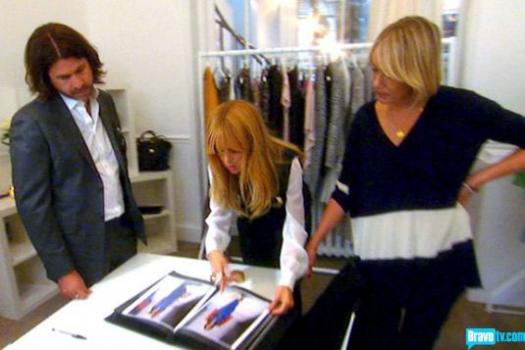 Alternate Titles For the Role
Manufacturer's Representative
Apparel Sales Representative
Fashion Sales Representative Job Description:
Are you a people's person? Or do you have excellent communication skills? Have you ever dreamed of working in the fashion industry? If your answer to the following questions is YES, then a career in fashion sales is perfect for you! Fashion sales representatives are very well-rounded, adaptable, and flexible. They often work for fashion manufacturers or wholesalers.
The main task of a fashion sales representative is to sell the products manufactured by their fashion company. They are the ones who conduct meetings to prospect clients (such as retail and wholesale agents of small fashion boutiques) in order to efficiently facilitate their product purchases. A good fashion sales rep must be to devise good promotional plans and marketing strategies to establish a strong customer base and to effectively develop new prospects in particular target markets.
As a fashion sales representative you are expected to assume the following duties and responsibilities:
Solicit orders from new and prospective customers in a certain geographical area
Sell manufactured garments, accessories, and other fashion products to fashion buyers from wholesale and retail stores
Provide samples, catalogs, and illustrations of the company's product line
Handle product inquiries of clients
Listen to customer concerns
Address product-related issues
Arrange special event or product launch
Develop efficient marketing and advertising strategies to increase sales
Nurture partnerships and key accounts from valued clients
Enlarge client base by developing excellent customer relations
Survey, analyze and prepare proposals for new prospects and old clients
Typically, employers look for fashion sales representatives that have strong marketing and advertising skills. But aside from that, fashion sales representatives should also have broad knowledge about current fashion trends. Most importantly, an efficient fashion sales rep must be able to properly represent the company to their customers.
Fashion Sales Representative Education Training & Advancement:
In general, there is no minimum education required for aspiring fashion sales representatives. However, it is recommended that they acquire some form of training in fashion, marketing, advertising, and sales in order to become efficient in their jobs. A certificate or diploma from technical/vocational fashion schools is a good starting point.
Fashion sales aspirants who enroll in trade, vocational or technical schools often take short courses that involve economics, sales techniques, communication and marketing. It is also advised that aspirants acquire knowledge in retail sales since this is one of the vital factors that employers look for in a good fashion sales rep candidate.
Those who are aiming for high-paying job offers should consider enrolling in a 2-year or 4-year degree programs. Fashion design schools that provide courses in fashion merchandising and sales should be on your priority list. Since there are a number of accredited fashion design colleges operating worldwide, you won't have any difficult to find one. You can also choose to enroll in a physical school or you may opt to consider having online classes.
Students who have time-constraints or have regular jobs should locate credible online fashion schools to get a formal training without the need of physically attending an actual school. No need to worry since the quality of education given is pretty much the same but the only difference is that you are enrolled in a virtual classroom.
Fashion sales representatives who didn't have formal training or education can still hone their skills through on-the-job training programs provided by some companies. Normally, applicants who are naturally skilled in the trade will be given proper company training so they can develop the necessary skills to become an effective fashion sales assistant/representative.
Getting relevant work experiences is beneficial to land excellent job offers. You can do this by participating in good internship programs or finding apprenticeship from established fashion stores. You can also do volunteer works in small fashion boutiques and garment stores, which can help you develop excellent marketing and sales technique.
Furthermore, it is important that you also possess good job qualities in order to increase your chances of finding superb job opportunities. Therefore, make sure to constantly develop your skills and talents to gain a competitive advantage.
Career Path: Showroom Sales Representative/Assistant > Sales Representative > Sales Manager > Rregional Sales Manager > National Sales Manager > VP Sales
Fashion Sales Representative Salaries:
The Bureau of Labor Statistics have recorded that the median annual earnings of most fashion sales rep amounts to $64,440. There is also promising income opportunities generated from commissions bonuses and incentives. Here is a salary estimate of the annual earnings of a fashion sales rep presented in varying pay levels.
Entry-level pay: $15,000 - $30,000
Median-level pay: $40,000 - $75,000+ (salary greatly vary depending on experience)
Top-level pay: $80,000 - $100,000+
An experienced and skilled fashion sales rep will certainly have lucrative income opportunities due to their diversified roles. Hence, working as a fashion sales rep will absolutely allow you to support a fulfilling and rewarding lifestyle!
Job Trends for Fashion Sales Representative:
An average growth is expected in the fashion sales and marketing sector. Sales assistants or representative who are willing to travel and are flexible in terms of work scope will have good job prospects. Fashion sales representatives can also find good job opportunities overseas since fashion merchandising and retailing is now recognized worldwide. Qualified and experienced fashion sales representatives can also expect new job openings in the US. Meanwhile, entry-level positions will be in-demand in small fashion boutiques, retail stores, and mass-produced garment shops.
Fashion marketing positions will grow higher than expected in the sales and retail sector due to growing global commerce. Therefore, graduates who have a background in Fashion marketing and merchandising will definitely have an added advantage