What does a Fashion Photographer do? Where does a Fashion Photographer work? FS takes a look: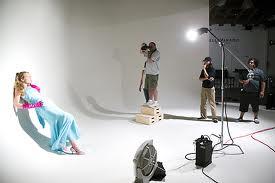 Alternate Titles For the Role
Photographer
Catalogue Photographer
Magazine Photographer
Fashion Photographer Job Description:
Many are attracted with fashion photographer careers due to the numerous perks that they offer. Fashion photographer jobs require a good amount of foreign traveling in scenic, exotic and superb photo shoot locations. In addition to that, a career in fashion photography is perhaps one of the most glamorous professions ever created in the fashion industry. Not to mention the fact that fashion photographer professionals receive excellent compensation. That being said, there is no doubt why an increasing number of people are now showing great interest in the fashion photography field.
Pursuing a career in fashion photography will give you a chance to work with the finest models and celebrities in the fashion industry. You can also receive great publicity by posting your work in magazines, and other types of fashion journals. In general, fashion photographer professionals take pictures of models, which will be used for web sites, magazines, print ads, and fashion houses. They are also tasked to conceptualize photo shoots that will highlight the clothing, accessories, and apparels worn by the models. The generated photographs will then be used in a variety of digital and print media. Most of these pictures will be integrated in catalogs, magazines, and advertisements.
Basically, fashion photography aims to properly represent the works of fashion designers to the public. Fashion photographer professionals are hired to produce photos that will most likely be used for marketing and advertising fashion products.
As a professional fashion photographer, you are expected to take on the following duties: 
Take photos of models according to the client's specifications
Be able to work with studio lighting in order to bring out the best features of the models
Establish good working relationship with models so they will feel at ease with the camera
Use various props and back drafts to create an appropriate photo setting
Produce unique, creative and artistic fashion photo concepts that will entice consumers
Do photo shoots in a wide variety of locations and be able to work well with varying light conditions
Coordinate with fashion stylists, art directors, agents and fashion editors
Create rapport with models to produce excellent pictures
Maintain a relaxing and professional atmosphere to allow models to feel comfortable
Bring out the best in models during photo shoots
Achieve excellent poses by boosting the confidence of the models
In general, the tasks and responsibilities of fashion photographer professionals are heavily fixated to setting the photo location, producing excellent fashion pictures, and creating good rapport with the models.
Famous Fashion Photographers: Richard Avedon, Helmut Newton, Mario Testino, Steven Meisel, Patrick Demarchelier, Michael Thompson, Mario Sorrenti
Fashion Photographer Education Training & Advancement:
Fashion photography careers do not require aspirants to acquire a degree. This is because the skills required can be easily developed through apprenticeships. While an educational degree isn't necessary, fashion photographer aspirants have to build an impressive portfolio in order to find success in this trade. It is critical that fashion photographer professionals must be able to showcase their technical photographic skills, as well as distinct and creative perspective through their work portfolio. In addition to that, fashion photographer aspirants should also have their own professional style so that people in the fashion industry can easily recognize their work.
Fashion photographer aspirants can develop their skills and artistic talents by volunteering in internship program or by becoming an apprentice of a well-known photographer. Remember that competition in the fashion industry is very tight; therefore, you have to build a strong working foundation in order to penetrate the fashion market.
In order to land good job offers, fashion photographer aspirants must possess the following qualities: 
good eye and artistic ability
strong ability to capture and set a certain mood
superb artistic detail
knowledge in photo editing applications
success-driven and with a credible reputation
good communication skills
ability to work well with models, art directors, agents and other clients
Most clients look for fashion photographer professionals who can efficiently translate their artistic vision and creative concepts into pictures. Moreover, they must also have a broad understanding about the technical elements of photography that includes lighting, composition, sharpness and the latest photographic trends.
Fashion Photographer Jobs & Careers:
Photographer's Assistant > Staff/Freelance Photographer > Photo Editor > Director of Photography
Fashion Photographer Salaries:
Income rates of different fashion photography professionals vary greatly depending on their years of experience. Since most employers are keen with work experiences, higher income opportunities are waiting for well-established fashion photographers. The typical top-level annual pay for experienced fashion photographer professionals is around $50,000, while those who have already created a name in the fashion industry can earn $100,000 or more annually.
Therefore, aspiring fashion photography professionals are highly encouraged to build a profound work portfolio to land better job offers and higher compensation rates!
Job Trends for Fashion Photographer:
Employment in the field of fashion photography is anticipated to grow by 17% until 2014. Fashion photographer professionals who wish to pursue a career in commercial fashion photography should expect a tight competition. However, with the increasing rate of people who are pursuing fashion photography careers, very few will find luck in exclusive agencies dealing with top-level fashion work. In fact, only those who are highly-qualified, skilled, and can easily adapt to changing technologies will be given the opportunity to land a career in exclusive photo agencies.
Do not worry since promising job offers will be available for freelancing fashion photographer professionals. Therefore, aspirants must create a remarkable work portfolio in order to get lucrative job opportunities. The increasing need for appealing websites will also spur the demand for skilled fashion photographer professionals who have a strong background in graphic design. Others can choose to put up their own photo studios especially when they have already established a solid clientele.