What do Fashion Merchandising Professionals do? Where do Fashion Merchandising Professionals work? FS takes a look: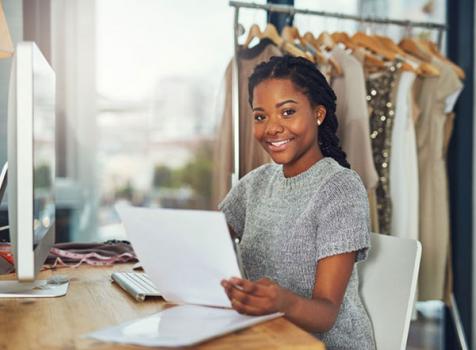 Fashion Merchandising Job Description:
Job Description
Fashion merchandisers are also known as a Merchandiser or Apparal Merchandiser. Fashion Merchandisers on the apparel production side track and analyze market trends, production costs, and previous sales numbers to determine the product direction that the manufacturers will take each season. If high rise jeans are going to become the next big thing, a fashion merchandiser needs to be one of the first in the industry to spot the trend. Fashion merchandising professionals on the retail side are responsible for tracking consumer trends and the latest styles to determine store inventory and to price clothes. In addition to arranging the receiving and storage of apparel, retail merchandisers supervise the creation of visual displays and the overall appearance of the store. They may also be responsible for tracking profits and losses. Merchandisers are some of the most powerful employees within an apparel company, and they have large bottom-line and personnel management responsibilities.
Fashion merchandising is yet another popular field in the fashion industry. Fashion merchandisers practically combine marketing and advertising, with their creative and imaginative talents. They are tasked to analyze changing market trends, oversee production costs, supervise sales, and create income projections. A fashion merchandiser is also responsible for conceptualizing a fashion line appropriate for the current season.
Fashion merchandising professionals are also involved in the following duties:
Selection of fabrics and textiles
Transferring of products from the designer and manufacturer to the hands of the consumers
Devising good marketing strategies to increase sales
Improve income projection through efficient advertising campaigns
Ensure that all fashion products are presented in a very appealing manner to entice customers
Anticipate customer preferences
produce detailed store inventories
Efficiently track store profits
Supervise the creation of store and visual displays
A good fashion merchandising professional must be resourceful, creative, confident, imaginative, and full of new ideas. In order to succeed in this field, a fashion merchandiser should have good judgment and must be willing to take risks.
Technically, a career in fashion merchandising requires aspirants to become versatile, flexible and adaptable in the continuously changing world of fashion. In addition to that, they must also know how to efficiently manage their roles in order to become more productive. Moreover, they should know how to smoothly navigate the fashion business to ensure that they will be an asset to the company. Highly skilled fashion merchandising professionals are capable of assessing the changing needs of the consumers, predicting new style trends, and conceptualizing superb promotional campaigns.
Fashion Merchandising Education Training & Advancement:
A great number of fashion merchandising design schools are now offering varying programs in different parts of the world. Make certain to only enroll in accredited fashion merchandising design schools, community colleges, trade schools, or private institutions to ensure good quality of education.
Interested students or applicants can choose from any of the following course programs:
Certificate/Diploma Programs: Earning a certificate in fashion merchandising design program will serve as your first step to success. Students enrolled in this program are taught about the basic concept of fashion merchandising. Additionally, they also acquire the basic skills needed to jump start a fashion merchandising career.
2-year or 4-year Degree Programs: A 2-year fashion merchandising design program is ideal for those who want to work for entry-level positions. Students enrolled in this program will also learn about consumer research, fashion history, culture, CAD, and effective business skills. Those who want to gain comprehensive knowledge about fashion merchandising should opt for a 4-year Bachelor degree program. Aspiring fashion merchandisers who have satisfied a 4-year degree often land more advanced positions.
Advanced Studies: Those who are aiming for higher paying job sin fashion merchandising must consider pursuing advanced studies program.
As for the trainings and experiences, fashion merchandiser aspirants can hone and develop their schools with the help of internship programs and by volunteering in field jobs. Remember that the more experience you have, the higher your chances of finding better paying job offers.
Fashion Merchandising Jobs & Careers:
Fashion merchandiser professionals can work in varying job environments. In fact, they can choose from a number of fashion merchandising careers which include the following:
Fashion Advertising Agent
Store Manager
Fashion Product Developer
Event Planner
Fashion Retailer
Window Dresser
Fashion Promotion Specialist
All of these specialized fashion merchandising fields offer varying scope of work and income opportunities.
Career Path: Fashion Buyer > Merchandising Assistant > Merchandiser > Merchandising Director
Fashion Merchandising Salaries:
Net income of fashion merchandiser professionals vary greatly depending on their location, qualification and expertise. Here are the annual earnings of some of the popular fashion merchandising careers according to the years of their experience:
Visual Merchandiser with 3-5 years experience: $32,881 - $52,785
Merchandise Buyer Assistant with at least 2 years experience: $37,310 - $46,036
Senior Merchandise Buyer Assistant with 2-4 years experience: $47,378 - $62,400
Merchandise Buyer with 2-4 years experience: $68,814 - $91,800
Senior Merchandise Buyer with 4-6 years experience: $83,408 - $116,750
Overall, fashion merchandising careers offer great job opportunities especially to experienced professionals. However, entry-level professionals can also expect lucrative income opportunities by attending credible fashion merchandising design schools.
Job Trends for Fashion Merchandising:
Fashion merchandising employments are expected to grow around 21% - 35% until the next ten years. This rate is above average as compared to the employment rate produced in other fashion fields. Excellent income opportunities are likely to be generated in the marketing, advertising, and sales field. According to the Bureau of Labor Statistics, there are 77,000 fashion merchandiser professionals working in various companies.
Employers are looking for fashion merchandiser professionals who possess diverse skills and talents including the following:
Superb visual and spatial perception
Above average drawing and sketching abilities
Strong artistic, creative and imaginative skills
Exceptional sense of style and color
Ability to work in changing environments
Basic knowledge on computer graphic applications
Outstanding marketing, advertising and promotional skills
Ability to perform routine tasks effectively
New job opportunities are projected to emerge due to the need to replace existing workers who have decided to change profession, leave work, or retire from the job