What do Fashion Illustrators do? Where do Fashion Illustrators work? FS takes a look: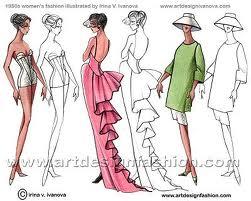 Alternate Titles For the Role
Fashion Illustrator Job Description:
Are good with CAD applications? Are you interested in both fashion and drawing? Have you dreamed of working with remarkable and famous fashion designers? If your answer to these questions is a YES, then a career as a fashion illustrator suits you well. Get the chance to work with top-ranking, notable, and highly acclaimed designers in the fashion industry by jumpstarting a fashion illustration career today! There are lots of fashion design schools to choose from. All of which are offering excellent course programs related to fashion illustration and other similar fields.
In general, fashion illustrator professionals work very closely with fashion designers and art directors to produce artistic, unique and creative visual images with the aid of traditional and digital media. They are basically tasked to develop eye-catching drawings aimed to boost the interest of the buying public to a particular clothing line. The images created by fashion illustrator professionals are commonly integrated in print ads, television commercials, and online advertisements. A fashion illustrator is technically a graphic designer who assumes a wide range of responsibilities. Although they are mainly tasked to make sketches, layouts, or images, they are still expected to fulfill other duties which may include the following:
Create designs for garments, shoes, fashion accessories, and other apparels with the use of imaging software programs like Photoshop and Illustrator
Bring the vision of the fashion designers to life through the illustration of the actual design plan
Sketch drawings using various mediums including paint, charcoals, colored pencils, and computer software programs
Produce drawings and layouts that will be used in catalogs, magazines, brochures, flyers, commercials and other advertising media
Communicate fashion ideas through sketches, layouts, drafts and drawings
Select the appropriate color, sound, and animation that will go well with the existing fashion concept
Develop fabric patterns and designs that will be used for manufacturing garments and wardrobes
Maintain open communication with the fashion designers, art directors, and buyers
As you might notice, the work of fashion illustrator professionals relies heavily on the creation and development of images, sketches and layouts that will be used to entice clients to try out fashion products and accessories that are up for sale. That being said, fashion illustrator professionals are definitely integral members of the fashion team.
Fashion Illustrator Education Training & Advancement:
To become a professional fashion illustrator, it is important that you are up-to-date with the latest fashion trends. Moreover, you must be able to accurately render sketches and drawings of garments, footwear, accessories and other fashion apparels based on the creative and artistic concept of the fashion designer.
Programs to Consider:
[listing]
While there is no exact educational requirement set for fashion illustrator aspirants, it is still highly recommended that aspiring fashion illustration professionals take formal training and education from notable fashion design schools. The truth is job requirements for fashion illustrator professionals vary greatly depending on the preference of the employers. In fact, some employers may not be too keen about educational degrees but majority still prefers those who have satisfied either an Associate or Bachelor's Degree course program.
Most of the aspiring fashion illustration professionals are attracted with diploma programs that will earn them a 2-year Associate degree or a 4-year Bachelor degree in Fashion Design, Fine Arts, Visual Arts, Graphic Design, or Fashion Illustration. Attending diploma course programs will allow fashion illustrator aspirants to go ahead in the industry. These programs give emphasis on the development of foundational drawings as well as design courses. Fashion illustration students who have enrolled in diploma course programs will learn how to:
draw from live models in order to convey interaction of human movement with the clothing designs
translate sketching and drawing skills using digital paint brushes and other computer imaging applications
Curriculums in fashion illustration and other similar fields would normally include the following:
Fashion Interpretation and Life Drawing
Illustration of Live Models
Accessory and Figure Composition
Fashion Image Drawing
Anatomical Life Drawing
Advanced Media Color Rendering
Fashion illustrator aspirants who have a strong background in Fine Arts will definitely have the advantage. It is important that they build a good fashion illustration portfolio in order to easily market their skills. Hence, it is highly advised that fashion illustrator aspirants acquire relevant work and field experiences through internship and apprenticeship programs. Finding entry-level fashion illustration positions will allow them to hone their skills and talents as they build an impressive fashion illustrator portfolio.
Fashion Illustrator Jobs & Careers:
Fashion Illustrator Freelance > Staff Fashion Illustrator
Fashion Illustrator Salaries:
The annual salary earnings of fashion illustrator professionals will vary depending on their experience, educational background, and expertise. Most fashion illustrator professionals receive annual earnings that falls within the $29,806 to $63,104 income range. Of course, entry-level fashion illustrator professionals will earn a much lower salary but is expected to increase as they become more experienced. Experienced and top-level Fashion illustrator professionals, on the other hand, have higher salary potentials. In fact, they can easily earn $60,000 or more since they have already showcased their skills.
So, if you want to pursue a rewarding career as a fashion illustrator, be sure to find a reputable fashion design school to gain the necessary skills and knowledge needed to succeed in the field!
Job Trends for Fashion Illustrator :
The growth of fashion illustrator jobs is anticipated to be below average as compared to other fashion careers. This is mainly because job openings for fashion illustrator professionals are focused in certain geographical areas. In addition to that, the responsibilities of fashion illustration professionals can now be done by photographers and other professionals exposed in the field of Arts and Design. That being said, fewer job offers are expected to be generated. However, there is a promising opportunity for those working as freelancers. Moreover, fashion illustrator aspirants should also expect opportunities in fashion forecast firms and clothing pattern companies. Full-time jobs for fashion illustration professionals will be available in clothing catalog firms.