What do a Fashion Editors do? Where do a Fashion Editors work? FS takes a look: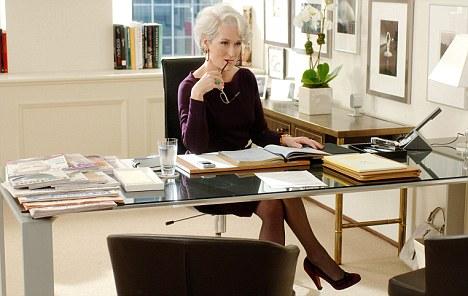 About Fashion Editor:
A fashion editor supervises the the creation, development and presentation of content for the fashion department of a magazine, Web site, newspaper or television program.
Fashion editor's work can be quite broad and consist of several responsibilities. Often the work includes supervising more junior editors and writers, as well as writing or editing articles themselves. They will formulate and style photo shoots, choose photos for publication, and choose fashion highlights and trends for publication. As their content often reaches a broad audience, they are often researching trends in the fashion industry and networking with industry professionals including photographers, designers and public relations professionals.
Alternate Titles For the Role
Apparel Editor
Accessories Editor
Fashion Producer
Fashion Editor Job Description:
Fashion editors supervise the process of creating, developing and presenting content for fashion-specific magazines, photo shoots, websites, newspaper sections, or television shows. Editors occupy the mid to highest-level positions at publications. Under guidance of the editor-in-chief, they are responsible for deciding the creative influence and direction that their departments will pursue during a given season or issue. Editors may specialize in apparel, accessories, beauty and make-up, and so on. Some fashion editors choose to be freelance, working on a per-contract basis and assuming all of the costs of the fashion shoot (e.g., clothing and accessories).
Due to the deadline-driven nature of their work, both salaried and freelance editors should enjoy a fast-paced environment. In addition, editors are often required to travel to keep up with the latest fashion trends through meetings with designers and visits to fashion shows throughout the world (e.g., New York, Paris, London, and Milan), retail stores, specialty boutiques, and vintage clothing stores. They also rely on the content of designer "Look Books" and apparel and product samples to select content to be featured in their publications.
Famous Fashion Editor-in-Chiefs:
Anna Wintour: Vogue Magazine
Cindi Leive: Glamour Magazine
Robbie Myers: Elle Magazine
Becoming a Fashion Editor:
Many schools offer certificates, associate and bachelor's degree programs in fashion design & related fields that will help jump-start one's career as a fashion editor. These programs expose students to practical opportunities in order to get started in the fashion industry, and give a solid foundation on which to begin a career. Some fashion schools will over specific lines of study for aspiring editors.
As important as formal education is establishing yourself in the publication industry. Editors often start their careers as writers or junior editors at any publication. Skills developed as an editor in any field can transfer...provided you've also got a passion and talent for fashion.
Always have a good portfolio of ideas and strategies to present. Get your ideas out there, and be your own sales agent.
Fashion Editor Education Training & Advancement:
Education - A 4-year bachelor's degree in Fashion Design & Merchandising or Journalism is required. Coursework in both fields is a plus. A Liberal Arts degree with the necessary related coursework is also a good option.
Experience - Internships with fashion publications is a good way to get a foot in the door - and often the only way. However, any journalistic internship can be a launching pad for an eventual career as a fashion writer or editor. A portfolio of previous written and published work is required for higher-level writing and editing jobs.
Personal Characteristics/Skills - Passion for fashion; broad knowledge of fashion industry trends and forecasts; excellent writing/journalistic talent with the ability to communicate effectively and clearly; great organization and planning skills; excellent interpersonal and management skills; competitive spirit; ability to perform well under stress.
Fashion Editor Jobs & Careers:
Associate Editor > Editor > Senior Editor > Editor-in-Chief
Fashion Editor Salaries:
Salary Range for a fashion editor: $30,000 to $100,000+
Entry level pay may range from $30,000 to $40,000
Experienced may range from $40,000 to $60,000
Top level pay may range from $70,000 to $100,000
Job Trends for Fashion Editor:
Employment of editors and writers is expected to increase 10% to 20% between 2002 and 2012, according to the US Dept of Labor. There are a variety of outlets in which prospective editors may seek employment including but not limited to: fashion magazines, fashion sections of news, entertainment and lifestyle magazines, newspapers, television shows, websites, etc. Growth in any of these sectors means an increased demand for experienced writers and editors. Because competition for these jobs is fierce, aspiring editors must be creative, hard working and willing to start at the bottom and take opportunities as they arise. Once in the system, opportunities for advancement become more readily available.