What do Fashion Designers do? Where do Fashion Designers work? FS takes a look: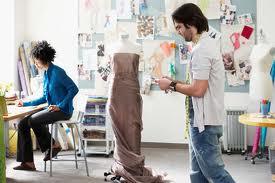 Alternate Titles For the Role
Clothes Designer
Apparel Designer
Fashion Designer Job Description:
Fashion designers conceptualize and create new clothing and accessory designs. They analyze fashion trends and work closely with production, marketing, and sales departments to design, produce, and promote a finished, ready-to-wear product for apparel manufacturers, specialty and retail stores, and individual clients. Fashion designers usually specialize in a specific line of clothing such as women, men, kids, maternity, bridal, sportswear, and so on. Generally, a fashion designer assumes a variety of tasks which include creating dresses, suits, shoes, and accessories. In larger fashion houses, individual designers may work in very specialized areas, such as t-shirts, evening dresses, maternity clothes, baby outfits, or denims. They need to undergo formal training from accredited fashion design schools in order to practice as a professional.
As a fashion designer, you have to be knowledgeable about the latest fashion trends. In addition to that, you have to be well-versed in creating unique sketch designs for clothes and accessories, selection of fabric, and conceptualization of the final product. Typically, fashion design involves many sub-careers some of the most in-demand are the following: 
Footwear fashion designer: Their job is to create varying styles and designs that will be used for boots, shoes, and other types of footwear.
Clothing fashion designer: They are mainly responsible for producing apparels and clothing lines for men, women and children.
Accessory fashion designer: As the name suggests, they are primarily tasked to produce items that will be used to compliment an outfit. This may include hand bags, scarves, hat, eyewear and many more.
More experienced designers may be required to travel to promote their fashion lines. Fashion design is a demanding and unpredictable job with long hours, especially when deadlines approach for launches, shows, or individual jobs, an example being tailors who produce custom designs for weddings and other special events. Within the broader field of fashion design, there are a number of specialty occupations such as technical designer, pattern maker, cutter, and textile designer. Today, an increasing number of fashion designers are now using CAD (Computer Aided Design) when formulating their fashion concepts. CAD helps them to create efficient virtual models of clothing designs in varying colors and shapes. This helps them to save time since the need for adjustments is dramatically reduced. Potential employers include retailers, haute couturiers, textile and apparel manufacturers, and fashion studios.
A fashion designer can work in a number of settings. They can pursue a career in big fashion firms, retail stores, costume design department, or apparel wholesales. Of course, their scope of work will greatly depend on what they are tasked to do. For instance, fashion designers who work at big design firms have to produce unique designs and oversee the whole design process, while those who work in television productions or costume departments are mainly responsible for conceptualizing designs for costume use.
Fashion Designer Education Training & Advancement:
Most employers seek for fashion designers who were able to satisfy at least a 2-year or 4-year degree. Additionally, those who have broad knowledge about textiles, fabrics, ornamentation, fabrics and current fashion trends will definitely have the advantage.
In terms of educational requirements, an aspiring fashion designer should get formal training from a credible fashion designer school. Enrolling in either a 2-year Associate or a 4-year Bachelor course program is also a must. Aspiring fashion designers who want to run their own fashion design business should also have a degree in business, marketing, or fashion merchandising.
A standard coursework of fashion design programs would normally include the following: 
sewing and tailoring
textiles and colors
pattern making
fashion history
Computer-aided designs
various types and designs of clothing
At the moment, there are currently over 300 postsecondary institutions that were accredited by the National Association of Schools in Art and Design. Some schools follow a strict screening process before they allow an aspiring fashion designer to enroll in a specific fashion design program. Satisfying basic art and design courses is typically required in order to become eligible.
Most of the aspiring designers acquire their skills through internship programs as well as other relevant experiences. Some develop their talents by working in retail stores, custom tailor or personal stylist. By exposing themselves in various field works, they get to hone their marketing, sales and advertising skills in the process.
As a professional fashion designer, employers expect applicants to possess the following qualities: 
strong eye for detail
a great appreciation for beauty
superb skills in communication and problem-solving
exception patternmaking and sewing skills
strong sales, persuasion and presentation skills
outstanding sketching ability (very important)
above average leadership skills (a plus)
Fashion Designer Jobs & Careers:
Design Assistant > Assistant Designer > Associate Designer > Fashion Director
Fashion Designer Salaries:
Salaries of different fashion designer careers will vary greatly depending on experience, skills, and education. The median annual salary wages of most fashion designers fall into the $61,600 range. The annual median salary of fashion designer professionals working in various industries are as follows: 
Management of companies and enterprises: $72,560
Cut and sew apparel: $66,000
Apparel wholesaler: $61,600
Specialized design services: $59,650
Top level salary may range from $75,000 to over $100,000
Job Trends for Fashion Designer :
With regards to employment, there is very minimal or no change projected. However, job competition is expected to stiffen as more people are attracted to the glitz and glamour of the fashion industry.
The employment rate for fashion designer careers is predicted to increase by one percent between 2008 and 2018. Some of the new fashion designer jobs will emerge from the constantly changing fashion trends. The growing demand for the production of new, fresh and innovative fashion ideas will open more job opportunities for aspiring fashion designers. Aside from that, the growing demand on affordable clothing and apparel will prompt the need for qualified apparel and clothing fashion designer professionals.
Unfortunately, expect that jobs related to sewing and cloth manufacturing will have a steady decline since most of the mass-produced clothes are already made overseas.
Aspiring fashion designers will face tough competition as more and more applicants are drawn to the fashion industry. Great job opportunities will ensue from firms or companies that design mass-market clothing apparels. Meanwhile, fewer job opportunities will be generated from industries catering to specialty boutiques and high-end fashion market.