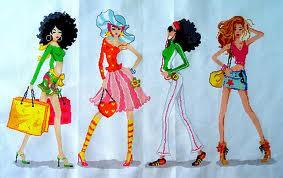 Combining elements of two specialist fashion courses, Fashion Marketing and Fashion Design, this highly versatile program offers an all-round education in both the creative and the business aspects of the fashion industry. It makes a perfect launching pad for a career as either a commercially "smart" designer or a creatively oriented manager in a fashion house or retailer. For those who aspire to start their own fashion business instead the mixture of hands-on technique and strategic awareness gained through these programs is priceless.
Students build advertising, marketing and retailing knowledge of the fashion industry while gaining creative, fashion design skills. They are exposed to a solid grounding in everything from advertising and retailing to design principles; illustration, custom patterns and fashion show production. Most programs offer a variety of well-known visiting lecturers, and the option of working internships with leading companies in the fashion marketplace to allow students to meet the people behind the business.
Upon completion of this program, graduates are expected to have successfully put together a portfolio of work to facilitate employment. Graduates are prepared for positions in the fashion industry such as Assistant Fashion/Accessory/Costume Designer, Assistant Manager, Manufacturer's Representative, Assistant Merchandise Buyer, and Stylist.
Below are the Fashion Design and Marketing Degrees offered by the schools reviewed on this site. Find the Degree Program you are interested in, request information, and get started today!
Programs to Consider:
Selected Campus Locations:
loading...
Associate Degree in Fashion Design:
Online
Academy of Art University Online
California
Academy of Art University (San Francisco)
The Art Institutes of California - Hollywood 
Florida
Miami International University of Art & Design
The Art Institute of Ft. Lauderdale
Illinois


Michigan


Nevada


New York City
The Art Institute of New York City
Oregon
The Art Institute of Portland
Pennsylvania
The Art Institute of Philadelphia
Tennessee
Texas
The Art Institute of Dallas
Washington
The Art Institute of Seattle 
Associates in Fashion Marketing:
California
The Art Institutes of California - Hollywood 
New York City
The Art Institute of New York City
North Carolina 
The Art Institute of Charlotte
The Art Institute of Raleigh-Durham
Pennsylvania
The Art Institute of Philadelphia
Washington
The Art Institute of Seattle 
Bachelors in Fashion Design
Online
Academy of Art University Online
Arizona
The Art Institute of Tucson
California
Academy of Art University (San Francisco)
The Art Institutes of California - Hollywood 
The Art Institutes of California - Inland Empire
The Art Institutes of California - Los Angeles
The Art Institutes of California - Orange County
The Art Institutes of California - San Diego 
The Art Institutes of California - San Francisco 
Colorado
The Art Institute of Colorado
Florida
Miami International University of Art & Design
The Art Institute of Ft. Lauderdale
Georgia
American InterContinental University (Buckhead, Atlanta)
Bauder College (Atlanta)

Illinois
The Illinois Institute of Art, Chicago
The Illinois Institute of Art, Schaumburg
Indiana
The Art Institute of Indianapolis
Michigan
Nevada
Oregon 
The Art Institute of Portland
Pennsylvania
The Art Institute of Philadelphia
The Art Institute of Pittsburgh  
Tennessee 
Texas
The Art Institute of Dallas
The Art Institute of Houston 
The Art Institute of San Antonio
Washington
The Art Institute of Seattle 
Vancouver, British Columbia, Canada 
The Art Institute of Vancouver
Bachelors Degree in Fashion Marketing:
Arizona
The Art Institute of Phoenix
The Art Institute of Tucson
Vancouver, British Columbia, Canada 
The Art Institute of Vancouver
California
The Art Institutes of California - Hollywood 
The Art Institutes of California - Los Angeles
The Art Institutes of California - Orange County
The Art Institutes of California - San Diego 
The Art Institutes of California - San Francisco 
The Art Institutes of California - Sunnyvale
Florida
Georgia
American InterContinental University (Buckhead, Atlanta)
Illinois
The Illinois Institute of Art, Chicago
The Illinois Institute of Art, Schaumburg
Michigan
The Art Institute of Michigan, Detroit
The Art Institute of Michigan, Troy
Missouri
The Art Institutes International - Kansas City
North Carolina
The Art Institute of Raleigh-Durham
Ohio
The Art Institute of Ohio - Cincinnati
Oregon
The Art Institute of Portland
Pennsylvania
The Art Institute of Philadelphia
Washington
The Art Institute of Seattle 
Wisconsin 
The Art Institute of Wisconsin