What do Fashion Buyers do? Where do Fashion Buyers work? FS takes a look: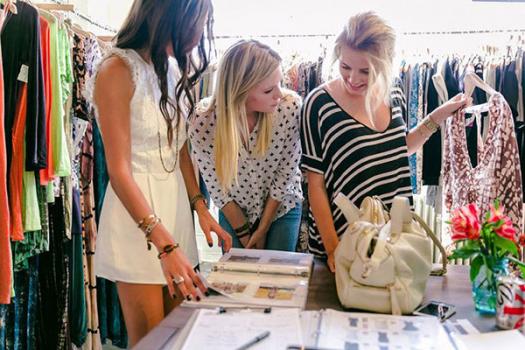 Alternate Titles For the Role
Fashion Buyer Job Description:
A fashion buyer is responsible for the products that the company sells, making fashion buyer jobs quite important for the company and for the brand that they carry. They oversee the development of clothes which are targeted towards a particular market and price range. Depending on how big the company is, there might be one fashion buyer or a team of fashion buyers responsible for the clothes which the company would carry.
Most of fashion buyers communicate to both internal and external stakeholders, so proper public relations is a definite plus. They need to communicate effectively within the team, as well as the clothing suppliers and manufacturers so as to avoid misunderstandings which are very crucial in the fashion industry.
Fashion buyers typically work with the merchandising team, fashion designers (if any), and department managers to decide on the right pieces which they will sell. They need to visualize the budget and the profits that the company would make, as well as how much they need to spend and they need to gain.
Becoming a Fashion Buyer:
A typical fashion buyer works with clothing suppliers to make and select the proper clothing pieces for the target market. They are responsible for deciding between the current fashion trends, as well as the classic traditional pieces which sell quite well.
Fashion buyer jobs entail you to maintain good relations with suppliers, while being able to negotiate prices with them. A fashion buyer is also the one who makes sure that suppliers deliver the new stocks on time. Fashion buyers also monitor the best-selling pieces in the stores and make sure that they are always available for consumers.
As a fashion buyer, you need to think ahead of time and always be prepared - especially when the season changes. Season changes mean that there is a new collection of clothes. The most important seasons would be autumn and spring. A typical fashion buyer buys clothes at least six months in advance; this means that you would be buying autumn/winter clothes in January to February, and then again for the spring/summer collection in August.
Being a fashion buyer requires you to be creative and to be flexible. Since a fashion buyer would probably be traveling to the important places in the fashion world like Paris, then moving on to Asia to make sure that these clothing pieces would be produced just like how you want them to be, flying shouldn't be a problem for you. Studying the past and the present, as well as forecasting future fashion trends is also a must.
A good fashion buyer is always good and confident with people. They know how to negotiate and to practice good public relations, as well as mingle and maintain good relations with suppliers and designers. They also know how to be decisive, and are well-motivated and imaginative.
Perhaps the best quality that most fashion buyer jobs find would be enthusiasm, as well as self-motivation. Nothing beats it when a fashion buyer loves his or her job, and has a passion for fashion and clothes. It also helps if they love challenges, and are excited about learning the buying behaviors of their target market so they can develop better clothing pieces to sell.
Fashion Buyer Education Training & Advancement:
When applying for some fashion buyer jobs, some may require fashion or business degrees. Fashion Design and Fashion Merchandising are good degrees for somebody who is interested in being a buyer, as well as various Business degrees in Public Relations, Promotions and Merchandise Planning.
Having some retail experience in a fashion boutique can also let you make better decisions when you become a buyer. Some department stores and different fashion boutiques have internships and training programs for those who are interested. Studying formally about the fashion industry and getting some on the job training can surely help and hone you to become a good buyer in the near future.
Fashion Buyer Jobs & Careers:
Assistant Fashion Buyer > Fashion Buyer > Divisional Merchandise Manager
Job Trends for Fashion Buyer:
Since clothing, general merchandise and accessories are the largest employers in the country, it is typical that the fashion buying industry has employees from all over the country. There are employees from these industries from both rural and urban areas. Most of employees are quite young, with around 29% of them being 24 years old and below, according to a BLS Current Population Survey in 2008.
It isn't a surprise, as well, that most fashion buyers or those who work in the fashion industry are young, as well. Since young people are generally the ones who are always updated with the latest fashion trends, typical fashion buyer jobs are being offered to young people.
There is also a big opportunity in this industry, since you can always climb up the fashion industry ladder to make your way on the top. In three to five years, you can easily become a full-fledged senior fashion buyer.