What do Costume Designers do? Where do Costume Designers work? FS takes a look: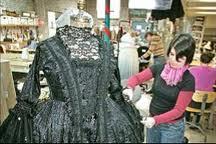 Alternate Titles For the Role
Costume Designer Job Description:
Are you intrigued by how costumes are conceptualized? Do you have superb creative and artistic talents? If so, then you really should consider pursuing a career as a costume designer. Great opportunities are waiting for those who have attended formal education and training from notable fashion design schools.
Costume designers are fashion professionals who are tasked to develop wardrobes, footwear, accessories and other fashion apparels that will be used in theatre, film, and television. They work closely with the directors, producers, as well as with the costume design team to ensure that the costumes that will be generated are precisely based on what the story, drama, or script requires. Costume designer professionals are primarily responsible for researching, designing, sewing, and drawing costumes that will be used in movie, theatre, and stage productions.
Apart from that, costume designer experts are also expected to perform other tasks and responsibilities which include the following: 
Find costume styles, fabrics, patterns, and designs that will suit the production's particular specifications
Ensure that the design concepts provided by the director and producer will be achieved
Study scripts and story lines to get an idea on how to conceptualize the appropriate costume style
Scour thrift stores, department stores, and other buying avenues to find ready-made costumes
Supervise costume fittings with the cast of the play or movie production
Sketch or draw costume designs before making the actual costumes
Take charge in the overall visual approach of the costumes, sets and props to ensure that they are well coordinated
Develop technical sketches, costume drafts, and costume layouts
Work hand-in-hand with tailors and other costume makers who turn the costume design sketches into real garments or wardrobes
Facilitate dress rehearsals
As a whole, costume designer professionals will practically oversee the entire costume production. They will have to ensure that all costumes are well-fitted, in good condition, and are ready to be used once the production begins. 
Costume Designer Education Training & Advancement:
Aspiring costume designers must satisfy a 2-year or 4-year degree in Fashion or Costume Design. Even if you already possess creative and artistic skills, you must still complement them with formal education and training. There are a number of fashion design schools that are offering superb costume designing courses. But attending formal education from reputable schools is highly recommended.
Costume designer aspirants who want to learn the basics of costume designing should enroll in a 2-year Associate degree program, while those who want to acquire more advanced designing skills should opt for a 4-year Bachelor's degree program. But either way, both diploma programs will allow aspiring costume designers to have a good career starting point. Most employers prefer costume designer candidates who are well-versed with their craft. Hence, attending fashion design schools and satisfying a degree program would certainly give you the edge.
Enrolling in diploma costume designer course programs will expose you to relevant subjects that include: 
theatrical set design
costume design art
performing arts productions
Costume designer aspirants who have a broad knowledge on arts, fashion, and general world history will definitely stand out. Aside from that, aspiring costume designers should also develop the following qualities:
excellent research skills
superb designing and dressmaking skills
a good understanding about textiles, fabrics, accessories, and latest fashion trends
Gaining relevant work and field experiences is a must in order to gain a competitive advantage. Hence, costume designer professionals must look for internship in school theatre and film production or they can find apprenticeship position in small theatre or stage productions. Moreover, they can pass direct applications for entry-level costume designer positions in various production firms. Costume designer aspirants who are looking for entry level positions should try sending applications to professional theatre groups, commercial production, and other industry that require the expertise of a skilled costume designer.
Costume Designer Jobs & Careers:
 Design Assistant, University/Regional Theatre > Costume Designer, University/Regional Theatre >Costume Designer, Broadway/Off-Broadway Productions > Costume Designer, Television and Film
Costume Designer Salaries:
Annual income earnings of costume designer professionals vary greatly depending on their experience and expertise. Those who are more experienced will of course have higher salary earnings. But entry-level costume designer positions also offer a reasonable income rate that is enough to support a fulfilling lifestyle.
The salary estimates of costume designers based on work experience are as follows: 
Entry-Level Costume Designer: $500/ production
Experienced Costume Designer: $20,000/production
Top-Level Costume Designer: $150,000/production
If you want to earn lucrative income opportunities, be sure to get a formal training from credible fashion or costume design school and acquire relevant work experiences to allow you more room for advancements!
Job Trends for Costume Designer:
Job openings for aspiring costume designers are mostly focused in the entertainment industry. Costume designer professionals are expected to work in various movie, stage, theatre, and television productions. Outlook for costumer designer jobs is very promising as the demand for costume designers are likely to increase due the growing need for costumes in theatre and movies. Typically, aspiring costume designers start their career by working as an assistant. And as they become more experienced, lucrative job offers in film, tv, theater and movie begin to materialize.
Overall, employment rate of costume designer professionals is expected to slightly increase till 2014. But rest assured that there will always be an on-going demand for costume designer experts since production companies will always need their expertise.