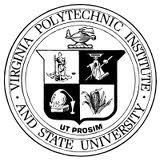 Fashion programs & degrees offered by Virginia Polytechnic :
As of 2011, Virginia Polytechnic Institute & State University offers the following degrees:
B.S. Apparel, Housing, & Resource Management, Apparel Product Development & Merchandising Management
Virginia Polytechnic 's annual tuition
Virginia Polytechnic 's student population
Fashion student population
Virginia Polytechnic 's admission requirements:
Program requires a 2.0 GPA.
Program Length
It usually takes four years to complete a B.S. degree, two years to complete a M.S. degree and two or more years to complete a Ph D program.
Virginia Polytechnic 's career placement services:
Students who choose to complete an internship may do so in their junior year, where they are typically placed among designers, manufacturers, retailers, and product developers. Study abroad is available in Europe. Student organizations and study tours provide further opportunity for interaction with industry experts and networking.
Fashion faculty members at Virginia Polytechnic