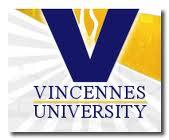 Fashion programs & degrees offered by Vincennes Univerity:
As of 2011, Vincennes University offers the following degrees:
A.S. Fashion Merchandising
A.A.S. Fashion Merchandising
A.S. Interior Design
A.A.S. Interior Design
Vincennes Univerity's annual tuition
Vincennes Univerity's student population
Fashion student population
Vincennes Univerity's admission requirements:
Program has open admission policy.
Program Length
It usually takes four years to complete a B.S. degree, two years to complete a M.S. degree and two or more years to complete a Ph D program.
Vincennes Univerity's career placement services:
Internship opportunities are available for students who qualify. Vincennes University strives to accommodate student needs to ensure academic success partly by offering online courses for each major in the fashion program. Other areas of study that help students prepare for careers in merchandising and interior design include buying in fashion, tailoring, history of costume, psychology, textiles, visual merchandising, and economics.
All data is as of 2011.