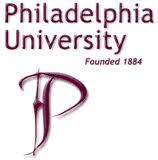 Fashion programs & degrees offered by Thomas Jefferson University :
Bachelor's degrees: Fashion Design, Fashion Merchandising & Management, Textile Design, Textile Product Science. Jefferson also offers graduate Fashion + Textiles programs.
Thomas Jefferson University 's annual tuition
Thomas Jefferson University 's student population
Fashion student population
Thomas Jefferson University 's admission requirements:
Fashion Design: No special admissions requirements; University undergraduate admission requirements include transcripts, letters of recommendation, personal essay.
Program Length
Bachelor's programs: 4 years
Thomas Jefferson University 's career placement services:
Jefferson's degree programs prepare students to become industry leaders and the Marianne Able Career Services Center helps them land top internships and jobs. Providing guidance on resumes, interviewing and networking, the Career Services Center will help you make your professional dreams come true.
Faculty members at Thomas Jefferson University
Fashion faculty members at Thomas Jefferson University