What do Clothing Pattern Makers do? Where do Clothing Pattern Makers work? FS takes a look: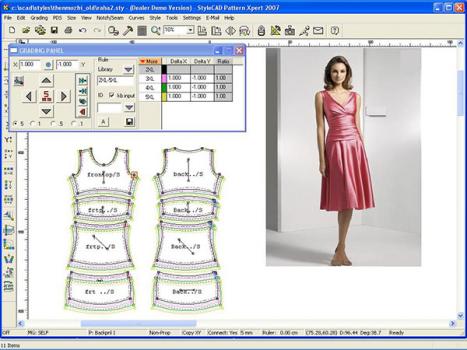 Alternate Titles For the Role
Dressmakers
Dressmaking
Pattern Maker
Apparel Patternmaker
Fabric Patternmaker
Clothing Pattern Maker Job Description:
If you are interested in dressmaking, patternmaking, or any tasks that are closely related to clothes and sewing, then you will definitely have a bright future as a clothing pattern maker. Technically, a clothing pattern maker is responsible for developing and creating patterns for a variety of clothing apparels. They conceptualize their patterns through the use of drawings and sketches. The task may require entail grading, detailing, and adjusting garments in various sizes. Today, many dressmakers are now using CAD (Computer Aided Designs) to create pattern models. With the use of computer generated pattern models, clothing pattern maker professionals are able to save time, money and effort. Adjustments can be all done with a click of a button and they can develop multiple patterns at a time.
Apart from the duties mentioned above, clothing pattern makers also assume the following responsibilities:
Translate the drawing of clothing designs into pieces of paper or fiberboard in order to replicate shapes that will serve as dress or clothing pattern
Maintain an open communication with designers and manufacturers to ensure smooth transition of designs and actual clothing products
Use draping skills to produce the corresponding dress or clothing patterns
Be able to work with various clothing styles that have complicated pattern requirements
Conduct proper clothing fittings and issue necessary adjustments or corrections
Inspect the accuracy of sample pattern to ascertain that it follows the original sketch design
Alter sample garments as necessary to satisfy cost specification and manufacturing limitations
Provide advice or input on the right machine techniques to use
Grade the patterns according to the required range of garment sizes (usually done with CAD)
In general, clothing pattern maker professionals are involved in the industry of textile and apparel manufacturing. They work with establishments that process various textile fibers to create fabric which will then be utilized to produce clothing and other kinds of textile products. Over the recent years, most of the apparel manufacturers worldwide moved their production to countries offering much lower labor costs. However, US fabric manufacturers opted to automate the process to increase production while maintaining good product quality.
Today, the textile and apparel industry have opened a significant number of employment opportunities in varying fields which include fabric or dressmakers, textile cutting machine setters, shoe machine operators, pressers and forming machine operators.
Clothing pattern maker professionals serve as the backbone or skeleton of the fashion industry since the patterns they create are very important to produce the final clothing product. Without them, the sketches and designs produced by fashion designers would not come to life. 
Clothing Pattern Maker Education Training & Advancement:
Aspiring clothing patter makers and dressmakers must get formal training and education from credible dressmaking or fashion design schools. Different fashion design schools, community colleges, trade schools, vocational schools, and private institutions are offering various programs related to dressmaking and patternmaking. That being said, aspirants will have lots of options available.
Aspiring dressmakers and patternmakers should choose from any of the following course programs:
Certificate Programs: Clothing pattern maker aspirants who have enrolled in a certificate program will acquire basic knowledge on design and pattern drafting. Certificate courses are mostly offered in technical and vocational schools. They can last around 6 months up to a year depending on the coursework provided by the school.
Degree Course Programs: Dressmaking courses that fall under this category last for 2 to 4 years. An associate degree in dressmaking or patternmaking is ideal for those who want to equip themselves with the necessary knowledge to get more advanced patternmaking positions, while those who want to earn higher income rates must consider pursuing a 4-year Bachelor degree.
Online Course Programs: Clothing pattern maker aspirants with time constraints will greatly benefit by enrolling in online dressmaking or fashion design schools. Certificate and degree programs are also being offered by fashion design schools online.
In order to work as a professional clothing pattern maker, you need to have a working knowledge about fashion design. Moreover, you also have to hone your skills and talents by taking apprenticeship or internship programs. Make it a point to find entry-level jobs that will allow you to grow as an experienced clothing pattern maker. Try to acquire skills in CAD since most manufacturing and fashion design companies are now using computers when creating patterns and clothing designs.
Clothing Pattern Maker Jobs & Careers:
Fabric Cutter/Grader > Patternmaker > Assistant Designer > Designer. Alternatively Patternmakers may be promoted into Manufacturing/Production Management positions.
Clothing Pattern Maker Salaries:
The pay scale of clothing pattern maker professionals vary greatly depending on their skills, expertise, years of experience, educational background, and specialization. Dressmakers and clothing pattern makers that have more experience are expected to receive higher compensation (around $15.77/hour or even more), while those in entry-level positions can look forward to a fair salary rate of $13.30/hour.
The annual earnings of clothing pattern maker professionals with varying experiences may fall in different income ranges which include the following:
Entry-level pay: $11,000
Median pay: $21,000
Top-level pay: $40,000 - $150,000
Although employment in dressmaking and patternmaking are expected to shrink, clothing pattern maker aspirants as well as aspiring dressmakers must never lose hope for there will always be available job opportunities for them since clothing and apparel is one of man's most basic necessities.
Job Trends for Clothing Pattern Maker:
According to the Bureau of Labor Statistics, a 35% employment decline is anticipated in the garment industry due to the growing technical advancements and the transfer of production to countries with cheaper labor costs. However, clothing pattern maker professionals that have acquired good skills in operating high-tech textile machineries can expect fair prospects.
Job openings will be available in many fashion houses due to the declining rate of professionals entering the trade. Even though employment in the manufacturing and garment industry may have abstained, there is a promising opportunity for dressmakers and patternmakers in private fashion boutiques and big design firms.