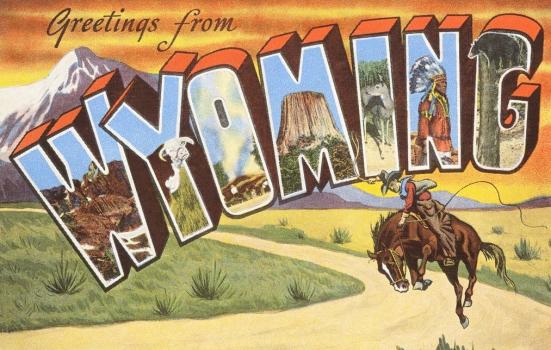 Wyoming is home to artists of all kinds, from western and wildlife artists to singing cowboys. Head to Jackson for a visit to the National Museum of Wildlife Art or travel to the Wind River Reservations to watch world-class dancers perform. If you really want to experience something special, take a drive to Cody and listen to the cowboy's sing. Just about every city here has its fair share of skilled craftspeople too. Some have their own shops, while others sell their creations to retail venues across the country.
Wyoming certainly isn't lacking when it comes to art and culture, and although small, the fashion scene is an important part of the art and culture scene. In addition to everything from blankets and baskets to rugs and dishes, craftspeople design and produce clothing, scarves, and jewelry. Because handmade clothing and jewelry are becoming increasingly popular, designers have the perfect opportunity to sell their pieces to a variety of retail venues across the U.S. and abroad.
Employment opportunities are also readily available for fashion designers interested in working in design or production for a local designer or production facility. Some facilities are small with only a few employees, while others are larger and employ dozens. Fashion merchandisers can find work at small or large shops and facilities, as well as malls and department stores such as Macy's, and White Valley Mall, home of Flaming Gorge Harley-Davidson—the only mall-based motorcycle retailer in the U.S.
If you decide that Wyoming is the best place for you to start a career, you're in luck because you can train here too. The University of Wyoming offers a number of fashion programs that can be completed in just four years.
Career Opportunities & Employers in Wyoming:
Fashion designers have a number of positions to choose from such as textile artist, hand weaver, knit stylist, fabric technician, piece goods buyer, sample maker, grader, design assistant, and more. You can find positions such as these across the state, with major cities such as Cheyenne, Casper, Laramie, Gillette, Rock Springs, and Sheridan leading the pack.
Fashion merchandisers may have more job opportunities thanks to Wyoming's lively retail industry. Fashion merchandiser's can find work as visual merchandisers, buyers, managers, salespersons, merchandisers, display directors, personal shoppers, and in promotions. Fashion merchandising jobs can be found in malls and retail shops in both major cities and small towns.
Wyoming Fashion Schools & Programs:
Most employers prefer a two- or four-year degree from an accredited college, whether you're planning a career in apparel manufacturing, merchandising, or design. Fortunately, the National Association of Schools of Art and Design accredits approximately 300 postsecondary institutions with programs in art and design. These schools typically award degrees in both fashion design and fashion merchandising. In Wyoming, the best place to train for a career in fashion is the University of Wyoming.
The University of Wyoming's Department of Family and Consumer Services offers a broad textiles and merchandising program. Students can specialize in merchandising or minor in apparel design or interior design. Graduates of the program have been placed in positions such as store manager, apparel designer, theater costumer, textile researcher, museum curator, fashion editor, buyer, retail executive, and many others.
If you're interested in a career in fashion design or fashion merchandising, the first step is to enroll in a fashion design or fashion merchandising degree program. If your plan is to start your own business, consider combining your fashion design or fashion merchandising degree with a business or marketing degree. The University of Wyoming offers both degrees.
For more information about the fashion design and fashion merchandising industries, visit the Bureau of Labor Statistics at Bls.gov.
Employment and Salary Trends for Wyoming:
As of July 2011, the Bureau of Labor Statistics had not reported recent employment and salary figures for Wyoming fashion designers or fashion merchandisers in any state. However, retail fashion merchandisers often work with window and store displays. Around 80 window merchandisers (visual merchandisers) work in Wyoming today.
Overall employment in the fashion industry is expected to grow by one percent for the 2008-2018 decade. Sewing and cutting jobs may decline as established designers and brands choose manufacturing companies overseas. However, employment of fashion designers is stable because many firms prefer to keep design work in house.
As of May 2008, the mean annual wage for fashion designers overall was $61,160. The lowest paid fashion designers earned an average annual salary of $32,150 and the highest paid fashion designers earned $124,780 per year. Because many fashion designers are self-employed, salaries may vary greatly. A top fashion designer can earn millions per year.
Bureau of Labor Statistics Data
Bureau of Labor Statistics Employment Data - Test Right Now

| | Number of jobs | Mean hourly pay | Mean annual pay | Job Outlook |
| --- | --- | --- | --- | --- |
| Fashion Job | 1 | 2 | 3 | 4 |