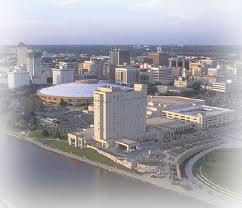 The Wichita Fashion Scene
With a population of nearly 400,000, Wichita is the largest city in Kansas and one of the top 50 largest cities in the U.S. As the largest city Kansas, Wichita is home to the state's largest collection of art and design centers, fashion events, and retail venues. Some of the best places to shop are The Waterfront, Parklane Shopping Center, Clifton Square, Town East Square, Bradley Fair Mall, Eastgate Plaza, and Tallgrass Centre. A wide variety of retailers ranging from the Gap to Williams-Sonoma can be found at the areas popular shopping malls and districts.
Wichita's stable retail industry offers many employment opportunities in fashion design and fashion merchandising. The city and surrounding areas are also home to a number of production facilities and textile companies. This means, other opportunities in technical production, textile design, apparel design, pattern making, and administration (textiles) are available.
Wichita Fashion Design and Fashion Merchandising Schools and Programs
Kansas is home to 67 colleges and universities. This is lower that the national average of 88. Although several schools in the state, such as Kansas City Art Institute and Kansas State University-Manhattan, offer fashion programs, we were unable to find any programs in Wichita. However, Hutchinson Community College, which is only 50 miles from Wichita, offers fashion design, fashion merchandising, and costume design programs. 
Wichita Fashion Design and Fashion Merchandising Employers
Many Wichita fashion designers and fashion merchandisers work in retail, but they can also find work in other areas of fashion. Textile design, technical production, apparel design, pattern making, and administrative sales in the textiles industry are just a few options for aspiring fashion designers. In addition to retail, fashion merchandisers may also find work in promotions, buying, and visual merchandising. Employment opportunities can be found at retail venues, textile manufacturing facilities, production studios, and design studios throughout the city and surrounding suburbs.
Fashion Design and Fashion Merchandising Careers at a Glance
As of July 2011, the Bureau of Labor Statistics had not reported recent employment and salary figures for Wichita fashion designers. Based on the number of retail venues in the city, it's safe to assume that the city is home to a sizable population of salaried and self-employed fashion designers.
The average salary for fashion designers nationwide is $61,160. The lowest paid fashion designers earned an average annual salary of $32,150 and the highest paid fashion designers earned $124,780 per year. Salaries for self-employed fashion designers may vary.
The Bureau has not reported salary and employment figures for fashion merchandisers.  However, a significant part of the job involves creating window displays and managing the overall look and feel of stores. Around 500 merchandise displayers (visual merchandisers) work in Kansas. Around 120 of them work in Wichita.
Employment in the fashion industry overall is expected to grow by one percent for the 2008-2018 decade. Sewing and cutting jobs may decline as more designers and brands choose manufacturing companies overseas. However, employment of fashion designers is stable because many firms prefer to keep design work in house.
For more information about the fashion design and fashion merchandising industry, visit the Bureau of Labor Statistics at bls.gov.