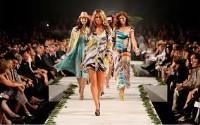 One of the most exciting times in just about every fashion student's life is participating in their schools annual fashion show. These highly anticipated events provide the opportunity for students to create a complete collection and send it down the runway. The 'best of the best' programs also offer the opportunity for junior, senior and/or graduate designers to work with professional runway models and have their collections juried by a range of recognized industry professionals.
Some of the most acclaimed student fashion shows attract thousands of spectators each year including celebrities, famous fashion designers, and more. Some even attract celebrity hosts and are so exclusive that the only way to gain access is by invitation only. Fortunately, a number of the most exclusive fashion shows are streamed live online. If you miss a streamed or any other show, you can usually catch it a few days after the show by visiting the school's website, YouTube, Vimeo, or other sites.
If you want to watch a show or two right now, you're in luck. We've done all of the visiting for you, so all you have to do is scroll through our list below and click to watch some of best student fashion shows of 2015. Enjoy!
Academy of Art University, San Francisco, California
Academy of Art University students had the opportunity to present their work to industry professionals during Mercedes-Benz Fashion Week 2015. Held during New York Fashion Week, this event is by invitation only. The school also held its graduation fashion show in San Francisco. Watch it here. 
California College of the Arts, Oakland and San Francisco, California
The Annual Fashion Show at California College of the Arts features original collections by senior design students. According to the school, "collections are juried by industry professionals and showcased by professional models, in a high-caliber runway presentation that has become a staple in the college's lineup of annual events."
Central Saint Martins of the University of the Arts London, London, UK
Fifteen students at Central Saint Martins had the opportunity to present their collections in this sold-out fashion show.
Cornell University, Ithaca, New York
Cornell Fashion Collective's 31st annual runway show gave "undergraduate and graduate students the opportunity to practice design and learn how to produce a large-scale fashion show," says the school.
Fashion Institute of Technology (FIT), New York, New York
Presented by Calvin Klein and hosted by Nicole Richie, FIT's annual fashion show titled '2015 Future of Fashion Runway Show' featured collections by graduates of the class of 2015. Collections included Children's Wear, Intimate Apparel, Knitwear, Special Occasion, and Sportswear.
KPU Wilson School of Design, Surrey, BC Canada
The biggest student-run fashion show in British Columbia, KPU Wilson School of Design's 2015 show featured the collections of "39 emerging designers, each with a unique apparel line," says KPU. "The industry-grade runway event presented collections for men, women and children; from couture to commuter cycling wear to burlesque costumes."
London College of Fashion, London, UK
Menswear students at London College of Fashion had the opportunity to present their collections during Fashion Week. The designers had the opportunity to show for a range of industry professionals, media, peers, and more.
Moore College of Art & Design, Philadelphia, Pennsylvania
Moore College of Art & Design's Fashion Show 2015 was held at The Barnes Foundation, "which houses one of the finest Impressionist collections in the world," says Moore. The show gave senior fashion students the opportunity to showcase their designs at a sold-out show.
O'More College of Design, Franklin, Tennessee
O'More College of Design's annual fashion show features collections and exhibits by senior student designers. The designers had the opportunity to show their creations to peers, industry professionals and spectators alike.
Royal College of Art (RCA), London UK
RCA Fashion Menswear and Womenswear graduating students presented their final work in a show that broke "the tradition of presenting graduating students' work through a conventional catwalk show," says RCA. Instead, "Head of Programme Zowie Broach, produced a dynamic, choreographed display, in which multiple models present the students' collections in a non-linear performance. The distinctive showcase echoed the unique range of approaches, influences and outcomes seen across the disciplines of Menswear, Womenswear, Knitwear, Footwear, Accessories & Millinery."
Syracuse University, Syracuse, New York
The annual Syracuse University College of Visual + Performing Arts (SU:VPA) fashion show provides the opportunity for senior fashion students to present a six- to eight- piece collection to an audience of area and industry professionals, peers, and other spectators.
The Art Institutes, Multiple Locations
For more than three seasons, The Art institutes and Mercedes-Benz Fashion Week have partnered to help students and graduates of The Art Institutes realize their dreams of presenting their collections at MB Fashion Week. This video features FW 2015 Collections by fashion students and graduates of multiple Art Institutes campuses.
Winchester School of Art (WSA) of the University of Southampton, Winchester, Hampshire (UK)
Prior to the show, WSA wrote that the 2015 Graduate Fashion Collections "promise to showcase why WSA students are shaping all areas of the Fashion & Textiles industry. To highlight its strong industry relationships, London based Danish Designer Peter Jensen" was on hand to "hand out two awards - the WSA Fashion Textiles Award and the WSA Fashion Direction Award, to the winning students.