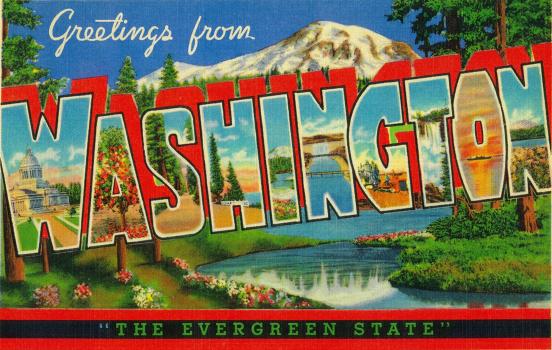 Overview
Flirty dresses, hip jeans and tees, delicate accessories, and updated 80s garb are all fashionable in Washington, but depending on where you are, you might run into a few Goths, punks, and maybe even a few grungy folks that just can't let go of the past. Whatever styles you come across in Washington, you can't help but appreciate them all.
Stroll the streets of Seattle after attending Seattle Fashion Week and you'll find thrift stores galore, consignment shops, and vintage stores where you're destined to find a lost treasure or two. On the other side of the spectrum are Seattle's high-end stores located in the downtown area amongst a sea of more than 1,000 retailers. The buck doesn't stop in Seattle though. Head to Spokane where unique boutiques, high-end department stores, and expansive shopping centers blanket the city or travel to pedestrian-friendly Tacoma, where more than a dozen business and shopping districts welcome thousands of visitors each day. 
Besides a thriving fashion scene, Washington is home to a number of top art and design schools that offer certificates or degrees in fashion design and fashion merchandising. Two popular schools are Washington State University in Pullman and the International Academy of Design and Technology in Seattle. Some programs may be completed in as little as two years, while others may take four to five years to complete.
Career Opportunities & Employers in Washington:
Washington fashion designers are a versatile bunch. They manage their own lines, they work for large design houses, they work for apparel manufacturers or they work for apparel, piece goods, and notions merchant wholesalers. Washington fashion merchandisers work in product development, production, marketing, sales, buying, and many other areas. Most work in the retail sector. Many fashion merchandisers also work in visual merchandising for retail stores or fashion houses. Fashion design and fashion merchandising graduates are more likely to find work in principle cities such as Seattle, Spokane, Tacoma, Vancouver, Bellevue, and Everett.
Washington Fashion Schools & Programs:
The National Association of Schools of Art and Design (NASAD) accredits approximately 300 postsecondary institutions with programs in art and design. Washington is home to a number of NASAD accredited design schools and traditional colleges that award degrees in fashion design and fashion merchandising. In addition to Washington State University and the International Academy of Design and Technology, other schools that offer degrees or certificates in fashion design and fashion merchandising are:
Cornish College of the Arts, Seattle
New York Fashion Academy, Seattle
Seattle Central Community College, Seattle
Western Washington University, Bellingham
To get started on a career in fashion design or fashion merchandising, enroll in a fashion design or fashion merchandising degree program at one of the schools listed here or one that you find on your own. Just make sure the program is accredited. If you want to start your own business or line, consider combining your degree with a business or marketing degree. Most universities offer marketing and business degrees, while most art and design schools do not. You may choose to take business courses at another school while completing your fashion program or you can wait until you have completed your degree to enroll in a full-time business or marketing degree program.
For more information about the fashion design and fashion merchandising industries, visit the Bureau of Labor Statistics at Bls.gov.
Employment and Salary Trends for Washington:
According to a report by Washington State University, the Washington State fashion and apparel industry is a major contributor to the state's economy, and is well positioned for future growth. In 2009, the industry generated revenues of $8.3 billion and employed 34,460 people, mainly in the Seattle area. Of this figure, more than 200 are salaried fashion designers and possibly hundreds more run their own boutiques or have established their own lines. The Bureau of Labor Statistics has not reported employment and salary figures for fashion merchandisers, but a significant part of the job involves working with window and store displays. More than 1,500 merchandise displayers live and work in Washington.
Overall employment in the fashion industry is expected to grow by one percent for the 2008-2018 decade. Sewing and cutting jobs may decline as more designers and brands choose manufacturing companies overseas. However, employment of fashion designers is stable because many firms prefer to keep design work in house.
As of May 2008, the mean annual wage for fashion designers overall was $61,160. Washington State fashion designers earn an average of $69,700. This places them at the top of the pay scale, along with New York, California, and Texas. Nationwide, the lowest paid fashion designers earned an average annual salary of $32,150 and the highest paid fashion designers earned $124,780 per year. Because many fashion designers are self-employed, salaries may vary greatly. It's not unusual for a top fashion designer to earn millions per year.
Bureau of Labor Statistics Data
| | Number of jobs | Mean hourly pay | Mean annual pay | Job Outlook |
| --- | --- | --- | --- | --- |
| Fashion Job | | | | |