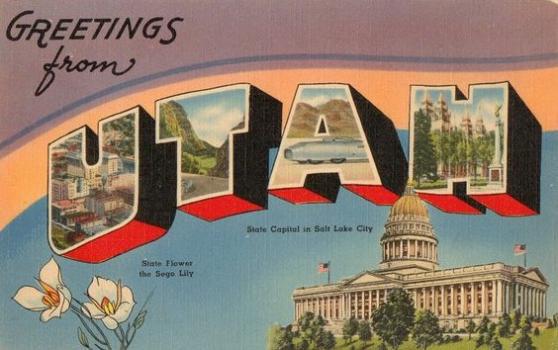 Overview
Don't let Utah's laid-back attitude fool you. Residents from college campuses to small towns to downtown Salt Lake City care about fashion and they aren't afraid show off their style whether grocery shopping or spending a night out on the town. Visit any part of the state and you'll see a mix of styles from 80s chic to hip-hop to classic with a hint of hip. And the best part is, the styles you see on the street are easy to find at the state's numerous malls, boutiques, and department stores. One of the most popular malls in the state is Fashion Place in Murray. Fashion Place is home to more than 150 shops and in the fall, it will become the only mall in the state with an H&M store. Gateway Mall in Salt Lake City is another popular mall. The complex features a the restored 1908 Union Pacific Depot, which serves as it's showpiece.
In addition to a strong sense of style and a variety of shopping venues, the state is home to an impressive fashion week event. Salt Lake City Fashion Week is actually three events in one. The first event showcases local retail lines and fashions you won't find at mall stores. The second event, the Salt Lake Fashion Stroll, which includes fashion shows presented by students of the Fashion Institute of Salt Lake Community College. The show features both student and local designer's fashions. The final event is a screening of a documentary film of the lives of any given famous fashion designer. In 2010, films about Marc Jacobs and Louis Vuitton were showcased.
So, what does all of this mean for aspiring fashion designers and fashion merchandisers? Plenty. If you want to work for a major designer, boutique or retail shop, or even if you want to start your own business, Utah is an excellent place to do it. However, to work in any area of fashion here, you'll need talent and training in order to compete. Fortunately, Utah is home to a number of schools that offer quality fashion design and fashion merchandising programs. Some programs may be completed in one or two years, while others may take four or five years to complete.
Career Opportunities & Employers in Utah:
The figures listed above are just for salaried designers and merchandisers. Some Utah designers and merchandisers are self-employed, while others may work as consultants or hold other fashion related positions on the side. Still, some work in textile design for product development, technical production, administration sales, pattern making, retail sales, or other positions in the apparel design sector such as cutting assistant, grader, and marker maker.
Utah fashion merchandisers may find work in wholesale and retail sales, buying, merchandising (retail), or promotions. Other positions include costumer, fashion coordinator, stylist, fashion director, mystery shopper, personal shopper, and photo fashion stylist. Fashion merchandising and fashion design graduates can find work across the state in major cities such as Salt Lake City, West Valley City, Provo, West Jordan, Orem, Sandy, Ogden, St. George, and Layton.
Utah Fashion Schools & Programs:
A degree in fashion design or fashion merchandising isn't always required to break into the industry, but it will definitely make it easier. In fact, most employers prefer candidates with a degree from an accredited college. The National Association of Schools of Art and Design accredits approximately 300 postsecondary institutions with programs in art and design. Many of these schools award degrees in both fashion design and fashion merchandising.
Aspiring Utah fashion designers and fashion merchandisers have access to several schools that offer fashion degrees or certificates. One of the best happens to be a top-rated community college. Remember The Fashion Institute of Salt Lake Community College? This school offers more fashion programs than any other area college. SLCC offers the following degrees:
AAS Degree in Fashion Design
AAS Degree in Fashion Merchandising
AAS Degree in Technical Apparel Design
Certificate of Completion in Costume Design Fundamentals
Certificate of Completion in Advanced Costume Design
Certificate of Completion in Custom Dressmaking
Other notable schools that offer fashion design and/or fashion merchandising degree programs are:
Bridgerland Applied Technology College, Logan
Brigham Young University, Provo
Snow College, Ephraim
Weber State University, Ogden
To get started on a career in fashion design or fashion merchandising, the first step is to enroll in a fashion design or fashion merchandising degree program. If you want to start your own business, consider combining your fashion degree with a business or marketing degree. If you prefer to focus on one program at a time, you might consider waiting until you have completed your fashion degree to enroll in a full-time business or marketing degree program.
For more information about the fashion design and fashion merchandising industries, visit the Bureau of Labor Statistics at Bls.gov.
Employment and Salary Trends for Utah:
As of July 2011, the Bureau of Labor Statistics had not released employment and salary figures for Utah fashion designers. Estimates for 2004 and 2006 show that the number of salaried fashion designers stayed the same. From 2004 to 2006, around 30 salaried fashion designers lived in Utah. Overall employment in the fashion industry is expected to grow by one percent for the 2008-2018 decade. Sewing and cutting jobs may decline as more and more designers and brands choose manufacturing companies overseas. However, employment of fashion designers is stable because many firms prefer to keep design work in house.
In 2006, Utah fashion designers averaged $32,620, down from $41,490 in 2004. As of May 2008, the mean annual wage for fashion designers overall was $61,160. Nationwide, the lowest paid fashion designers earned an average annual salary of $32,150 and the highest paid fashion designers earned $124,780 per year. The average salary for Utah fashion designers may be on the low end, but it's still slightly higher than the average for the nations lowest paid fashion designers. Further, the cost of living in Utah is minimal, so your hard earned dollar will go a long way. 
As of July 2011, the Bureau of Labor Statistics had not reported employment and salary figures for fashion merchandisers anywhere in the U.S., but a significant part of the job involves working with window and store displays. Utah is home to around 910 merchandise display workers, which is a significant increase over 2006 when the state was home to only 340 display workers. Salaries for merchandise display workers in Utah have been on the rise since 2004. In 2004, they earned an average of $21,730. In 2006, the average salary was $23,760, and in 2009, merchandise display workers averaged $31,620.
Bureau of Labor Statistics Data
| | Number of jobs | Mean hourly pay | Mean annual pay | Job Outlook |
| --- | --- | --- | --- | --- |
| Fashion Job | | | | |