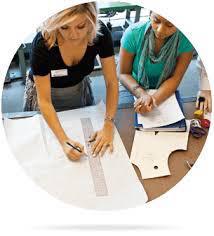 With skyrocketing tuition costs and a dwindling amount of resources available to cover them, two-year degrees have become an attractive option for many students looking to enter the workforce fast and at a lower cost. A two-year degree is also an attractive option for students looking to spend less on required core courses in the four main academic areas—English, math, social studies and science, while reserving whatever resources they have to complete major coursework at a four-year college or university that offers a top program in their field. While the popularity of two-year degree programs is tough to ignore, is this the right option for someone interested in a career in the fashion industry? It depends. 
First, it's a fact that these days most employers do prefer to hire candidates with a bachelor's degree or higher. Further, earnings for bachelor's degree holders are higher too and they enjoy lower unemployment rates than two-year degree holder's do. Median usual earnings for associate's degree holders are $798, while earnings for bachelor's degree holders are $1,137. Associate's degree holders have a 3.8% unemployment rate, while bachelor's degree holders enjoy a 2.8% unemployment rate. Of course, salaries go up as the education level rises, and the unemployment rate continues to plummet.
For two-year degree holders in the fashion industry though, opportunities are available—especially in the areas of retail, marketing and social media, and most support positions. Assistant buyer, assistant fashion designer, sales assistant, and assistant textile designer are just a few. Besides being more receptive to applicant's with a two-year degree, these positions offer a tremendous amount of experience in the fashion industry, they typically pay between $30,000 and $40,000 a year (depending on geographic location and company), and they are usually flexible, so you can still earn a living while pursuing a bachelor's degree. And it gets easier.
If you already have a two-year degree in fashion design from a community college, entering a four-year program should be a piece of cake. According to a recent U.S. News Education report, by and large, it is fairly easy for two-year degree holders to transfer to a four-year college. Students can take advantage of articulation agreements, which generally confirm that the credits earned at one institution will apply at another, to make the process smoother. These agreements between educational institutions allow students to move "seamlessly from one institution to the other, while minimizing their loss of earned academic credits," says Christopher Mullin, an expert who formerly worked at the American Association of Community Colleges. However, policies vary greatly by state and institution, so communicate with admissions from beginning to end to ensure that you don't lose any time or credits. 
Now, if you have made up your mind and you wish to earn a two-year degree, land a position in the industry, and work your way up (minus the bachelor's degree), consider an Associate of Applied Science (AAS) or Associate in Occupational Studies (AOS) degree. These programs typically focus on a specific occupation and are popular among those who want to enter the workforce immediately after graduation. Associate of Arts (AA) and the Associate of Science (AS) degrees are often used as a "pathway to a bachelor's degree," and are considered condensed versions of four-year programs, "as they include a mix of general education requirements and elective course work," says U.S. News Education.
Fortunately, two-year fashion programs are quite easy to find—and not just at community colleges. In fact, some of the nation's top fashion schools offer one- and two-year degree programs of all kinds, that they say can prepare students to enter the workforce immediately upon graduation. Parsons School of Design, New York, Fashion Institute of Technology (FIT), New York, Fashion Institute of Design & Merchandising (FIDM), Los Angeles, San Francisco, San Diego, Irvine, CA, and Lim College, New York are just a few.
There are literally thousands of community colleges across the U.S. and as mentioned, a large number of them offer fashion programs. Just a few standouts include:
Alexandria Technical and Community College, Alexandria, MN
Chaffey College, Cucamonga, CA
College of DuPage, Glen Ellyn, IL
Genesee Community College, Batavia, NY
Honolulu Community College, Honolulu, HI
Mesa Community College, Mesa, AZ
Santa Monica Community College, Santa Monica, CA
Seattle Central College, Seattle, WA
State University of New York (SUNY) at Oneonta, Oneonta, NY
Westchester Community College (SUNY System), Valhalla, NY
At the end of the day, a two-year degree can certainly prepare you for a position in the fashion industry, albeit at the entry-level. However, most two-year degree seekers take this route to begin working in the field and earning money while they work on earning a higher degree.   
Sources
"Careers in the Fashion Industry." Texas Woman's University - Fashion. Texas Woman's University (TWU), n.d. Web. 14 June 2016. 
"Earnings and Unemployment Rates by Educational Attainment." U.S. Bureau of Labor Statistics. U.S. Department of Labor, 2016 Mar. 2016. Web. 14 June 2016. 
"50 Best Community Colleges in the United States." TheBestSchools. The Best Schools, 28 May 2013. Web. 14 June 2016.
"Highest Paying Associate Degrees by Salary Potential." PayScale. PayScale, Inc., 2015-2016. Web. 14 June 2016. 
Kerns, Josh. "High Pay, Low Costs Make Two-year College Increasingly Appealing for Puget Sound Grads." MyNorthwest.com. Bonneville International, 08 June 2016. Web. 14 June 2016.
Pannoni, Alexandra. "FAQ: Community College." U.S. News & World Report Education. U.S. News & World Report, 06 Feb. 2015. Web. 14 June 2016.