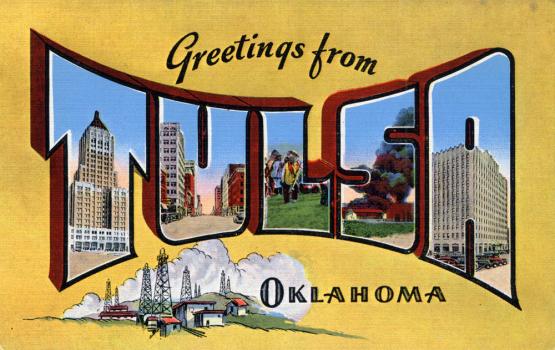 The Tulsa Fashion Scene
Tulsa is the second largest city in Oklahoma. The scene here is casual and comfortable, but still current. Locals find the latest styles by shopping at the city's impressive collection of malls, boutiques, and freestanding major retailers. Just a few shopping areas and venues include Eastland Mall, Southroads, Utica Square, Woodland Hills Mall, and The Plaza. Shoppers can expect to find everything from Ann Taylor LOFT and Coach to the Gap at the city's wide variety of shopping venues.
A stable retail industry is a major draw for aspiring fashion designers and fashion merchandisers, as well as a low cost of living and several schools that offer fashion programs or classes. SuzArt School of Fashion Design and Clary Sage College are popular options.
Career Opportunities & Employers in Schools & Colleges:
Tulsa fashion designers work in apparel production, apparel design, and retail. Fashion merchandisers work mainly in retail. Some may also work in promotions, buying, visual merchandising, and special events. To find the best variety of opportunities, it's best to stick to the major shopping areas listed above or any shopping district in the city.
Schools & Colleges Fashion Schools & Programs:
Oklahoma is home to 61 colleges and universities. In Tulsa, several schools offer fashion programs. They are:
Clary Sage College offers a degree in fashion design, while Tulsa Community College offers an associate program in apparel and merchandising (marketing), and merchandising and fashion. SuzArt School of Design offers design and sewing classes from A-Z, and The Cloth Merchants (a fine fabric, button, and instructional studio), offers a variety of sewing/design classes and workshops.
Employment and Salary Trends for Schools & Colleges:
Around 30 salaried fashion designers live in the state of Oklahoma and many more are self-employed. As of July 2011, the Bureau of Labor Statistics had not reported employment or salary figures for Tulsa fashion designers. Based on the city's population of around 392,000, and the number of retail venues, it's safe to assume that Tulsa is home to a significant population of salaried and self-employed fashion designers.
Figures for fashion merchandisers have not been reported either, but a significant part of the job involves creating window displays and managing the overall look and feel of stores. Nearly 300 merchandise displayers/visual merchandisers live in the state of Oklahoma. Around 50 live and work in Tulsa.
Salaried Oklahoma fashion designers earn around $26,260. Nationwide, fashion designers average around $61,160 per year. The highest paid salaried designers average $124,780 per year. Employment in the fashion industry overall is expected to grow by one percent for the
2008-2018 decade. Sewing and cutting jobs may decline as more designers and brands choose manufacturing companies overseas. However, employment of fashion designers is stable because many firms prefer to keep design work in house.
For more information about the fashion design and fashion merchandising industry, visit the Bureau of Labor Statistics at bls.gov.
Bureau of Labor Statistics Data
| | Number of jobs | Mean hourly pay | Mean annual pay | Job Outlook |
| --- | --- | --- | --- | --- |
| Fashion Job | | | | |