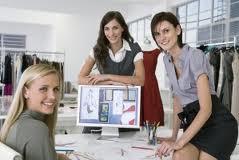 Navigating the complex world of the fashion industry is tough. Choosing a school to get your foot into the door is just as difficult. How much does tuition cost? What programs are offered? What are their job-placement rates? What kind of reputations do they have in the industry?
To help our readers navigate the world of fashion education we have put together a list of the Top 50 Fashion School and Programs around the globe.
Without further ado, here are the top 50 national and international fashion programs and schools, in climax-building reverse order:

50.  Visual College of Art and Design (VCAD) – Vancouver, Canada
The Visual College of Art and Design (VCAD), formerly the Vancouver College of Art and Design, isn't solely based on fashion but instead a multidisciplinary school featuring all of the visual arts. Their diploma programs include Graphic Design, Interior Design, Marketing and Merchandising for Fashion, Fashion Design and 3D Modeling Animation Art and Design—making it the perfect school for someone looking for a broader design education. Their portfolio-driven educational mix of vocational skills and theoretical learning is a fantastic value for their lower-than-average tuition fees.
49.  Apparel Arts – San Francisco
This San-Fran design school is dedicated to fashion, and fashion only. This mean it wastes no time or resources on other programs, and everyone you meet there will be similarly oriented. They offer pragmatic courses in illustration, draping, design principles, grading, textiles, business seminars, tailoring, fit, couture sewing, construction, manufacturing, production and so much more. All the skills an aspiring fashionista needs to succeed in the industry.
48.  Paris Fashion Institute – You guessed it-- Paris
If you've been drooling over all the fashion schools in fabulous Paris but spent more time on your art than your French skills—never fear, the Paris Fashion Institute is here. With courses taught entirely in English the institute offers foreign students the opportunity to soak up Paris culture, fashion and education. Be warned though, the courses are intense so don't go to Paris with the intention of spending all your time in the Louvre...or the Parisian nightclubs.
47.  Milan Fashion Campus – Milan and Online
Anyone with a passion for Italian design but not the budget for international student fees and the high cost of living in Milan should consider the Milan Fashion Campus' online design courses. This innovative institute has original ideas, and not just in fashion designs; they offer short Photoshop and Illustrator rendering courses, a vintage restyling course, fashion templates for beginners and of course plenty of Milan culture-infused program courses.
46.  The Institute of Textile Technology – NC, USA
Talk about a niche market. The Institute of Textile Technology found their niche and is working it—and working it well. If their in-depth textile graduate and continuing education courses weren't enough, this well-intentioned institution also has a fellow program and strong alumni network. 
45.  The Jewelry Arts Institute – New York, NY, USA
Talk about hitting a niche market. The Jewelry Arts Institute's goal is to give a solid education in jewelry design and creation. Pay attention aspiring jewelry designers. Their student-to-teacher ratio is unparalleled at 1 teacher to every 5 students. In addition to teaching core basics like granulation, enameling, chain weaving, etc., they also offer advanced classes that allow their students (once they have mastered the basics) to continue with more-advanced classical training or to use their foundations to explore new directions in the jewelry arts. There really isn't another school in the country serving this niche so well, which makes it a solid option for aspiring jewelry designers.
44.  The Virginia Marti College of Art and Design – Lakewood, Ohio
The Virginia Marti College of Art and Design is a small, yet accredited, college in Ohio focusing on a degree-for-all philosophy. If you crave a career in fashion design but lack the portfolio or experience to back it up then VMCAD might be up your alley. If you do have a solid portfolio or experience they offer advanced placement. Their two-year program will teach you all the fundamentals of fashion, making it a solid option for a first-timer starting from scratch.
43.  Wood Tobé-Coburn – New York, NY
Wood Tobé-Coburn offers two fashion programs: Fashion Merchandising and Fashion Design. Their programs are ideal for anyone looking for high-speed vocational fashion training as they offer accelerated programs that allow you to complete a degree in 10-16 months. A solid option for anyone looking for a basic fundamentals-style education in as little time as possible. Their career placement services are best in breed for an accelerated, flexible-learning type school.
42.  Limerick School of Art and Design (LSAD) – Limerick, Ireland
Part of the Limerick Institute of Technology the Limerick School of Art offers 2 technology-infused B.A. programs, in Product Design and Fashion Design. Any aspiring high-tech designers with an affinity for the Irish culture will love this school. Tuition is on par with other European schools.
41.  The National Institute of Design (NID) – India
NID is not only one of the top fashion technology schools in India, but was also voted as having one of the Top 25 European & Asian programs in the world—making it truly world-class. With reasonable tuition and a location right in the heart of cultural India the institute's students seem to be stimulated into success.
40.  The Maryland Institute College of Art (MICA) – Maryland, USA
Despite keeping a lower profile than some of the other fashion and art institutes on this list the Maryland Institute College of Art, or MICA, has a lot to boast about. They have been named by several press as among the top design schools in the nation. They are also the oldest college of art to continuously grant degrees, graduating design students since 1826.
39.  Cornell University –Ithaca, NY
Cornell is the only Ivy League university that offers an undergrad in Fashion Design. Their department of Fiber Science and Apparel Design is unsurprisingly top-notch (Ivy Leaguers don't mess around after all). Cornell also offers four post-grad programs, including a Ph.D program in Apparel Design—you know, just in case you wanted to be a Fashion Doctor. The student-run Cornell Fashion Collective gives Cornell fashion students ample opportunity to display their work, to create a network of contacts and an annual runway showcase event.
38.  FBI Fashion College – Sydney, Australia
The FBI Fashion College in Sydney has become a leading school for applicants with an interest in fashion but lack the ability commit to it full-time. Their flexible part-time courses make slowly breaking into the industry easier than ever. You will have to do some finagling though because to get an Australian work visa you need to be a full-time student. Tuition ranges between $4,000 to $14,000 depending on the course and course load.
37.  LIM College – New York, USA
LIM College in NY, NY is another fashion school to make the list that offers no classical design courses. Instead they focus on Fashion Merchandising, Marketing, Management and Visual Merchandising. Focusing on the behind-the-scenes facets of the fashion business has been working quite well for the school as they have maintained a good job-placement rate for their 1,500 annual students. Tuition is $21,000.
36.  The University of Art and Design – Helsinki, Finland
The University of Art and Design's unique claim to fame for this list is that they do not charge tuition. Ever. Not even for non-EU applicants. This may of course change in the future so cash in on it while you can. The school's Textile Art, Fashion and Clothing Design programs offer incredible insight into the world of fashion and turn out extremely talented young designers who are ready to work in the industry. Only downside: good luck getting in. They only accept extremely talented students, most of whom have rockstar portfolios and prior experience or training in the industry.
35.  The National Institute of Fashion Technology (NIFT) – New Delhi, India
India is a technology powerhouse so it should come as no surprise that their National Institute of Fashion Technology made the list. Their international connections with high-profile institutions like Toronto's Ryerson, the University of the Arts London and RNIT helps give NIFT international appeal. They offer programs in Fashion, Leather, Textile, Accessory and Knitwear Design, Management and Technology Apparel Production. Indians pay under $1,000 for tuition and internationals $7,500. One little detail though, you have to be 23 and under to apply to their undergrad programs.  


34.  The Copenhagen Academy of Fashion Design – surprise, surprise: Copenhagen, Denmark
For anyone looking for a more classic European design education, the Copenhagen Academy of Fashion Design could be a solid choice, and have trained designers since '83. The institute produces graduates that primarily enter the fashion design, costume design and footwear and accessories designers. Their European-class tuition is reasonable at $12,500.
33.  The International Academy of Haute Couture and Art of Costume (KOEFIA) – Milan, Italy
Despite hosting a small number of students, just 150 a year, their fashion program is quite international—AND hosts cross-cultural projects with locations like Saudia Arabia. The school offers programs in Fashion Design, Costume Design, Fashion Product Management and a fun little course in modeling (a nice little addition for anyone dealing regularly with models). Their tuition is extremely reasonable for Europe at just over $6,000 a year.
32.  The University of Applied Arts – Vienna, Austria
The University of Applied Arts in Vienna is a fantastic fashion school option—if you speak German. Their guest lecture series are second to none, and have featured names like Karl Lagerfeld, Jil Sander, Victor & Rolf, and Helmut Lang. If your German skills are capable it is a solid choice financially as it costs only $2,000 (obviously heavily subsidized tuition by the government—gotta love Europe).
31.  Ryerson University's School of Fashion – Toronto, Canada
Canada's addition to this list is their Ryerson University School of Fashion. It offers its students an impressive list of industry associations and contacts as well as a solid design program teaching the basics with progressive vision. It also provides good value for its $18,000 tuition.
30.  Hogeschool Van Amsterdam (AMFI) – Amsterdam, Netherlands
Finding a top fashion school in Europe that offers courses in English is tough (as you are undoubtedly finding throughout this list), but the Hogeschool in Amsterdam offers them. To boot their tuition is under $10,000 (although cost of living in Amsterdam is quite high). Aside from their English equivalent and kick-ass low tuition rates, the school also has put together some unique initiatives like helping student sell their creations in boutique shops around Amsterdam—a move that has gained the school's students plenty of exposure.
29.  California College of Arts –California, US (San Fran and Oakland campuses)
With just 65 students accepted annually the California College of Arts' Fashion Design, Textiles and Jewelry Design programs offer a great opportunity to its students to connect and network with their fashion-industry experienced teachers. Despite not having any brand-named former graduates, many of its graduates have won industry awards and gotten jobs with industry-leading labels.
28.  La Cambre – Brussels, Belgium
La Cambre is the second fashion school to make our list from tiny Belgium. Unlike Antwerp though, La Cambre's 5-year program focuses less on innovative fashion and more on traditional art and skills training. The tuition is one of the lowest on this list, at between $2,000 to $3,000—once again, subsidized by the Belgian government. 

Unlike Antwerp, you don't have to learn Dutch—the classes are taught in French.
27.  Columbus College of Art and Design (CCAD) – Columbus, OH
The Columbus College of Art and Design, or CCAD, is another strong art school with a long history. The school has been training Americans in the arts since 1879—so they've pretty much got it down pat by now. It offers a B.A. degree in Fashion Design and additional specialized courses in fashion illustration and product design. Courses are only offered on-campus but their flexible evening and weekend schedule attracts many local residents looking to get a degree in their off hours. 


26.  Rhode Island School of Design – Guess. Yup, Rhode Island, USA
The Rhode Island School of Design is a real up-and-comer in the industry, with an appreciating status as one of the world's top fashion design schools. On top of their status they also offer some interesting courses, like Apparel Design and Metalsmithing for Jewelry Design. The only drawback to this great little fashion school is that it has the most expensive tuition on this list at almost $40,000 a year. 


25.  Savannah College of Art and Design – Savannah, USA
Ever since the school hired Michael Fink to be its dean the Savannah College of Art and Design has become a fashion powerhouse, especially after bringing throngs of industry connections and great-picks new faculty hires.
The college also has Andre Leon Talley on its Board—which brings additional industry contacts.


24.  Otis College of Art and Design – LA, USA
If you don't mind living in sunny LA, then the Otis College of Art and Design might be a decent option for you. Boasting a reputation as one of the top fashion design programs in the country it decided to price its tuition at over $30,000 a year—a detraction for some. It did help Cynthia Vincent and Rick Owens break into the industry though. 


23.  The Academy of Couture Art – 
The name kinda says it all doesn't it?
The Academy of Couture Art had big britches to fill after choosing a name like that, but they seem to have done a good job at it. Their catering solely to the world of fashion education has given them the ability to create a school that teaches every major facet of design. Their programs in Fashion Design include: a Bachelor of Arts Degree in Fashion Design, an Associate of Arts Degree in Fashion Design, a Creative Fashion Design Laboratory Certificate and a Professional Fashion Design Laboratory Certificate. If you are one of our rather young readers who are already researching a career in fashion then try out one of the academy's Teen Club  programs.  They've got a good alumni network and fashion shows to help introduce their graduates to the fashion scene. 


22.  The Art Institutes – Nation-Wide Campuses and Online Learning
For 85 years the Art Institutes have been providing flexible learning options to the country with their 45 North-American locations, but now they are reaching out to even more students with their online courses. Their online and on-campus Fashion & Retail Management B.S. program provides a structured online learning platform or in-class experience—although some campuses have more evolved fashion programs than others. The massive institution has a vaster system of resources than any other fashion school, so the support given to their students is tops, including things like education advisers, job placement support, and a network of contacts and alumni.


21.  Drexel University – Philadelphia, USA
Another great, and unexpected, fashion program is at Drexel University in Philadelphia. Many of their 350 annual fashion students have gone on to win prestigious national and international awards. The university also seems to be a feeder to Ecole de la Chambre Syndicale and to the French fashion industry. Anyone looking at entering the Paris fashion scene should seriously consider Drexel—that is if the $33,000 price tag doesn't send you running for the hills.  


20.  Shenkar College of Engineering and Design – Israel
The Shenkar College of Engineering and Design is one of the industry's best-kept secrets. Its off-the-beaten-path location is surely the main contributor to its secrecy, but has turned out some innovative and successful designers, like Alber Elbaz, Kobi Halperin and Nili Lotan. In the likely event that your Hebrew is a little rusty, most of its courses are taught in English. Entrance to this boutique powerhouse is an interesting path, as they require a year of fashion-school experience under your belt to be accepted as a second- or third-year student. Major bonus: its tuition fee is just $3,000.
19.  Academy of Art University – San Francisco, USA
Interestingly, the San Fran-based Academy of Art University is the only school that showcases at NY Fashion Week—a claim that not even FIT or Parsons can boast. They offer fashion programs in journalism, merchandising and business.  With almost 3,000 fashion students accepted every year it is not too hard to get into, if you can afford the $20,000 tuition. They offer a myriad of fashion program options, including: Fashion Design, Fashion Merchandising, Fashion Journalism, Menswear Design, Fashion Marketing, Knitwear Design, Textile Design, Active Sportswear Design, Visual Merchandising and more. Their well-rounded graduates have gone on to score jobs with Giorgio Armani, Escada, Jessica McClintock, Saks Fifth Avenue and Luis Vuitton.


18.  Kent State University – Kent, Ohio
Kent, Ohio isn't exactly a fashion capital, but it has a surprisingly good fashion program at Kent State University. This is likely due to its garment center in NYC that over half of its students are invited to study at, and study-abroad programs in Paris and Milan. Its other major selling point is that it offers a five-year fashion MBA program. Tuition ranges from $9,000 for Ohio residents to $17,000 for out-of-state students. 


17.  The School of Fashion Design – Massachusetts, USA
The School of Fashion Design in Massachusetts has been in the fashion education industry since the 1930s. And as you can imagine have gotten extremely good at it. Their curriculum has been evolving for nearly a century and they have learned how to keep pace with trends and technology. The art-side of the school offers courses in sketching, color, 2D and 3D design, illustration, portfolio development, construction, pattern-making, textiles, tailoring and other technical skills, while the technology-forward side ensures that their students are using the most up-to-date technology. The professional development they pour over their students with workshops in fashion show production, visual display, fashion communications, etc, ensures their graduates are ready for every facet of the real fashion world. They are the only fashion-only school in Massachusetts, and one of the best in the country. 


16.  Studio Bercot – Paris, France
The Studio Bercot school in Paris is yet another prestigious fashion school that is overflowing with industry connections. The upside is that it is one of the most affordable fashion schools in Europe at under $12,000—and with a buy-two-get-one-free philosophy your third year of apprenticeship is free. Its former student roster includes  Lolita Lempicka, Martine Sitbon, Isabel Marant, Nicole Farhi and Sophie Theallet. The downside is that courses are only given in French. 


15.  Virginia Tech – Virginia, USA
The Virgina Polytechnic Institute's Apparel program focuses on new technologies and consumer-centric industry info. Virginia Tech are good at this—and they should be, after all they've been doing it a LONG time. Their courses include product development, computer technology, textiles, fashion communications, merchandising and the like—ensuring their students get a well-rounded education. The university has an excellent internship program via their industry contacts; recent student internships include positions at Kenneth Cole, Seventeen Magazine, The Limited, Ralph Lauren, Calvin Klein, Macy's, Oscar de la Renta and sooo many more.
Oh and their labs, development spaces and historic collections are second to none in their league.


14.  London College of Fashion – You guessed it, London, England
The London College of Fashion is an interesting school to make the list, because it doesn't focus on fashion courses in the traditional sense. LCOF's courses that make it stand out from others on the list non-traditional, unique and highly-marketable options like beauty therapy, cosmetic science, fashion broadcast journalism, fashion curation and criticism, fashion business, footwear and accessories, makeup and image styling. As you can imagine the networking possibilities for its students are endless. Its stand-out claim to fame is its Fashion Journalism program—another bulk of students that make fantastic industry contacts when making your place in the industry. It aint cheap though, at $18,000. Oh, and Jimmy Choo learned the trade there.
The London College of Fashion has six campuses across fashion-forward London, so its students really get to know the London scene. 


13.  Royal College of Art – London, England
As you have likely noticed by now, London has some industy-leading fashion schools. This comes as no surprise of course—its LONDON. Another exceptional London fashion design and textile school is the Royal College of Art. Before you begin salivating, the Royal College of Art's fashion programs are post-grad and require an undergraduate fashion degree. Their high-profile status in the industry has led to an exclusive program that graduates just 100 students a year. Some of their previous students include Philip Treacy, Erdem Moralioglu, Christopher Bailey, Ossie Clark and Zandra Rhodes.


12.  Esmod – Headquartered in Paris
Esmod has a few claims to fame. It is the world's oldest Frensh fashion school. It has an 80% job-placement rate, and interestingly the mannequin and measuring tape were both invented at Esmod. The tuition is reasonable all things considering, at about $16,000. A major selling feature of the school is despite their French pedigree, they have 21 campuses in 14 different countries and offer programs in a multitude of languages. 


11.  Columbia College – Chicago, USA
Columbia College has recently merged their two fashion programs into one, making Fashion Design and Fashion/Retail Management now Fashion Studies. The industry-ready students they churn out are now fully trained on both the design and business sides of the business. With only 1800 students in their entire Art and Design department the program has a small-program feel and a big-city vibe while being in a highly-prized artsy program. They also have a highly-rated journalism program (think: networking possibilities). Tuition has jumped to just over $20,000. 


10.  Bunka Fashion College – Tokyo, Japan
With the extremely talented designers coming out of Japan it is no surprise that Tokyo is home to one of the world's top fashion schools, Bunka Fashion College. For the last century (the school was formed in 1919) the institution has been on the cutting-edge of fashion, as are many of its famous graduates, like Kenzo Takada, Junya Watanabe, Yohji Yamamoto, Hiroko Koshino and Chisato Tsumori. This avaunt-gard college has done exceptionally well since the early 60s as its graduates went global, showing up in fashion centers like Paris, London and New York. 
Their mix of design courses, technology and marketing churns out not only talented, but market-ready designers. If this all sounds too good to be true, here's the kicker: you must be reasonably fluent in Japanese and have a wallet fat enough to accommodate living in one of the most expensive cities in the world (note: students are not allowed to work).


9.  Antwerp Royal Academy of Fine Arts – Antwerp, Belgium
Like Bunka, the Antwerp Royal Academy of Fine Arts requires fluency in Antwerp's native language, Dutch. If you just so happen to speak Dutch, or have an amazing ability to pick up languages, Antwerp is exceedingly exceptional. This boutique college accepts just 140 students a year, so you really aren't just another number. Another selling point is that their tuition is highly subsidized by the government, even for foreigners, and costs just $8,000. This design program is not for the faint of heart though, it has an extremely high drop-out rate due to its immense workload. The program does graduate some of the best-trained graduates in the industry though, with special focus on experimental and innovative design. 


8.  Istituto Maragoni – Milan, London and Paris
The Istituto Maragoni has campuses in all the European fashion centers: Milan, Paris and London—a romantic pedigree alone. Apart from their prestigious locations and industry connections the school maintains one of the highest placement rates in the industry, at over 90%. Courses are offered in English as well as French and Italian. The tuition is a little pricey (kinda like the prices of fashion in Milan) at between $18,000 to $25,000, depending on the specific program. The school offers a broad range of courses, including Fashion Design, Fashion Business, Fashion Buying, Brand Management and Fashion Promotion. 


7.  Fashion Institute of Design and Merchandising (FIDM) – Los Angeles, USA
Anyone with $30,000+ to spend on tuition, likes beautiful weather and wants a more technical fashion education, the Fashion Institute of Design and Merchandising might just be for you. The vocational experience given to FIDM students is the best in the country and offers courses on Footwear Design, Jewelry Design, Textile Design and Merchandising. They also have a very strong job placement program for their graduates. Their 7500 students a year pay $27,000 to $36,000 annually in tuition. Famed graduates include: Monique Lhuillier, Pamela Skaist-Levy and Randolph Duke.


6.  Polimoda – Florence, Italy
Italy's Polimoda school offers a lot to its students. It's high tech-equipment filled studios train its students on the top equipment in the industry. It also boasts a job-placement rate over 85% and has strong ties with FIT. Its main focus is on courses that appeal to non-designers, like Fashion Marketing, Media & Communications and Fashion Styling. The tuition is on the far-end of the 'reasonable' spectrum at $10,000-$20,000 (depending on the program)--but you better have more funds than that if you want a good time in Florence. 


5.  Pratt – Brooklyn, USA
Many fashion schools on this list are up-and-comers. Brooklyn's Pratt school has shook off its pervasive up-and-coming reputation and become an established school in the American fashion industry. Its list of successful students past includes Jeremy Scott, Andy & Debb and Betsey Johnson. Its $35,000 tuition is a worthwhile investment for any future design students interested in fashion publishing as it the only school on this list to offer elective courses in fashion magazine publishing and editorial. 


4.  Ecole de la Chambre Syndicale – Paris, France
We certainly couldn't make this list without including a school in (arguably?) THE fashion capital of the planet, Paris. The Ecole de la Chambre Syndicale's renowned 'haute couture' programs in Fashion Design & Technique have led to some of the country, and the world's leading designers, including Issey Miyake,  Nicole Miller, Valentino, Yves Saint Laurent and André Courreges.  With only 240 students annually the school retains its exclusivity and boutique status. Their Bachelor programs are notoriously difficult to get into though, often requiring that their new students finish a design course elsewhere first. The tuition is reasonable for the school's status, at around $13,000.
If you aren't sold yet on Ecole de la Chambre Syndicale, then here is a major selling point: it is part of the European regulatory commission that decides which fashion houses are truly 'couture'. They literally help write the book on who's 'haute' and who's not. 


3.  Central Saint Martins – London, England
With grads like Alexander McQueen, Stella McCartney and John Galliano Central Saint Martins' reputation  speaks for itself. CSM is in a league only with itself. With a prime location in one of the world's top fashion centers (or centres, as they spell it over in England) its no surprise that the culture-charged students produce pieces fit enough to be the only ones cataloged annually by Style.com. The walls of the institution are filled with famed teachers, like Louise Wilson.
The benefits of Central Saint Martins are wide-reaching but include graduating with a wide-range of industry connections. It is also one of the only top European fashion schools that offers courses entirely in English. Tuition for CSM hovers around £10,000 and accepts about 1,200 students into its fashion program annually. CSM offers courses in fashion, textile and jewelry design.

2.  Parsons The New School for Design –  New York, NY
Over the last decade Parsons The New School for Design has become one of, if not THE, country's top fashion powerhouse. Its location in New York's Garment District and strong community ties have made it a top school in terms of graduating with contacts, and a job, in the industry. Their strategic partnerships with fashion retailers and corporations have led to a strong job placement rate, internships and invaluable student work showcases. It's extremely prestigious reputation comes with a hefty price tag though, with tuition over $35,000. Some of the American fashion industry greats have studied in its expensive hallways though, including Tom Ford, Donna Karan, Marc Jacobs, Anna Sui, Alexa Adams and Alexander Wang.
The school graduates about 1,400 people every year from its fashion design program. 


1.  Fashion Institute of Technology (FIT) – New York, NY
The Fashion Institute of Technology, or as its more colloquially known: FIT, is a school that needs no introduction. Like FIT it is located in the prestigious Garment District in New York City and has strong working relationships with some of the most prominent designers and fashion corporations in the country. Its highly-prized student showcases and workshops have been helping students break into the industry for years. Its comprehensive program is a popular choice amongst aspiring American designers with its high acceptance rate (the school takes in over 10,000 students every year) and its subsidized tuition rates. Being part of NY's State University New York residents pay under $3,000 for tuition and out-of-state residents paying under $7,000—fees that make it one of the cheapest fashion schools in the country, despite its prestigious status. It also has an extensive fashion archive. Its high-profile list of graduates include Nina Garcia, Carolina Herrera, Calvin Klein, Michael Kors, and many many more.