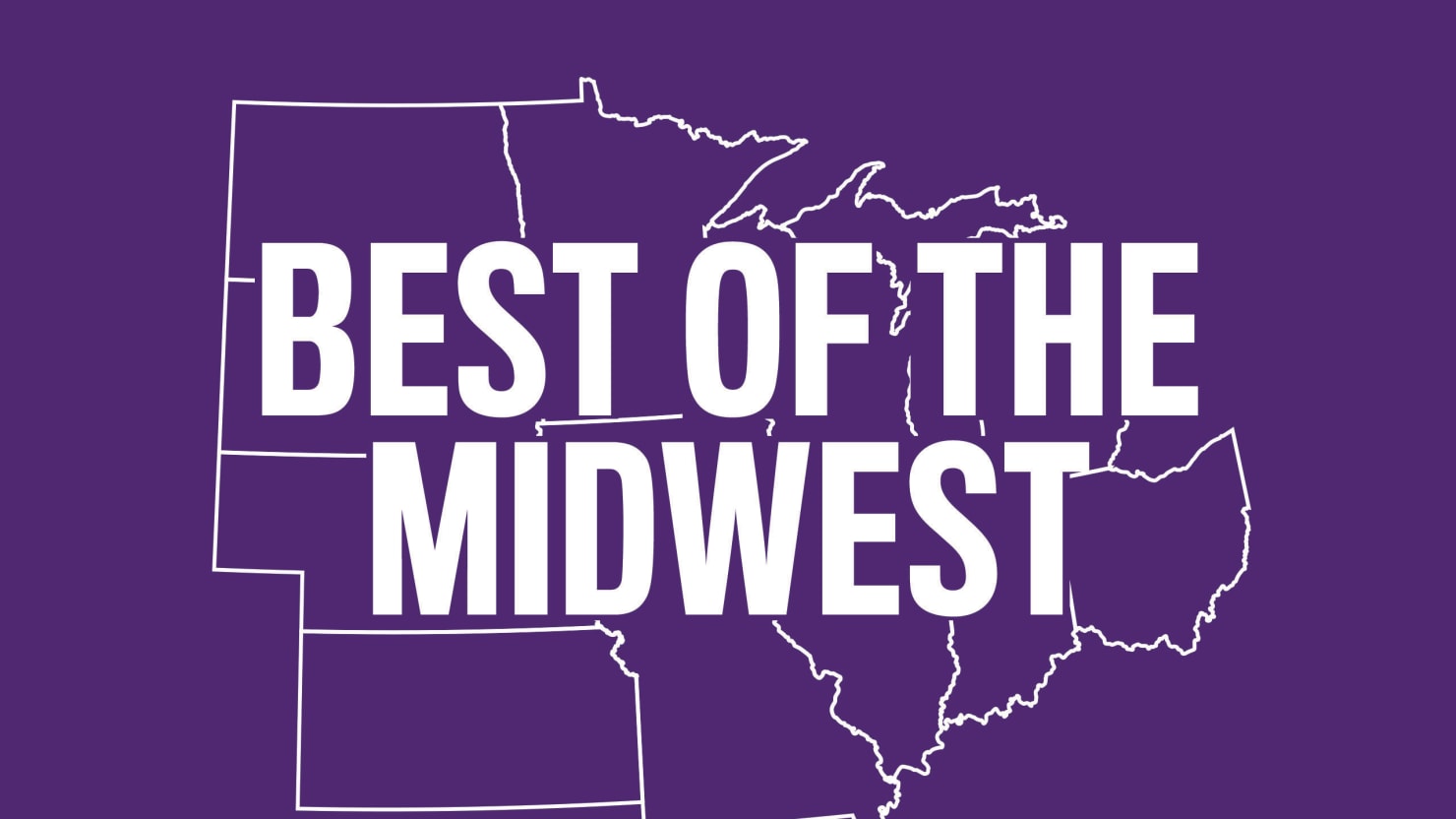 Fashion-Schools.org is excited to bring you our 2023 Fashion Design School rankings. Each year, we compile a list of the top list of the Top Fashion Design Schools and Colleges in the United States. Our definitive ranking of the top fashion design schools in the U.S. is based on factors like the schools' admission data, graduation success, reputation and an extensive proprietary survey conducted with school & industry stakeholders. In addition to our Top 50 National rankings, we are happy to provide regional rankings as well.
Below you'll find the Top 10 Fashion Design Schools in the Midwest.  We define the Midwest as Ohio, Michigan, Indiana, Illinois, Wisconsin, Minnesota, Iowa, Missouri, Kansas, Nebraska, South Dakota, North Dakota, Wyoming, Idaho, and Montana.
 For an explanation of ranking criteria, click here.
Kent State University, OH

Kent State University was established in 1910 as a small teacher-training college named "The Kent State Normal School." Today, Kent State University consists of eight campuses, with more than 27,500 students at its main campus (Kent) and more than 15,500 across the school's other campuses. With a total student body of more than 43,000, Kent State University is the third largest university in Ohio and the 27th largest regional campus system in the nation. Kent State University campuses include Kent, Ashtabula, East Liverpool, Geauga, Salem, Stark, Tuscarawas, and Trumbull.

Kent State University (also Kent, Kent State, and KSU) ranks among the top 90 public universities in the country and Times Higher Education (a London-based higher education magazine), ranked Kent State University as one of world's top universities in its annual World University Rankings (2010-2011). The school offers 40 Associate degree programs at seven campuses, and 236 Bachelor degree programs at all eight campuses. 

Kent' College of Arts is home to The Shannon Rodgers and Jerry Silverman School of Fashion Design and Merchandising. The School offers a BS in Fashion Merchandising and a BA in Fashion Design. Fashion Design majors have two focus areas to choose from including Conceptual Design or Technical Design and Production. 

Program highlights include the Annual Fashion Show and access to the KSU Museum costume collection, the 'TechStyleLAB', and the Fashion Library. Study Tours to Asia, Florence, Paris, and Hong Kong are also a significant component of the program as well as The Fashion School's NYC Studio, located in the NYC Fashion District. The NYC Studio provides full-semester academic programs for Kent State fashion students in the Fall, Spring, and Summer terms.  

School of the Art Institute of Chicago, IL

Established in 1866 as the Chicago Academy of Design, the School of the Art Institute of Chicago (SAIC) is one of the oldest accredited independent schools of art and design in the country. The School's fine arts graduate program ranks in the top two of 220 programs by U.S. News & World report, and the National Arts Journalism Survey by Columbia University's Art Critics says SAIC is "The most influential art school in the United States." Many of the school's other graduate programs (Painting and Drawing, Photography, Sculpture, and Visual Communication Design) rank in the top three by U.S. News & World Report.

Located in downtown Chicago, just steps from Lake Michigan, The School of the Art Institute of Chicago is home to around 3,200 students, enrolled in more than 40 departments and areas of study. Fashion students have several areas of study to choose from including a Bachelor of Fine Arts (BFA) in Fashion Design, a BFA in Fiber and Material Studies, a Master of Design in Fashion, Body and Garment, and a Post-Baccalaureate Certificate in Fashion Body and Garment. 

Located in the Sage Studios for Fashion Design "within a historic building designed by Louis Sullivan," the Department of Fashion Design offers access to a Fashion Resource Center ("a hands-on collection of late 20th- and 21st-century designer garments representing extreme innovation"), as well as a faculty with both national and international experience and connections in the industry. 

Upon graduating, Fashion students have had the opportunity to intern for international houses such as Zac Posen, Alexander McQueen, Givenchy, and Vivian Westwood. Some graduates hold senior positions at Jones New York, Tommy Hilfiger, Levis, and Nike, while others design for Anna Sui, Marc Jacobs, Betsey Johnson, and more.  

Columbus College of Art & Design, OH

Columbus College of Art and Design (CCAD) offers a BFA and a Minor in Fashion Design. Program highlights include internship opportunities at companies such as Abercrombie & Fitch, Justice, and Victoria's Secret (all headquartered in Ohio), participation in the Annual CCAD Senior Fashion Show, and study abroad opportunities in Chile, China, England, and Italy. 

CCAD fashion students also have the opportunity to study in a New York studio for one term through CCAD's New York Studio Residency Program. Graduates of the program have landed positions at major companies such as Abercrombie & Fitch, Ann Taylor Loft, BCBG, J. Crew, Polo Ralph Lauren, Victoria's Secret, and White House Black Market. 

About CCAD: Established in 1879 and home to more than 1,300 students, Columbus College of Art and Design is one of the oldest and largest private art and design colleges in the U.S. The school offers 35 majors, minors and concentrations through a number of departments. 

Ball State University, IN

Ball State University (BSU) is home to the College of Applied Sciences and Technology, which houses the Department of Family and Consumer Sciences (FCS). The Department has several programs for aspiring fashion merchandisers including a BS in Fashion Merchandising and an MA or MS in Family and Consumer Sciences with a Fashion Merchandising Concentration. Students in the Merchandising program will complete the FCS common core and a Marketing Minor. A Fashion Minor is also available. 

Other program highlights include internship and study abroad opportunities, and participation in a variety of BSU fashion show events and showcases.  

About BSU: Founded in 1918, Ball State University is home to 21,000 students from 48 states, two U.S. territories, about 43 countries, and every Indiana county. The school offers around 190 majors and more than 100 graduate programs across seven academic colleges.

Stephens College, MO

Stephens College is a private women's college that has been around for 180 years. Established in 1833, Stephens College is the second oldest women's college in the U.S. It is also one of the best regional colleges in the Midwest. The school ranks 29th on U.S. News & World Report's list of Best Regional Colleges in the U.S.

Stephens College has more than 50 majors and minors, as well as study abroad opportunities in Ecuador, England, Korea, Japan, and Sweden. In addition to study abroad opportunities in a number of fashion forward locales, fashion students have access to several unique programs leading to a BFA or BS. Stephens College offers a BS in Fashion Marketing and Management and BFA degrees in Fashion Communication and Fashion Design and Product Development. To enhance their degree, many Marketing and Management students combine the program with a Master of Business Administration or a Master of Strategic Leadership.

Iowa State University, IA

Iowa State University (ISU) was established in 1858 under the name Iowa Agricultural College and Model Farm. Located in the nation's 2nd Best College Town (by the American Institute for Economic Research), Iowa State University has grown from several dozen students, a farmhouse, and 648 acres to a 1,795-acre campus with more than 100 buildings, eight colleges, two schools, and 27,000 students. 

In addition to being one of the largest universities in the region, Iowa State University is listed among the top 50 public national universities by U.S. News & World Report (2013). ISU grants Bachelor's Degrees, First Professional Degrees, Master's Degrees and Ph.D. and Honorary Doctorate Degrees. The school is home to more than 750 student organizations and one of the top fashion programs in the Midwest. 

Iowa State University's College of Human Sciences, Apparel, Events, and Hospitality Department is home to the Fashion Program. The Department offers a BS, MS, and a Ph.D. in Apparel, Merchandising, and Design. Iowa State University is one of one of the few schools to offer all three degree levels to fashion majors, and a distance Ph.D. program for Apparel, Merchandising, and Design. 

Other program highlights include access to the Department's Textiles and Clothing Museum, an Annual Fashion Show, the opportunity to work on the Department's award-winning fashion magazine—Trend, and Study Abroad experiences in Hong Kong, Shanghai, Shenzhen, Suzhou, and Wuhan. 

University of Minnesota, MN

The University of Minnesota (U of M) was founded in 1851 in the Twin Cities (Minneapolis and St. Paul). The school is home to nearly 63,000 students (system-wide), with 48,770 students at the Twin Cities campus. More than 400 degree programs are offered across 17 colleges and schools.

Among them is the College of Design, which houses the Department of Design, Housing and Apparel. The Department offers a BS in Apparel Design and MA, MS, and PhD degrees in Design with an Apparel Studies Track. A Fashion Studies Minor is also on the menu.

Students have the ability to participate in an annual fashion show, a right of passage among Apparel Design seniors. 2018 marks the show's 50th anniversary. Every year it gives students a chance to put into practice the work they've been learning.

Apparel Design students have access to The Wearable Product Design Center (WPDC), the Wearable Technology Lab, and the Human Dimensioning Lab, as well as the opportunity to show their collections at the College of Design Annual Apparel Design Fashion Show. In addition, all students have the option to study abroad. Study abroad opportunities are available in Sydney, Australia; Florence, Italy; Amsterdam; Istanbul, Turkey; London, England, and Northern Ireland.

University of Cincinnati, OH

The University of Cincinnati's College of Design, Architecture, Art, and Planning (DAAP) is home to over 40,000 students from over 100 countries and all 50 states in the U.S.  There are 4 main schools within DAAP, including School of Design, School of Architecture and Interior Design, School of Art and School of Planning.  DAAP offers ten undergraduate programs, nine graduate programs, five minors and seven certificates.

The School of Design is the focus for aspiring fashion designers. The Fashion Design program prepares students for a career in the world of fashion design and its related industries. Fashion designers communicate ideas by fashion sketching, fashion illustration, and through the creation of three-dimensional finished garments that may appear on the runways or in retail stores.  Offerings include a BS in Fashion Design, a Master of Design, and a Fashion Design Studies Minor.

Students can direct their academic pursuits in either a direction toward Fashion Design (learn how to design and construct garments, thinking about form and function) or Product Strategy (learn whats required to design and create new product lines, working through the process of bringing consumer driven fashion goods to the marketplace.)  In Fashion Design the curriculum includes a mandatory cooperative education component where students work full-time in the fashion industry on alternating semesters. In addition, all students have the opportunity to participate in the popular DAAP Fashion Show.

Washington University in St. Louis - Sam Fox School of Design & Visual Arts

The Sam Fox School of Design & Visual Arts (SDVA) at Washington University offers several award-winning degree programs for aspiring fashion designers. Programs include a BFA in Fashion Design, a BFA in Interdisciplinary Studies, and a Minor in Art + Design. Sam Fox SDVA highlights include the Annual Fashion Show, Study Abroad opportunities in Florence, Barcelona, Berlin, and more, the Summer Travel Drawing program, and free membership to the Mildred Lane Kemper Art Museum.  

Established in 1853, Washington University (WUSTL) is home to more than 14,000 students from all 50 states and more than 100 nations. The school offers more than 90 academic programs across 10 colleges and schools.

Virginia Marti College of Art & Design, OH

Virginia Marti College of Art and Design (VMCAD) opened in 1966 as "Virginia Marti College of Fashion and Art." The school had just five students enrolled in several fashion courses. Today, Virginia Marti College of Art and Design offers Fashion Merchandising, Fashion Design, Interior Design, Digital Media, and Graphic Design programs.
The school is popular thanks to small class sizes, access to a variety of internship opportunities at local, regional, and nationwide companies, and access to state-of-the-art production spaces. Accredited by the Accrediting Commission of Career Schools and Colleges (ACCSC), all VMCAD programs lead to an Associate of Applied Business (A.A.B).

VMCAD graduates have accepted a variety of positions at popular retailers such as Saks Fifth Avenue, H&M, American Apparel, Bath & Body Works, Crocs, and Shoe Carnival. Others have started their own businesses in the State of Ohio and as far away as Hollywood.