What do Tailors do? Where do Tailors work? FS takes a look: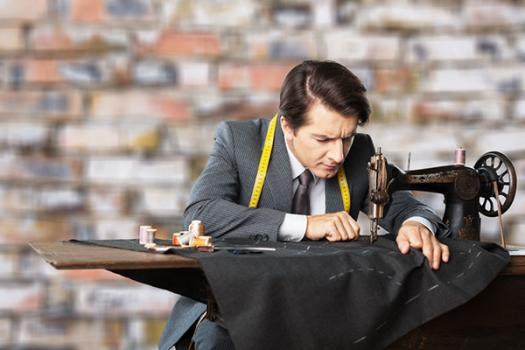 About Tailor :
Tailors make custom-fit coats, dresses, suits, and other garments for customers. They typically work with people who have a difficult time finding clothes to fit their short, tall, or wider than the average bodies. Tailors also take existing ready-to-wear garments and alter them for customers or clients.
Tailor Job Description:
Tailors work with clients to create garments made specifically for their bodies. They do this by listening to the clients needs, then by taking the clients exact measurements to create a custom pattern. Tailors help the client select fabric and any necessary accessories for the garment. Once agreed upon, the tailor can create the piece and make any necessary adjustments at the first fitting.
Tailors work for high-end clothing stores, mainstream clothing stores, department stores, independent shops, dry cleaners, and clothing manufacturers. Many tailors are self-employed, so they might run their own shops where they service individual clients, boutiques, or retail chains.
Becoming a Tailor :
To become a tailor, you need solid technical skills. You can obtain sewing, design, and pattern making skills through a fashion design program at a community college, art and design school, technical school or traditional four-year university. Most employers prefer a degree, plus experience, so it's best to enroll in a formal program and take advantage of the programs' internship opportunities. This can help you gain valuable hands-on experience that can lead to an entry-level position in alterations. After working in alterations for a few years, you can move up to tailor. Many tailors eventually become fashion designers.
Tailor Salaries:
The average salary for a tailor is around $26,560 a year—according to the Bureau of Labor Statistics. The lowest 10 percent average $17,630 per year and the highest 10 percent average $42,030 per year. It is important to keep in mind that these are only averages. The amount you earn depends greatly on education, skills, experience, size and type of the company, and even geographic location. For example, California, Texas, and New York have the highest employment level for tailors. Tailors living in these states average $31,520 per year, $27,940, and $33,460, respectively.
Besides New York and California, New Jersey ($33,210), Nevada ($32,960) and Delaware ($32,080) pay the highest average salaries and department stores pay some of the highest salaries in the industry.
Job Trends for Tailor :
Employment of tailors is expected to average 5.7 percent for the 2008-2018 decade. Tailors may find work anywhere in the U.S., but some states offer more opportunities than others do. California, Texas, New York, Florida, Michigan, Virginia, Maryland, Nevada, DC, North Dakota, Florida, Indiana, Missouri, Ohio, and Idaho have the highest levels (or concentration of jobs) in the U.S.
For the 2008-2018 decade, the top industries for tailors are clothing stores, apparel manufacturing, dry cleaning, textiles, and repair and maintenance.