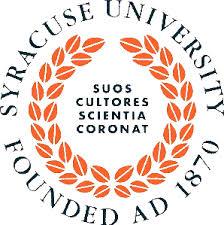 The Syracuse, New York metro area receives more snow on average than any other large city in the United States.  The average temperature in January is 23-degrees. And, the area boasts 128 inches of snow, on average, per year.  So, it's no wonder Syracuse University offers a class called "Extreme Knitting".  
The Fashion Design Program at Syracuse of course teaches more than just knitting arguably much-needed scarves and sweaters.   Students are taught all of the necessary technical and design skills.  They are also required to complete coursework in art and design history and writing, along with additional academic electives.
Throughout the four year program, Syracuse students receive first-hand critique and inspiration from visiting artists and designers that have included Oscar de la Renta, Nicole Miller, and Russell Simmons.
Finally, what better way for an aspiring designer to show off his or her own collection, than a classic fashion show.  Seniors at Syracuse University can display the results of their studies, in the fashion design program's annual fashion school. Another post graduation juried show in New York City is produced for up to 12 outstanding seniors in the spring.  
To find out more about the Fashion Design Program at Syracuse University, we talked to Todd Conover, Professor and Chair of the Department of Design, along with James Fathers , Fashion Program Manager.

(This interview was conducted via email & edited for length & clarity)

FS:  Please begin with an overview of the BFA degree program in Fashion Design at Syracuse?

SU:  Focused on design and creative development the Fashion Design Program at Syracuse University is an idea-driven, craft-based course of study that emphasizes design concept development equally with technical skill development. It offers an intellectually stimulating environment with a global perspective coupled with practical and theoretical skills, technology and the study of cultural context in which fashion exists to provide a broad based knowledge of the business of the fashion industry.

This four-year Bachelors of Fine Arts (B.F.A.) program is one of a small handful of fashion design programs to be recognized by the Council of Fashion Designers of America and is included in all of the activities and competitions sponsored by the C.F.D.A.

FS:  What are the essential skills a student should learn in school?

SU:  From the basics of garment construction using our newly established industrial Juki sewing stations the student progresses over four years to learn industry standard skills of fashion design, construction and presentation. Courses such as fashion illustration, flat pattern design, computer generatedpattern design using Optitex computer pattern making system, conceptual
draping, materials, textile design and print application, the history of fashion, Adobe Photoshop and Illustrator specifically geared toward the fashion industry, as well as a host of foundation, fashion, textiles and elective art based courses that serve to strengthen the sense and knowledge of composition, construction and design.

FS:  How important are business classes for a fashion degree major?  What other non-fashion related course requirements are there.

SU:  Many of our students choose to go beyond the basics of the fashion program and take advantage of being part of a large university. Although not a requirement, one exciting opportunity is to study abroad for a semester at the London College of Fashion. This junior level experience has been developed in collaboration with Syracuse University to ensure a seamless fit of courses while studying abroad. Many students choose to declare a minor while at SU. Two popular areas of study for fashion design students are the Beauty and Communication Milestone program which is collaboratively offered by the S. I. Newhouse School of Public Communication and Department of Design and the Martin J. Whitman School of Management's Entrepreneurship and Emerging Enterprises' (E.E.E.) which serves to strengthen students business skills.

FS:   What do you think the future of fashion holds?  And, how are you addressing these needs in your program?

SU:  The future of the fashion industry is certainly based in technologies. Computer aided illustration, layout, pattern making and production is becoming more prevalent in our traditionally "slow to change" industry and we are addressing these changes at Syracuse University by purchasing, faculty training and teaching versions of these software programs and incorporating them into curriculum changes.

FS:   Tell us about "The Warehouse" and the resources available for students.

SU:  The Fashion Design Program is housed in the Design Warehouse, a converted 7-floor warehouse located along the Connective Corridor in Downtown Syracuse, NY. The Warehouse is home to the entire Department of Design, which includes Industrial and Interactive Design, Interior Design and Communications Design as well as the Museum Studies Graduate
Program. Fashion design is situated on the top floor and is known as: 'Fashion Design on 7 at the Warehouse', or FD7w.  Such proximity to the other design programs promotes interaction and collaboration with other disciplines and acts to strengthen the work and portfolios of our graduates.

The Syracuse University Fashion Design program is also home to the Sue Ann Genet Costume Collection and Research Center Established by New York City real estate developer Leon Genet in memory of his late wife Sue Ann Genet. The collection, which is comprised of over 3000 women's garments and accessories from the periods of 1820 to the present, was taken out of storage in 2011 after a seven year hiatus and is now housed in a newly created climate controlled storage facility within the fashion design program at the Design Warehouse. Used for exhibition, research and classroom examples, the focus of this costume collection is women's high fashion, and includes examples of garments that are indicative of each era, are by well known designers, or were worn by notable women.

FS:  Tell us about your annual fashion show, and opportunities for your aspiring designers to show off their collections

SU:  The fashion design program at Syracuse stages an annual on campus fashion show for the senior collection capstone class. Every senior has the opportunity to show his or her 6-piece collection at this event. Another post graduation juried show in NYC is produced for up to 12 outstanding seniors in late May/early June. This event brings fashion professionals from the NYC fashion industry to see Syracuse University fashion collections, singularly outstanding pieces and fashion portfolios. Many of the guests to this event are Syracuse fashion alums who now work in many areas of the fashion industry and are in positions to advise and hire new talent. The majority of Syracuse Fashion alums working in their field are employed in ainstream fashion companies in the New York and surrounding areas.  Because of the large numbers of Syracuse alum in the fashion field students ave a network to explore and obtain internships. Although a formal internship program is not a requirement in our curriculum, the majority of our students experience at least one or more summer or semester break internship in New York City.
Check out more interviews at the Fashion-Schools.org Fashion School Interview Series.