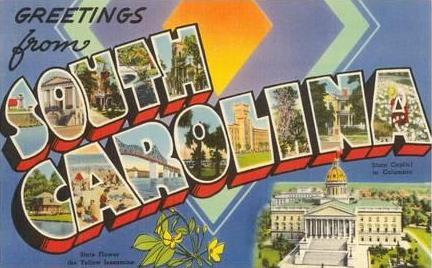 Overview
South Carolina is the nation's 24th largest state, with a fashion scene that's just as active as it's larger neighbors including North Carolina, Georgia, and Tennessee. For starters, South Carolina is home to boutiques galore. Visit any city or town here and you'll find boutiques ranging from trendy to upscale. The state is also home to some of the country's most beautiful malls, such as Northwoods Mall in Charleston (120 stores) and Coastal Grand in Myrtle Beach (170 stores), and one of the country's most competitive Fashion Weeks. Charleston Fashion Week attracts designers from all over the east coast. They come here to show their best creations and to compete in the Emerging Designer Competition: East (EDCE). This renowned competition has helped launch the careers of designers such as Rachel Gordon and Carol Hannah Whitfield.
In addition to an excellent mix of shopping venues and Fashion Week, South Carolina is home to several schools that fashion design or fashion merchandising programs. Most are located in the state's principle cities including Columbia, Charleston, Rock Hill, and Greenville. These also happen to be the state's most fashion forward cities.
Career Opportunities & Employers in South Carolina:
To make it as a fashion designer in South Carolina, you must flexible. This means you should be open to working as an assistant or in an entry-level position in textiles, production, or retail until you get your big break. This is a great way to earn a steady paycheck while making contacts in the industry and gaining valuable experience. Just a few of the jobs available to fashion designers are textile artist, hand weaver, knit stylist, fabric technician, piece goods buyer, sample maker, and grader. You can find positions such as these in the major cities listed earlier, as well as North Charleston, Mount Pleasant, Summerville, Sumter, Florence, and Spartanburg.
Fashion merchandisers may have more job opportunities thanks to the retail industry. Fashion merchandiser's work as visual merchandisers, buyers, managers, sales representatives, merchandisers, display directors, fashion show coordinators, personal shoppers, and fashion directors. Fashion merchandising jobs can be found in the cities listed above, as well as in corporate offices across the state. Fashion merchandisers with a focus in visual merchandising should also try Hilton Head Island, which is home to a variety of shops that appeal to both tourists and locals.
South Carolina Fashion Schools & Programs:
Whether you're planning a career in apparel manufacturing, merchandising, or design, most employers prefer a two- or four-year degree from an accredited college. Fortunately, the National Association of Schools of Art and Design accredits approximately 300 postsecondary institutions with programs in art and design. Some of the top South Carolina schools for fashion design and fashion merchandising are:
Bob Jones University, Greenville
University of South Carolina, Columbia
Winthrop University, Rock Hill
If you think a career in fashion design or fashion merchandising might be your calling, enroll in a fashion design or fashion merchandising degree program. If you want to start your own business, consider combining your fashion design or fashion merchandising degree with a business or marketing degree. You can also take business courses at another school while completing your fashion program or you can wait until you have completed your degree to enroll in a full-time business or marketing degree program.
For more information about the fashion design and fashion merchandising industries, visit the Bureau of Labor Statistics at Bls.gov.
Employment and Salary Trends for South Carolina:
Overall employment in the fashion industry is expected to grow by one percent for the 2008-2018 decade. Sewing and cutting jobs may decline as more designers and brands choose manufacturing companies overseas. However, employment of fashion designers is stable because many firms prefer to keep design work in house. In South Carolina, around 70 salaried fashion designers work in apparel design, textile design, technical production, pattern making, and sales. In 2004, the state was home to around 40 salaried designers. This means, South Carolina is right in step with the national growth trend.
South Carolina fashion designers earn around $46,060 per year. In 2004, they earned $55,460. As of May 2008, the mean annual wage for fashion designers nationwide was $61,160. The lowest paid fashion designers earned an average annual salary of $32,150 and the highest paid fashion designers earned $124,780 per year. Because many fashion designers are self-employed, salaries may vary greatly. It's not unusual for a top fashion designer to earn millions per year.
The Bureau of Labor Statistics has not reported employment and salary figures for fashion merchandisers. However, a significant part of the job involves working with window and store displays. There are 550 merchandise displayers in South Carolina, down slightly from 270 in 2006. 
Bureau of Labor Statistics Data
| | Number of jobs | Mean hourly pay | Mean annual pay | Job Outlook |
| --- | --- | --- | --- | --- |
| Fashion Job | | | | |