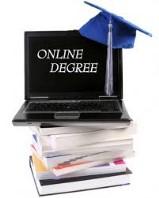 According to the National Center for Education Statistics (NCES), in fall 2012, the number of students enrolled in distance education courses at Title IV institutions was 21,147,055. Around 12.5 percent (more than 2.6 million) were enrolled exclusively in distance education courses. Online learning has become so popular thanks to flexibility of the programs. No longer are adults forced to take time off from work and family commitments to earn a degree.
Deployed service members can continue earning their degree while overseas, new students can attend the schools they want to attend in other states—without the expense of leaving home, and all students can expect to save a significant amount of money, as online programs are often cheaper. Finally, online students receive the same level of instruction and follow the same curriculum as students taking classes in a traditional classroom setting. This means, your degree will not specify whether you earned it online or on-campus.
While most people would agree that there are more advantages than disadvantages to online programs, "not everyone does well with this type of study," says Tom Snyder, Huffington Post Blog Contributor and President of Ivy Tech Community College, which offers more than 350 online courses. According to Snyder, students should consider:
Whether or not they can learn independently
How organized they are with their time
Whether they are computer savvy
Their level of reading comprehension
If they have at least ten hours a week to devote to each course
"Motivation is key to an online student's success," says Snyder, "as is his ability to reach out to both instructors and fellow students."
In addition to these potential challenges, not every degree program lends itself well to an online format. For example, an English Literature major will spend most of his time reading writing, and researching. This can be done at any time and from anywhere. A fashion major will spend a significant amount of time gathering supplies and materials, cutting and sewing, creating patterns, and designing fashions. Unless you have all of the right equipment in your home, this is something that cannot be done from anywhere. If you are not too far from campus, great! If you are, this could pose a problem.
Fashion schools often house elaborate studios and labs outfitted with the latest industry equipment, roomy workspaces, professional dress forms, and more. Not only do these spaces offer the most ideal place to work, they offer the opportunity to interact with other student designers and instructors—in real time. Other campus amenities may include drawing and fashion sketching classrooms, resource rooms with access to fashion books and magazines and fabrics research, costume and other fashion collections, computer centers, and more.
Even with potential challenges, a number of respected fashion schools offer online fashion design programs. Savannah College of Art and Design (SCAD) offers its Fashion MA and MFA programs online, while the Academy of Art University in San Francisco has the most online offerings with an Online Award of Completion (OAC) and AA, BA, BFA, MA, and MFA degrees in Fashion Design on the menu.
If you consider the pros and cons and decide that you would like to enroll in an online fashion program, just check to make sure the program is accredited by an agency recognized by the U.S. Department of Education. Graduate schools and employers prefer candidates that have completed a program at an accredited school. Keep in mind that the National Association of Schools of Art and Design (NASAD) is the gold standard for fashion schools. You can find other recognized accrediting agencies here.
Sources
National Association of Schools of Art and Design (NASAD). NASAD, 2015. Web. 21 Sept. 2015.
National Center for Education Statistics. Institute of Education Sciences, 2014. Web. 27 Sept. 2015.
The Database of Accredited Postsecondary Institutions and Programs. U.S. Department of Education, 2015. Web. 25 Sept. 2015.
Snyder, Tom. "The Benefits of Online Learning." The Huffington Post. TheHuffingtonPost.com, 1 Aug. 2013. Web. 26 Sept. 2015.