What do Shoe Designers do? Where do Shoe Designers work? FS takes a look: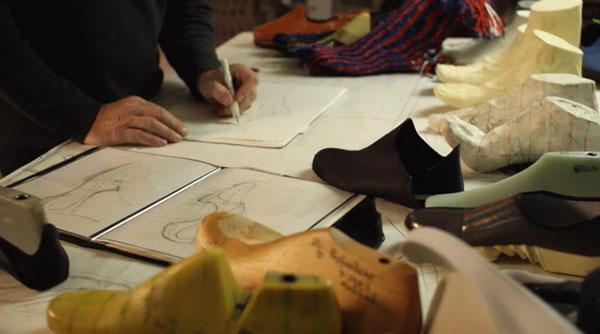 About Shoe Designer:
Shoe designers design shoes and boots for casual, evening, or sports wear. Also called footwear designers, shoe designers may also dabble in designing socks, tights, and hose.
Shoe Designer Job Description:
Shoe designers design shoes for men, women, children, and babies. Some even design shoes for America's most pampered pets. Once the designer has an idea in mind, he will sketch the shoe by hand or computer-sided design. After the design is down on paper, the designer might create the shoe himself or send it to a manufacturer to create a sample. If he likes the sample, the shoe designer may produce only a few for select stores or boutiques or he will approve it for mass production.
Many shoe designers are self-employed or have their own exclusive lines—think Jimmy Choo, Ferragamo, and Manolo Blahnik. Others work for shoe manufacturing companies, mainstream shoe brands, retail chains, shoe design companies, or for established shoe designers.
Becoming a Shoe Designer:
Talent, skills, and a degree are essential for entry into the world of shoe design. Most employers prefer applicants with a bachelor's degree in fashion design or art with a fashion focus. Some schools also offer degrees in fashion design with a shoe design focus. This type of degree will greatly increase your chances of landing a position with a company or established shoe design company.
Most fashion design programs offer an internship during student's junior and senior years. This experience can be invaluable during your job search. There are 300 National Association of Schools of Art and Design accredited postsecondary institutions that offer programs in art and design. Most, if not all, offer internships with design studios, manufacturing companies, retail brands, or established designers.
Shoe Designer Salaries:
Shoe designers work in "specialized design services." According to the Bureau of Labor Statistics, designers working in specialized design services averaged around $59,560 in 2008. Fashion designers overall averaged $61,160 in May 2008. The Bureau also reports that the middle 50 percent earned between $42,150 and $87,120 and the highest 10 percent earned more than $124,780. The lowest 10 percent earned less than $32,150.
Job Trends for Shoe Designer:
Employment of fashion designers is expected to average 1 percent for the 2008-2018 decade. However, as the population increases, the demand for clothing, accessories, and footwear will create more jobs for shoe designers. Like fashion designers, shoe designers can find work anywhere in the U.S., however, the best places for employment are fashion centers such as Los Angeles, Las Vegas, Miami, Dallas, and Atlanta. If you're interested in working overseas, head to Milan, Paris, Rome, Hong Kong, Dubai, Tokyo, Barcelona, or Rio de Janeiro.