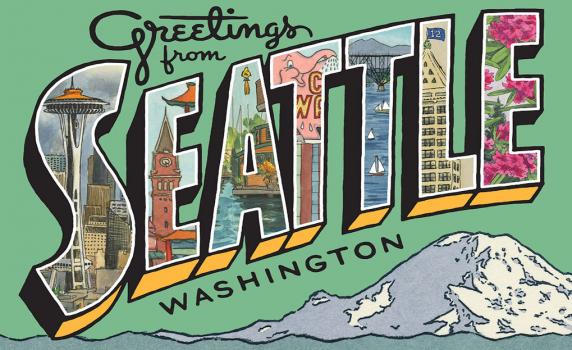 The Seattle Fashion Scene
Seattle dominates the fashion scene in Washington State. It's home to the state's largest population of salaried fashion designers, Seattle Fashion Week, and more fashion programs than anywhere else in the state. Seattle is also home to hundreds of high-end retail stores and boutiques, and thousands of other unique retail venues from downtown to the outskirts of town. Stroll the streets of Seattle and you'll find dozens of thrift stores, consignment shops, and vintage stores packed with well-preserved fashions from every era.
The fashion scene here is growing and this means unlimited opportunities for aspiring fashion designers and fashion merchandisers. In 2009, the fashion industry in the state overall generated revenues of $8.3 billion and employed 34,460 people—mostly in the Seattle area!
Career Opportunities & Employers in Washington:
Seattle fashion designers work in all areas, from fashion and textile design to product development and technical production. Pattern making, retail, and administration sales are also options for Seattle designers. Fashion merchandisers may have more opportunities thanks to the high number of retail shops, department stores, and malls in the state. They may find work as buyers, visual merchandisers, store managers, account managers, display directors, or fashion show coordinators. Head downtown, any major shopping district, or the outskirts of town, and you're sure to find plenty of desirable opportunities.
Washington Fashion Schools & Programs:
Washington is home to 81 colleges and universities. Although this is less than the national average of 88, the quality of the schools here make up for quantity. Most fashion schools or schools that offer fashion programs are located in Seattle. Some have been accredited by the National Association of Schools of Art and Design (NASAD), while others have been accredited by agencies such as the Accrediting Commission of Career Schools or the Colleges and the American Academy of Liberal Education. Visit the U.S. Department of Education at Ed.gov for a full list of accrediting agencies.
Some of the city's top fashion design and fashion merchandising programs are offered at:
The types of fashion programs available at these Seattle schools range from fashion merchandising and fashion design to fashion retailing, fashion management, and apparel studies.
Employment and Salary Trends for Washington:
The state of Washington is home to 210 salaried fashion designers. Hundreds more are self-employed. Seattle is home to nearly all of the state's salaried fashion designers. According to a report by Washington State University, the Washington State fashion and apparel industry is a major contributor to the state's economy, and is well positioned for future growth. As stated earlier, in 2009, the industry generated revenues of $8.3 billion and employed 34,460 people, mainly in the Seattle area.
As of May 2008, the mean annual wage for fashion designers overall was $61,160. Washington State fashion designers earn an average of $69,700, while Seattle designers earn an average of  $70,590. This places them at the top of the pay scale, along with cities such as Los Angeles, New York, and Houston. Nationwide, the lowest paid fashion designers earned an average annual salary of $32,150 and the highest paid fashion designers earned $124,780 per year. Because many fashion designers are self-employed, salaries may vary greatly. It's not unusual for a top fashion designer to earn millions per year.
The Bureau of Labor Statistics does not report employment and salary figures for fashion merchandisers, but a significant part of the job involves working with window and store displays. More than 1,500 merchandise displayers live and work in Washington. Over 1,000 work in Seattle.
Overall employment in the fashion industry is expected to grow by one percent for the 2008-2018 decade. Sewing and cutting jobs may decline as more designers and brands choose manufacturing companies overseas. However, employment of fashion designers is stable because many firms prefer to keep design work in house.
For more information about the fashion design and fashion merchandising industry, visit the Bureau of Labor Statistics at bls.gov.
Bureau of Labor Statistics Data
| | Number of jobs | Mean hourly pay | Mean annual pay | Job Outlook |
| --- | --- | --- | --- | --- |
| Fashion Job | | | | |