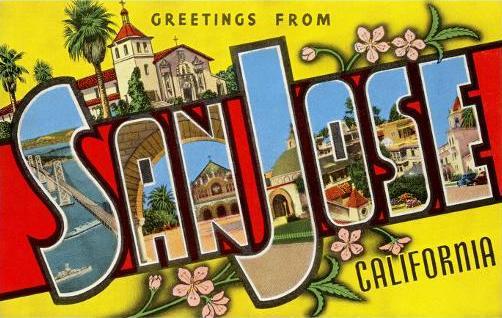 The San Jose Fashion Scene
California has the second largest population of fashion designers in the country. While most of them live in and around Los Angeles, northern California has an impressive population of designers living mainly in and around San Francisco. San Francisco is only 48 miles from San Jose, so aspiring designers interested in a more affordable place to live typically commute from San Jose or other surrounding areas to attend school and enjoy the San Francisco's unique fashion scene. This is not to say that San Jose doesn't dabble in fashion, but the city seems to serve as a base for many fashion professionals.
San Jose does, however, host a number of fashion shows and other fashion events for charity, entertainment, and competition. The city also has its fair share of attractive shopping venues carrying everything from Ann Taylor to Burberry to Salvatore Ferragamo. One of the most popular venues is Santana Row where locals and visitors can shop at stores from BCBG to Diesel to Urban Outfitters. If you're looking for Gucci, you can find it here too. Other shopping areas worth visiting are Saratoga Village, Downtown San Jose, and Westfield.
Although San Jose doesn't offer many fashion training programs for aspiring and designers and merchandisers, it does offer plenty of employment opportunities in retail, textiles, consulting, and promotions.
Career Opportunities & Employers in California:
Many San Jose fashion designers work in retail, while others work in textile design for product development, technical production, apparel design, pattern making or administrative sales (textile industry). Fashion merchandisers typically work in retail, promotions, buying, and visual merchandising. Employment opportunities can be found in department stores, retail shops, textile manufacturing facilities, production studios, design studios, and corporate offices. While it's possible to find employment anywhere in the city, a great place to start is downtown San Jose. Job seekers can also find even more opportunities in Oakland and San Francisco. Gap and Levi are headquartered in a San Francisco, Ross Stores is headquartered in nearby Pleasanton, and Wal-Mart is headquartered in nearby Brisbane. Bebe, The North Face, JanSport, Marmot, Western Mountaineering, and Mountain Hardware are located in nearby cities as well. 
California Fashion Schools & Programs:
The state of California is home to 436 colleges and universities—nearly five times the national average of 88. The state has a wide variety of schools from traditional to technical to art and design. They can be found all over the state from north to south, but in northern California, many art and design schools or schools that offer art and design programs are in San Francisco (48 miles from SJ), Oakland (40 miles), and even Sunnyvale (only 12 miles from SJ). Aspiring designers living in San Jose should consider:
Employment and Salary Trends for California:
As of July 2011, the Bureau of Labor Statistics had not reported employment figures for San Jose fashion designers. Based on the number of retail venues, fashion events, and production facilities located in and around San Jose, it's safe to assume that San Jose is home to a sizable population of salaried and self-employed fashion designers. The Bureau did report salary figures for San Jose fashion designers as well. They average $56,260 per year. Employment of fashion designers across the nation is expected to grow by 1 percent between 2008 and 2018. Nationwide, fashion designers average around $61,160. The lowest paid fashion designers average $32,150, and the highest paid salaried designers average $124,780 per year.
Figures for fashion merchandisers have not been reported either, but a significant part of the job involves creating window displays and managing the overall look and feel of stores. There are 8,900 merchandise displayers in the state of California. More than 200 live in San Jose.
For more information about the fashion design and fashion merchandising industry, visit the Bureau of Labor Statistics at bls.gov.
Bureau of Labor Statistics Data
| | Number of jobs | Mean hourly pay | Mean annual pay | Job Outlook |
| --- | --- | --- | --- | --- |
| Fashion Job | | | | |