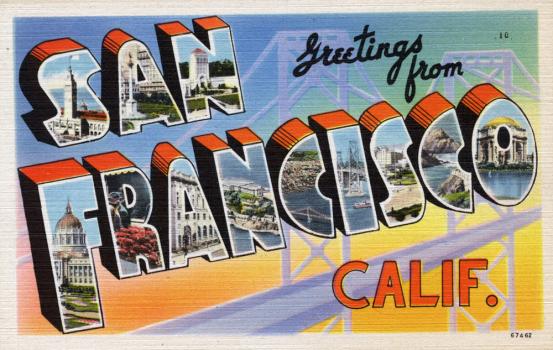 The San Francisco Fashion Scene
San Francisco has an independent spirit. It's not always about what looks good here. Lately fashion has been about what feels good. The city's fresh design talent and organizations such as the Fashion Council of San Francisco have teamed up to promote sustainability and environmental consciousness in the fashion industry. This opens up yet another door for aspiring fashion designers and fashion merchandisers. So, if your designs or services have a message, you'll mesh well with San Francisco's unique fashion industry.
San Francisco is also home to retail giants such as Levis, Espirit, and the The Gap. The city has it's own fashion week, along with so many shopping districts you'll lose count. Many of the city's shopping districts are home to more independent shops than you can imagine, and others are home to popular retailers, department stores, and upscale shopping venues, Just a few San Francisco shopping districts include Union Square, Chinatown, Fillmore Street, Hayes Valley (Hayes and Gough), Chestnut Street, Embarcadero, Polk Street, Sacramento and Presidio, Haight and Ashbury, North Beach, and Mission Street.
In addition to a lively and unique fashion scene, San Francisco has something extra for aspiring fashion designers and fashion merchandisers, training. The city is home to a number of schools that offer fashion training programs ranging from certificate to MFA programs. The Fashion Institute of Design & Merchandising (FIDM) and the Academy of Art University are among the best.
Career Opportunities & Employers in Schools & Colleges:
San Francisco fashion designers can find work in technical production, textile design for product development, apparel design, pattern making, sample making, grading, handweaving, embroidery design, retail, and sales. Many fashion designers also teach, so San Francisco's academic institutions and design centers are excellent sources of jobs for aspiring instructors. Fashion merchandisers can find work at any of the thousands of shops, design studios, department stores, and popular retailers across the city. Merchandisers work in product development, production, marketing, sales, visual merchandising, and more. Positions are available from Downtown San Francisco to the surrounding metropolitan area.
Schools & Colleges Fashion Schools & Programs:
California is home to 436 colleges and universities. This is nearly five times the national average of 88. Many are art and design schools, while others offer art and design programs. The number and variety of schools located in San Francisco make it easy for aspiring fashion designers and fashion merchandisers to find just the right program. Some art and design schools have been accredited by the National Association of Schools of Art and Design (NASAD), while others have been accredited by agencies such as the Accrediting Commission of Career Schools or the Colleges and the American Academy of Liberal Education. Visit the U.S. Department of Education at Ed.gov for a complete list of accrediting agencies.
Some of San Francisco's top fashion design and fashion merchandising programs are offered at the Fashion Institute of Design & Merchandising (FIDM) and the Academy of Art University, San Francisco.
The Fashion Institute of Design & Merchandising (FIDM) offers more fashion programs than any other school. Students may major in fashion design, advanced fashion design, apparel industry management, fashion knitwear design, film & TV costume design, footwear design, international manufacturing & product development, jewelry design, merchandise marketing, merchandise product development, textile design, and theater costume design. In addition to San Francisco, FIDM has campuses in San Francisco, Orange County, and San Diego.
Academy of Art University has a large collection of programs as well. The academy offers both AA and BFA degrees in fashion design, knitwear design, menswear design, textiles, merchandising, and visual merchandising. Students interested in an advanced degree can earn an MFA in fashion design, knitwear design, merchandising, or textiles.
Other San Francisco schools that offer fashion design and fashion merchandising programs are:
Employment and Salary Trends for Schools & Colleges:
The state of California is home to nearly 4,000 fashion designers. Around 320 live in San Francisco. Employment of fashion designers across the nation is expected to grow by 1 percent between 2008 and 2018. Salaried San Francisco fashion designers earn an average of $67,940 per year. Self-employed designers can earn six to seven figures per year. Nationwide, fashion designers average around $61,160. The lowest paid fashion designers average $32,150, and the highest paid salaried designers average $124,780 per year.
The Bureau of Labor Statistics does not report employment or salary figures for fashion merchandisers. However, a significant part of the job involves creating window displays and managing the overall look and feel of stores. There are 8,900 merchandise displayers in the state of California. Around 1,200 live in San Francisco.
For more information about the fashion design and fashion merchandising industry, visit the Bureau of Labor Statistics at bls.gov.
Bureau of Labor Statistics Data
| | Number of jobs | Mean hourly pay | Mean annual pay | Job Outlook |
| --- | --- | --- | --- | --- |
| Fashion Job | | | | |