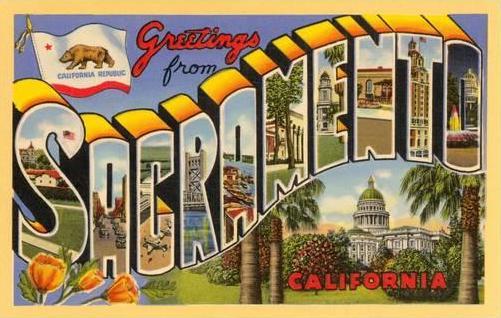 The Sacramento Fashion Scene
Sacramento is the sixth largest city in the state of California. It's located a short 87 miles from San Francisco and 118 miles from San Jose. San Jose and San Francisco are also among the top ten largest cities in California. As one of the largest cities in the state, Sacramento is home to a number of art museums and art galleries, renowned academic institutions, large shopping venues, and a budding fashion scene.
Fashion conscious residents have literally hundreds of shopping venues to choose from including boutiques, vintage shops, thrift stores, department stores, malls, and freestanding, big brand retail stores. Downtown Sacramento, Town and Country Village, and the city's largest shopping center, Arden Fair Mall, are home to a wide variety of retailers such as Armani Exchange, Abercrombie & Fitch, Forever 21, Gap, Jessica McClintock, Juicy Couture, LOFT, Lucky Brand Jeans, Macy's the Limited, and more. 
The retail and fashion scene here is great for aspiring fashion designers and fashion merchandisers because it offers a variety of job opportunities in sales, merchandising, and management as well as production and design. It also offers the opportunity to network with other designers and merchandisers, and show at the areas regular fashion events. The biggest is Sacramento Fashion Week, which features fashion shows, design competitions, workshops, demonstrations, and designs by local emerging and established designers.
Career Opportunities & Employers in Schools & Colleges:
Sacramento fashion designers work in technical production, textile design for product development, apparel design, pattern making, sample making, grading, handweaving, embroidery design, sales (textiles), and of course retail sales. Fashion merchandiser's work in product development, marketing, retail sales, visual merchandising, and buying. They can find work at any of the hundreds of independent boutiques, specialty stores, design studios, department stores, and big name retailers throughout the city and surrounding areas.
Schools & Colleges Fashion Schools & Programs:
California is home to 436 colleges and universities. This is nearly five times the national average of 88. In Sacramento, a sizable number of schools offer fashion programs. They are:
Employment and Salary Trends for Schools & Colleges:
The state of California is home to nearly 4,000 fashion designers. As of July 2011, the Bureau of Labor Statistics had not reported employment and salary figures for Sacramento fashion designers. Based on the number of retail venues, fashion events, and design centers here, it's safe to assume that Sacramento has its fair share of fashion designers.
The Bureau of Labor Statistics does not report employment or salary figures for fashion merchandisers. However, a significant part of the job involves creating window displays and managing the overall look and feel of stores. There are 8,900 merchandise displayers in the state of California. Around 300 live and work in Sacramento.
Employment in the fashion industry overall is expected to grow by one percent for the
2008-2018 decade. Sewing and cutting jobs may decline as more designers and brands choose manufacturing companies overseas. However, employment of fashion designers is stable because many firms prefer to keep design work in house. Salaries for fashion designers look promising as well. California fashion designers earn an average of $72,500 per year. Nationwide, fashion designers average around $61,160. The lowest paid fashion designers average $32,150, and the highest paid salaried designers average $124,780 per year.
For more information about the fashion design and fashion merchandising industry, visit the Bureau of Labor Statistics at bls.gov.
Bureau of Labor Statistics Data
| | Number of jobs | Mean hourly pay | Mean annual pay | Job Outlook |
| --- | --- | --- | --- | --- |
| Fashion Job | | | | |